Southern Utah boasts spectacular fall foliage
September 14, 2014 - 12:12 pm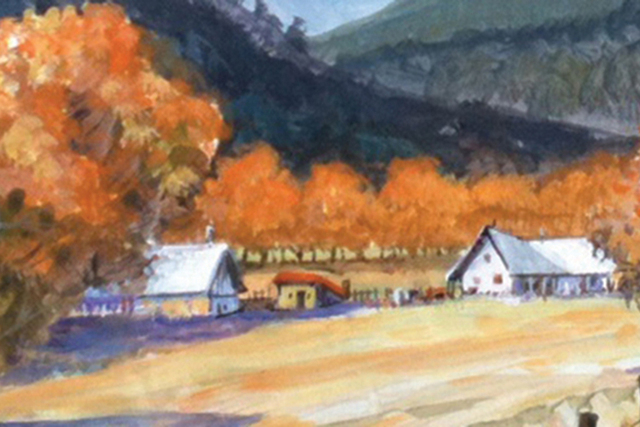 The spectacular fall color found in Southern Utah rivals better-known displays elsewhere in the country.
It is not too soon to plan a leaf-peeping outing, as the show typically begins by the end of September. If you head for the high country first and explore lower elevations later, you can enjoy Utah's autumn color through mid-November.
To access the lovely fall foliage, take Interstate 15 north into Utah, then follow scenic byways.
Fall colors show up first in the extensive stands of quaking aspens among the dark evergreen forests atop Southern Utah's high plateaus at 8,000 to 11,000 feet. The season is brief, beginning late this month and peaking by mid-October, unless there are early frosts.
Access the high country north of Zion National Park from Cedar City on state Route 14 or from Parowan on state Route 143.
Route 14 through Cedar City climbs 18 miles to the turnoff to Cedar Breaks National Monument with gorgeous views of the eroded edge of the 10,000-foot Markagunt Plateau at Cedar Breaks. Take time to pull over at a viewing area for a splendid overview of Zion and the Kolob Terrace. Route 14 continues east across the plateau past Duck Creek, where the aspens are very showy, then drops down to the junction with U.S. Highway 89.
If you turn toward Cedar Breaks, you will see plenty of colorful aspens, as well as yellowing meadows brightened by late-summer wildflowers. Follow rim trails at Cedar Breaks for views into the vivid depths of the eroded gorge and close-ups of bright fall foliage. Cedar Breaks closes when winter snows arrive.
At the edge of the monument, the park road junctions with Route 143. A right turn takes you toward Panguitch Lake and down a scenic canyon to the town of Panguitch along U.S. 89. Splendid alpine color along this route includes aspen groves that often turn red as well as the more familiar gold and orange.
A left turn on Route 143 takes you down a beautiful steep canyon to old Parowan just off I-15 north of Cedar City. Watch for the side road to Brian Head Peak, the high promontory from which the nearby ski resort village took its name.
A drive of a couple of miles on a graded road takes you to a parking area near a roofed observation building reached by a short trail. From this vantage point above the tree line, visitors have a superlative panoramic view over the plateau, the valleys surrounding it and beyond into the Great Basin of Nevada. The changes wrought by the season will color the slopes for miles around.
High-country color is unforgettable east of U.S. 89 in Bryce Canyon National Park, accessed by state Route 12, a premier scenic byway. You can also follow Route 12 into more high country over beautiful Boulder Mountain. Other popular areas for alpine fall color in Southern Utah include Pine Valley and state Route 153 east of Beaver toward a ski area and a high spine of mountain peaks.
Since the best of the high-country color will be gone by mid-October, leaf-peeping will be most rewarding through October and into early November in sub-alpine areas of 6,000 to 8,000 feet elevation. This is a good time to follow the road into Zion's lesser-known Kolob Canyon section, reached by a short paved route from I-15 at exit 40.
Other popular midseason routes include the access roads through Cedar Canyon, Parowan Canyon, along Panguitch Creek, the eastern end of Route 14, Route 12 to the town of Boulder and the lower part of Route 153 from Beaver.
Throughout Southern Utah, vine maples, scrub oak, cottonwoods and other vegetation at lower elevations, from 3,000 to 6,000 feet, blaze with color long after it is gone from the high country. Enjoy late-season color in high valley towns such as Cedar City, Parowan and Panguitch and in the little communities along U.S. 89 through the Sevier River Valley. The approach to Zion National Park on state Route 9 along the Virgin River and Zion Canyon itself provide beautiful late-season color, usually through Veterans Day.
For updates on the best places for fall color, check scenicsouthernutah.com, the tourism website for Cedar City, Brian Head and the vicinity.
Margo Bartlett Pesek's Trip of the Week column appears on Sundays.