U.S. Highway 89 a scenic path through Utah's past
September 21, 2014 - 12:06 pm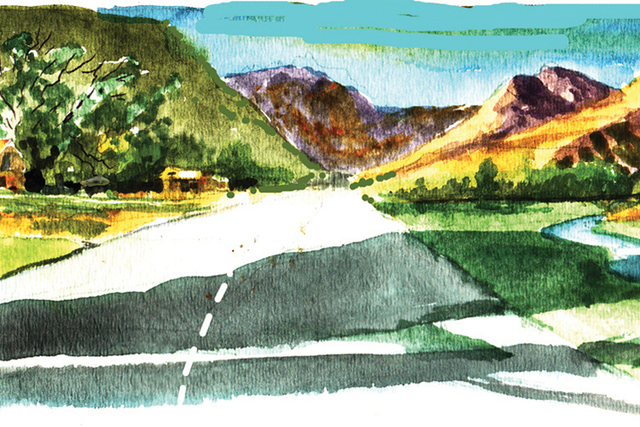 Long before Interstate 15 carried fast traffic through western Utah, U.S. Highway 89 stitched together pioneer trails and wagon roads to link towns and points of interest across Utah's southern edge and through the heart of the scenic state.
U.S. 89 remains a vital link for Utah residents, for it leads to many of the state's best-known scenic attractions and serves as Main Street for numerous small towns.
In 2006, U.S. 89's importance was recognized with its designation as a Utah Heritage Highway central to the Mormon Pioneer National Heritage Area. The heritage area acknowledges the native cultures who long inhabited the region and recognizes the achievements of the area's early Mormon settlers.
In 2009, the National Park Service approved a management plan for the heritage area proposed by an alliance of supporters. It includes six Utah counties along 250 miles of U.S. 89 and two scenic byways divided into five districts. The alliance has spearheaded many restoration and promotional projects aimed at improving the area's tourism appeal, including several new information centers.
The heritage area is so large and its attractions so varied that it is best explored a little at a time. Southern Nevadans who often visit Southern Utah will be familiar with parts of U.S. 89 as access to Lake Powell, the North Rim of the Grand Canyon, Bryce Canyon National Park, Zion National Park, Cedar Breaks National Monument, Capitol Reef National Park, Grand Staircase-Escalante National Monument and several state parks.
The highway links many small towns, calling attention to historic buildings, museums, downtown districts with 19th-century charm, and rural districts with distinctly Western characteristics. Several of these are considered National Main Street Communities, including Kanab, Panguitch, Manti, Mount Pleasant and Spring City north of Manti. Some are recognized with listings as National Historic Sites or Districts. One of the aims of the heritage area promoters is to help these small towns maintain their identity and improve their economies, which in some cases have languished, as has much of small-town America.
Autumn is a lovely time of year along U.S. 89. The season is shorter in the northern part of the heritage area, where winter moves in quickly and hard frosts can blacken the bright foliage overnight. But in Southern Utah, fall will linger much longer, usually extending well into November.
If you access U.S. 89 through Zion on state Route 9, look for showy fall color along the Virgin River and into Zion Canyon. As you approach Springdale, stop by the market at an apple orchard where you can find local apples, cider and other treats and gifts. If you use Utah Route 59/Arizona Route 389 to reach U.S. 89 from Hurricane, you will see seasonal color among the cottonwoods and orchards around the fortified ranch house at Pipe Spring National Monument. Continue through Fredonia to U.S. 89 at Kanab. The brilliant hues of fall show up in town and along nearby streams.
Settled in 1858, Kanab is the first in a series of pioneer-era towns established along creeks and rivers traversed by U.S. 89 to the north. The red sandstone cliffs and canyons of the region provide gorgeous backdrops. Little wonder the region became a favorite of Hollywood, with hundreds of films, TV series and ads filmed there since the first Tom Mix Western in 1922.
Museums figure prominently among the many attractions along this heritage highway. Nearly every community honors its past with a museum, often the work of the Daughters of the Utah Pioneers. Visitors step back in time within their collections of artifacts and interpretive displays.
Margo Bartlett Pesek's Trip of the Week column appears on Sundays.