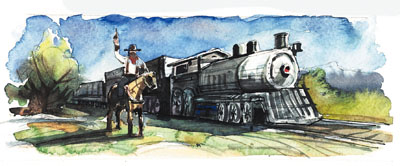 Williams, Ariz., thrives on tourism. The small Northern Arizona town enlarges on its frontier beginnings and its enviable location close to scenic and recreational attractions. It sits along Interstate 40, Historic Route 66 and Highway 64, a major access route to the Grand Canyon's South Rim. Railroad connections include Amtrak's Southwest Chief along the Burlington Northern and Santa Fe tracks and the historic Grand Canyon Railway, which begins its daily scenic trip to the South Rim from the restored depot in Williams.
The town of about 3,000 people lies 214 miles from Las Vegas. To reach it, follow U.S. 93 across Hoover Dam into Arizona. Get an early start to avoid construction delays near the dam where bridge and highway construction continues. Kingman, Ariz., lies about 100 miles from Las Vegas. Head east toward Williams from Kingman either on old Route 66 or on I-40, a drive of 111 miles.
Williams takes its name from mountain man "Old Bill" Williams, a fur trapper and trader who explored the area in the early 1800s, leaving a legacy of place names for landmarks in Arizona. The town drew life from mining and logging in early times. It gained importance when the railroad pushed through.
Starting in 1901, train passengers headed for the Grand Canyon took the scenic Atchison, Topeka and Santa Fe line from Williams to the park. To serve travelers, the railroad constructed a depot and the Fray Marcos Hotel, a Harvey House facility, in Williams, both now listed on the National Register of Historic Places. The popularity of the family car for vacationing contributed to the scenic railroad's decommissioning in 1968.
An imaginative couple resurrected the old line after nearly 20 years. The Grand Canyon Railway started hauling passengers aboard restored railroad cars hauled by vintage locomotives in 1989. The popular excursion now takes nearly 250,000 visitors to the South Rim annually. The scenic 130-mile roundtrip includes Wild West entertainment like shootouts and train holdups. Fares vary according to which class you select and whether you choose an overnight package. Special events include an adults-only sunset ride with jazz and gourmet fare in September and October and the family-friendly Polar Express in December.
In Williams, the railway supports the restored depot, the old hotel which now houses a gift shop, a new RV park and a hotel styled after the original, but with modern resort amenities. With nearly 300 rooms, the hotel is one of the largest in Williams, which boasts a total of 1,500 rooms. For information on the Grand Canyon Railway, reservations and a wide variety of travel packages, go online at www.thetrain.com.
Many visitors find that using Williams as a hub is a good vacation strategy. Summer visitors find cooler temperatures in Kaibab National Forest surrounding Williams where popular activities include camping, fishing and hiking. The area contains at least 30 hiking routes and several lakes. The pristine Sycamore Canyon Wilderness invites exploration by visitors on foot or horseback. Winter visitors enjoy cold season sports like snowmobiling and skiing, both downhill and cross country. Visit the U.S. Forest Service information center in Williams to find out more about regional recreational opportunities or go online at www.fs.fed.us/r3/kai.
Attractions near Williams include a fine course for golfers open during snow-free seasons, a Saloon Row Ghost Tour downtown, a petting zoo at the Grand Canyon Deer Farm and vintage aircraft at an air museum at Valle Grand Canyon Airport. For general information on the area, contact the Williams-Grand Canyon Chamber of Commerce at (800) 863-0546 or www.williamschamber.com.
The local chamber of commerce supports many special events during the year. Upcoming observances include a Small Town Fourth of July with a parade, barbecues, ice cream social and fireworks.
The Cool Country Cruise-In with a Route 66 theme features a classic car show on July 15-16. Rodeo at the Bob Dean Rodeo Grounds is big in Williams with the Cowpunchers' Reunion Rodeo July 25-27 and the Labor Day PRCA rodeo, parade and dances Aug. 30-Sept. 1.
Margo Bartlett Pesek's column appears on Sundays.