Zion's crowds diminish in winter, not its beauty
November 3, 2013 - 2:02 pm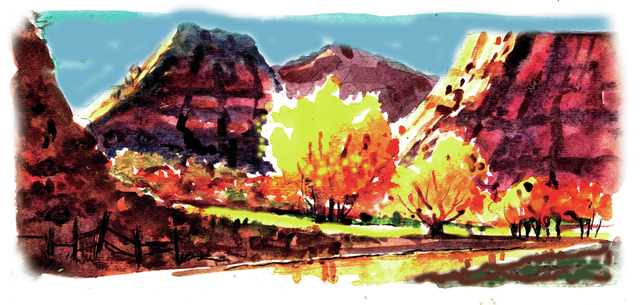 Zion National Park in Southern Utah offers year-round opportunities for visitors to admire its gorgeous cliffs and canyons and to experience varied outdoor activities.
Although very busy in the summer, the park usually attracts heavier visitation in the spring and fall. It welcomes the fewest visitors from December through March, but this period is most popular with those who prefer to enjoy the park's splendor in solitude.
Zion is an easy 2½-hour drive from Las Vegas. Follow Interstate 15 north into Utah to the turnoff onto state Route 9 a few miles beyond St. George. Drive through Hurricane to the fork that travels along the Virgin River, where autumn paints bright colors in the trees and pastures lining the river.
The highway threads its way through pioneer-era communities, where gardens bright with fall flowers add charm to quiet residences.
The park's main entrance is just beyond busy little Springdale. In this portal community, park visitors find services, shopping, dining and varied accommodations.
Expect to pay a $25 fee to enter the park, unless you own a park pass. If you have a large vehicle or are towing a trailer, you will have to pay a $15 escort fee when you exit Zion Canyon through the narrow Mount Carmel tunnels.
Although Zion is relatively close for Southern Nevadans, the shorter autumn days limit how much daylight you will have once you arrive. Even if you get on the road early, you'll have to drive home in the dark if you plan a one-day trip.
Instead, plan to stay overnight or longer in or near Zion during this season. The park hotel and restaurant remain open, busy enough to require reservations for the motel-style rooms or rustic cabins. One of the park's two large campgrounds stays open through the winter. Private campgrounds, motels, inns and guest ranches in Springdale and other nearby towns provide options for park visitors. Inquire about lower offseason rates.
It is not too late to enjoy fall color on scenic drives and trails within the park, even though high-country color is long gone. Look for autumn to linger in the protected areas along the Virgin River in Zion Canyon, in side canyons and in southern portions of the park that include high desert.
Days typically are balmy and clear in early November, but it will be cool in the shade. Nights are crisp. Dress in warm layers.
By mid-November, light snow may frost Zion's cliff tops and lie in shadows along roads.
As winter approaches, some park facilities or activities will be closed. The visitor center is open all year. Many park trails remain open, but icy conditions in winter make some unusable. Horseback trail rides shut down at the end of October. The shuttle system that curbs congestion in Zion Canyon runs from April through October. The busy schedule of ranger talks and walks is curtailed for the offseason.
As visitors explore Zion National Park by road or trail in the fall, they will see many more deer than during any other time of year. The animals congregate in the park, where canyon walls provide protection. The deer migrate from the high country, where winters are harsher.
In Zion, open areas filled with summer's growth of vegetation provide comfortable browsing for herds of deer. Thickets of brush and trees make good places for them to bed down at night. And best of all, in the national park, they are safe during fall hunting season.
It's little wonder that Zion is so popular with photographers and artists at this time of year. All that dramatic color, light, shadows and wild animals within camera range attract droves of them to this popular scenic gem each fall.
Scenic Route 9 climbs out of Zion Canyon through narrow two-lane tunnels in the cliffs built in the days when automobiles were much smaller. The road twists around spectacular eroded formations and junctions with U.S. Highway 89 a few miles past the park's east entrance. Many park visitors take a break during their return trip at the junction, where at least one restaurant offers excellent pies.
Explore more of the region by using alternate routes north or south of the junction for a scenic loop back to I-15.
Margo Bartlett Pesek's Trip of the Week column appears on Sundays.