Even before digital cameras, Las Vegas was most popular for photos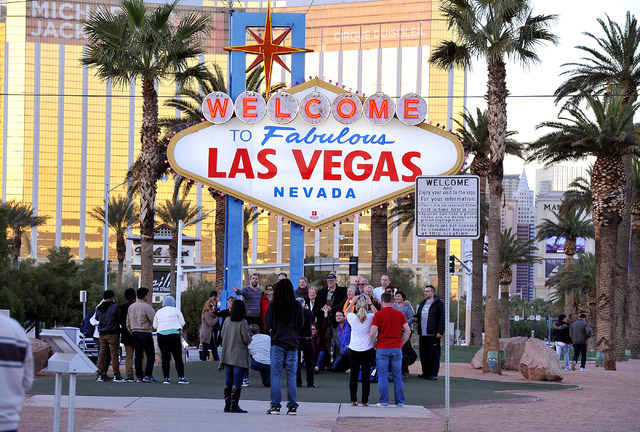 VEGAS > DISNEY
In ye olden days, before we took photos on our phones for cloud storage, humans took photos like apes: We pointed an analog camera at something, captured an image on something archeologists call "film," and then we paid "photo booth people" to develop "negatives" into photos.
For 26 years, people have been sending such analog photos to a company called ScanMyPhotos.com, which scans customers' old analog photos into computers and turns them into digital pictures.
Recently, Katy Perry's dad got old photos of her digitized, which she then put on social media.
Now, ScanMyPhotos is using software recognition to analyze more than 14 million of those old analog photos that have been digitized. Results:
Some 70 percent of old analog photos submitted to ScanMyPhotos are travel pictures.
And Las Vegas is the most prominent city in those photos, beating all Disney resorts, Paris, New York and national parks.
Another media outlet claimed Disney beat Vegas, but ScanMyPhotos CEO Mitch Goldstone tells us Disney only beats Vegas is you combine all Disney resorts around the world, from Paris to Japan, so Vegas > Disney.
Goldstone said one of the most unique Vegas photos is of Anita Pointer of the Pointer Sisters pointing at a Caesars Palace marquee promoting the Pointer Sisters. It's pointy.
Very few photos have nudity, because, duh, ye olden days were shy.
And the three most common things in the backgrounds of Vegas photos: marquees/signs, up-close meetings with celebrities and food.
Yes, even before Instagram, people were taking innocuous photos of their stupid (expletive) food.
"Isn't that funny? I think it's because the buffets were so exotic and unusual," Goldstone says.
What do these food photos look like?
"Remember 'Vegas Vacation' with Chevy Chase? That scene in the buffet with different colors of goop or whatever?" Goldstone says.
WANDA SYKES ENJOYS ALCOHOL
The great comic and actress Wanda Sykes doesn't have a residency on the Strip, partly because she would need a new liver to live in Las Vegas, she says.
"I would have to already have found a new liver, just a liver on stand-by, for me to take up a place in Vegas," she jokes.
Sykes headlines Vegas just a few times annually, doing stand-up this Friday ($52-$87) at Treasure Island hotel ("Possibly, I'll have a few drinks," she says), not returning until Sept. 9.
She also doesn't have a residency here because she's got kids and a Hollywood career to run.
Friday's gig is a "very polished" dry run for a TV special Sykes is shooting for Epix in May at Los Angeles' Ace Theatre, she says.
Sykes is well known for TV roles on "Curb Your Enthusiasm," "The New Adventures of Old Christine," and "Black-ish."
She also just shot a pilot for a possible new ABC show called "Dream Team" in which she plays a soccer mom with a wife.
"It's the first time that I'm married to a woman" in a TV show or movie, says Sykes, who married her wife in real life after coming out as gay during a pro-LGBTQ rally in Las Vegas in 2008.
"It's the first time I'm playing a lesbian," she says. "I like it, yeah."
And she's loving being an executive of her own production company.
"The biggest kick I get out of it is, I love hiring people," because it's a thrill to create "something that puts people to work," she says.
After every hire, she jokes, "We shoot off fireworks, and there's cake."
But she hasn't fired anybody yet.
"Oh, no. I let my partner take care of that. I don't even show up for work that day."
"Oh Wanda," I joke at her, "that's so cowardly."
"Yep," she says. "That's me!"
NEW ROMANTICS
There's a new celebrity couple in town.
Pauly D has been a Las Vegan for years, and a resident DJ around town. Aubrey O'Day was one of the original stars of "Peepshow," flashing her boobs before Holly Madison took over her boa.
On Saturday, Pauly D and O'Day were arm-in-arm in the leathery Hyde Lounge of T-Mobile Arena during Guns N Roses' show.
"Pauly and I are madly in love," she told E! News a week ago.
Anyone have a couple name for them yet better than Paubrey?
SEAL THE DEAL
On Monday, the upcoming Wynn club Intrigue (opening April 28) announced Seal ("Crazy," "Kiss from a Rose") will play a full concert there on May 21.
That's notable, not just because Seal isn't a DJ, but because Seal isn't the kind of young pop star you see headlining at other clubs. He's the kind of singer who usually performs in, say, Mandalay Bay Events Center.
The gig is called "Seal: An Intimate Evening," because it'll be just Seal and one or two band members, which makes this more economical for Seal, since he doesn't have to arrive with eighteen-wheelers full of concert equipment.
Tickets, $100 and up, are already on sale at the Wynn Box Office (702-770-2270; wynnsocial.com).
SIGHTINGS
Victoria's Secret models Taylor Hill and Josephine Skriver saw "Absinthe" at Caesars Palace on Sunday night. Skriver partied Friday at 1 Oak nightclub with DJ Lil Jon, singer-songwriter Alexander DeLeon, and model Jasmine Tookes.
Drew Brees of my New Orleans Saints watched the Masters at the Still Craft, Drafts & Eats in the Mirage this weekend.
Doug Elfman can be reached at delfman@reviewjournal.com. He blogs at reviewjournal.com/elfman. On Twitter:@VegasAnonymous