Ex-Vegas madam dishes on old profession
September 22, 2015 - 5:17 am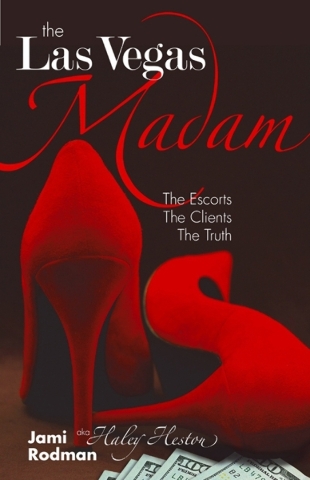 Jami Rodman makes it sound as if she were born for high-priced prostitution.
"I was addicted to it. I was working every day," she told me over midday coffee in a bustling convention hall.
"It's very liberating. I enjoyed the sex part. I enjoyed the sociology part.
"It's a great way to meet really cool people," she said. "You're basically dating but without the hassles."
Rodman even rose to madam of VIP sex workers, but it wasn't emotionally or financially fulfilling:
"That was so much work — 60 women at any given time that were having issues and problems."
Two years ago, she and one of her $600-per-hour escorts, former Olympian Susie Favor Hamilton, were outed by SmokingGun.com. Rodman went out of business.
Rodman wrote her nonconformist's life story in a book, "The Las Vegas Madam," available for prepurchase on Amazon, coming out in time for Christmas shopping.
When you have coffee with Rodman, sans makeup, you realize she looks slightly like Jennifer Anniston in person. Demeanor: smart, professional, laser-beam eye contact, doesn't look her age (37).
She is an archetype. She was raised religious in small-town Oregon (no TV, music, makeup or hair-cutting). When she saw nudity as a child (Playboy, porn) it revved her up.
"I had honestly dreamed of escorting since I was very young," she told me.
In her early 20s, she moved to Las Vegas, broke, waitressed at the Rio, then moneyed up to cocktailing at a strip club, stripping, escorting, madaming.
The job-of-the-future she skipped was working as a cam girl for a Vegas company in a house.
"They offer great perks," she said. "They have a gym set up at the house. You can bring your homework. There's a kitchen and a chef."
Rodman says the population percentage of sex workers in Vegas is "staggering." Online ads count them by the tens of thousands.
"I could probably put a text into my phone and within 24 hours have 5,000 women available, just because of the complex networking," reaching casino hosts, cabbies, doormen, bellmen and beyond.
"You can see it in the nightclubs, and the pools, the convention halls, modeling — everything has that angle."
There are "casino girls" in lounges, "1-800" call-center girls, stripper-prostitutes, streetwalkers on Boulder Highway and Tropicana Avenue, women who have a sugar daddy or two, and low-key escorts on sites such as Eros and EroticReview.
"A lot of women don't do this for a living. They do this because it's a hobby," she said.
Since it's illegal, prostitutes and Johns use fake names, giving everyone a mental "out" that it's not them who's doing this.
What are the odds I've known a woman who was a secret prostitute?
"Pretty high," she answered.
She experienced consensual prostitution as empowering sex workers to transfer power away from clients, not the other way around.
You can make a logical case for widespread legal prostitution. Brothels have proven for decades they protect women and men who will do this, anyway, while disease and sometimes death haunt streetwalkers, Johns and spouses.
(Prostitutes who want an exit strategy from pimps, and a safe house, can start at a site such as swopsacramento.org.)
Rodman reminds us an estimated 60 percent of prostitutes are tragically trafficked slaves, according to a 2006 study called Prostitute Research & Education. Just as Prohibition created a springboard for organized crime, anti-prostitution laws fuel illegal trafficking. The most vile traffickers buy, sell, pimp and torture little girls and boys who have GPS trackers implanted in their legs.
Unregulated prostitution also leads to tourists getting bait-and-switched by call centers, and "trick rolled" (robbed) in rooms by pimps and criminals.
Rodman got roofied twice against her will.
"They took my car from valet and drove my car to their house. I woke up in a limo in the middle of Green Valley at, like, three o'clock in the afternoon."
After the 2008 bank and stock crash, Vegas became a bull market for women with blue-chip tastes and debts who entered prostitution.
"They had, perhaps, shopping habits. They had mortgages to pay. They had leases to fill. They had children to put into school," Rodman said. "It wasn't bad for them. They meet really wealthy guys, who take them to dinner, buy them clothing."
Some 39 percent of prostitutes do as Rodman did, choosing the life as a career.
How do prostitutes have sex with men and women they find unattractive?
"They're professionals," Rodman said. "I've heard many women say over and over again, 'I just look for the best thing in each person I see.' "
Prostitutes are not hardened, careless women, she said.
"If they were that way, no one would see them."
You can listen to our conversation on my podcast at DougElfman.com.
Rodman says she's out of prostitution, and into humanitarian work, in California.
Neither of us can believe there's no Uber-like prostitute app, yet.
"I would have used that in a heartbeat."
If she were an Ohio wife, would she let her husband fly to Vegas alone? No.
"My perspective is skewed, because 99 percent of the men I met were cheating on their wives," she said. "That's what I think about now when I come to Vegas."
— Doug Elfman can be reached at delfman@reviewjournal.com. He blogs at reviewjournal.com/elfman. On Twitter: @VegasAnonymous