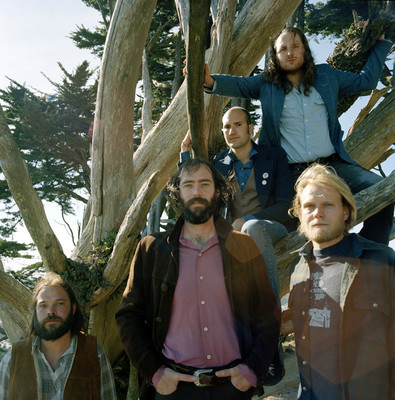 It sounds like a director's cut of some of the best '70s rock jams: purring organ that throbs in your temples, a singer who packs the gooseflesh-cultivating howl of a garage-rock Joe Cocker, long, slowly unfurling tunes that amble by like they were floating on some mild breeze, guitars fuzzier than the memories of a long night of whiskey and nicotine.
It's called "Magnificent Fiend," and it's the second record from shape-shifting San Francisco rockers Howlin Rain, and for the most part, it packs all the debauched grandeur that its title implies.
Equal parts wild-eyed psychedelia, horn-peppered funk, willowy riff rock and even a touch of righteous gospel, the album is defined by its breadth and zeal for exploring rock 'n' roll's outer bounds.
"You don't have to change, you don't have to hold on to the past," Miller sings on the dusky "El Rey," and in many ways it feels like the band's mission statement: Their songs are undoubtedly rooted in the warm, organic sounds of '70s radio and a reluctance to embrace the more clinical recording technique of the present, but at the same time, the band builds upon the works of its predecessors rather than simply aping them — the punk energy of "Fiend" signals that this is no nostalgia trip.
Listening to the album with headphones on is like getting lost in some winding labyrinth and not really caring if you find your way out.
"It's not a record full of three-minute-and-20-second, verse-chorus-verse-ending pop songs," Howlin Rain frontman Ethan Miller says flatly.
It's a statement of the obvious, like a meteorologist noting that the sky is blue.
"I kind of initially set out trying to make sort of a folk record or something, and it didn't really come out like that," he adds. "But I think it does have the pace of some of the more ethereal folk records that I was kind of thinking of."
That otherworldly vibe is enhanced by Miller's literary, fantastical lyrics, which are very elemental in places — lots of wind, fire and nature metaphors — and inspired by the metaphysical uncertainty of Goethe's "Faust," the grit of Jim Thompson's hardboiled crime novels and the high-minded, utopian futurism of various science fiction novels.
A key influence on the disc is "Dancer at the End of Time," a searching, existential sci-fi epic by English author Michael Moorcock, the title of which Miller borrows for a song on the album.
"It really jived with me, especially with what was going on right then," explains Miller, who also plays with psych rockers Comets on Fire. "The war in Iraq was escalating when it was supposed to have been won and over for three years. Global warming was escalating. It just seemed like a real pressure point that we had come to. I like the way that Moorcock paints civilizations on the brink in that same complex manner, where they're ugly and grotesque and greedy and self-indulgent, but at the same time, they're beautiful and inspirational."
Considering his passion for the most far-out sounds of decades past, it should come as little surprise that Miller developed a fan in the wooly-bearded, Zen-master producer Rick Rubin, whom he met through a mutual friend.
Rubin later would sign Howlin Rain to his American Records imprint.
"He just e-mailed one day, which sounds a little funny, but is basically true," Miller says. "He's not a giant fanfare kid of guy, so he just sent me an e-mail and was like, 'Want to hang out?' We just went out to his pad and BSed about music and stuff. We're both total music lovers who could talk all day about our favorite punk bands or the Bee Gees and how great their early songs were. Just music geek stuff."
Like Rubin, Miller is a music lifer who speaks with the gusto of a kid who just got exactly what he wanted for Christmas.
And ultimately, he pretty much has.
"I wanted to be a musician and an artist for as long as I can remember," he says. "From as far back as I can remember, I started kind of reaching out and painting things and just being enamored by art and artists and wanting to do that in life. I couldn't comprehend any other life.
"Of course, you get to be about 22 and get out of college and realize that it's going to take a lot more than just wanting to be an artist to be an artist," he continues. "You realize that you're going to be maybe working in a warehouse or something like that," he chuckles. "It's a much more tangled path."
Kind of like his tunes.
Contact reporter Jason Bracelin at jbracelin@reviewjournal.com or 702-383-0476.
PREVIEW who: Howlin Rain, opening for the Black Crowes when: 8 p.m. Saturday where: The Joint at the Hard Rock Hotel, 4455 Paradise Road tickets: $49.50-$150 (693-5066)