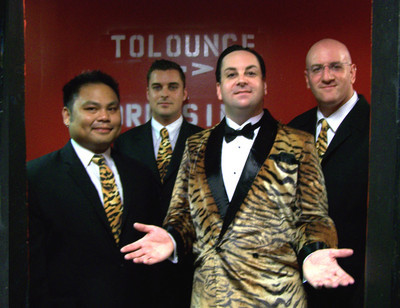 Sometimes you wonder how the man speaks with his tongue burrowed so deeply in his cheek.
But when the subject turns to ensuring that Sin City lives up to its name, Richard Cheese becomes as serious as a dude in a tiger-print tux can ever be.
"I love Vegas, for all the obvious reasons," the punchy faux lounge singer says, defending his turf. "I wouldn't say that I'm going to miss Celine Dion. I'm glad she's packing up, because I don't think that's what Vegas should be about. I like a Vegas show where there's a lot of drinking, a lot of swearing and a lot of nudity.
"When Frank and the Rat Pack were doing their thing, you were guaranteed to be entertained as well as offended," he adds. "If you go to a Vegas show and you aren't offended, then you aren't getting your money's worth."
Cheese doesn't shortchange when it comes to gaudy threads and barbed satire. He's something of a cross between Mel Torme, a used car salesman and Bill Murray's gauche lounge singer character from "Saturday Night Live."
Backed by a three-piece band, Lounge Against the Machine, Cheese renders rock staples such as Nine Inch Nails' "Closer" and Led Zeppelin's "Stairway to Heaven" svelte, purring toe tappers.
He does the same with pop and rap ubiquities like Nelly's "Hot In Herre" and the Black Eyed Peas' "Let's Get It Started," crooning through the songs blithely, rendering them (qu)easy listening classics.
"Lounge music has always been around, and it will continue to be around, as long as there are great songs to sing," Cheese says through an audible smirk. "You look at a song like 'Gin and Juice' by Snoop Dogg — what a beautiful love song that is. If Frank was alive today, he'd be singing songs by System of a Down and the Foo Fighters and Weezer."
Cheese is as Velveeta-esque as his surname applies, and the joke would grow old almost instantaneously if he couldn't sing. But Cheese handles the material well, highlighting the inherent silliness found in his lyrical sacrificial lambs, rendering even the hardest heavy metal and hip-hop tunes something you could hoist a martini to.
"We used to have a lot of people walking in off the street who didn't know what to expect, and they wouldn't necessarily be able to tell the difference between a song by Cole Porter and a song by Trent Reznor," Cheese says. "But now, it's sort of a community, a family. We have a lot of people who come to every show. I just wish they were better looking, younger girls."
Of course, the lounge singer once defined Vegas, a staple of free entertainment. Now it's a dying breed, suffocated in schmaltz.
Cheese is in some ways a winking throwback to that era, and as such, he's found a steadily growing audience here in Vegas. After performing at A.J.'s Steakhouse at the Hard Rock Hotel on numerous occasions, Cheese graduates to the much bigger concert hall The Joint, where he and his band will shoot a concert film this weekend.
"I'll say this about Vegas, we get the audiences that appreciate lounge music coming to our shows," says the L.A.-based crooner, who has a background in comedy. "People come to Vegas and they like to put on a nice outfit and come to the show, have a cocktail. There's usually a lot of drunks. Some of the drunk women come onstage and dance, which is fantastic. I can promise that will happen at the movie shoot."
Audience participation is always a part of Cheese's gigs, as he works the room like a glad-handing politician up for re-election.
Like Vegas itself, it's all about the spectacle — in other words, it's all about you.
"We're encouraging people to show up wearing lounge outfits," Cheese says. "Put on your tiger-striped tuxedo, put on your velvet smoking jacket. We're also asking girls to not wear bras, which I think Vegas is actually moving towards. They have the no smoking ban, and we're working on the no lingerie ban. That's one of my pet causes during this election year."
Contact reporter Jason Bracelin at jbracelin@reviewjournal.com or (702) 383-0476.
who: Richard Cheese & Lounge Against the Machine
when: 8 p.m. Saturday
where: The Joint at the Hard Rock, 4455 Paradise Road
tickets: $16.50-$32.50 (693-5066)