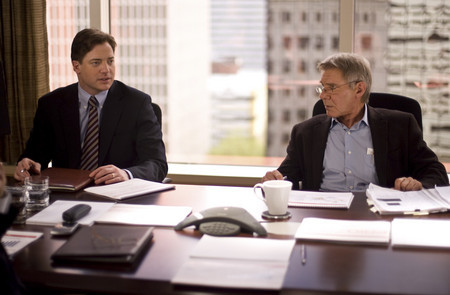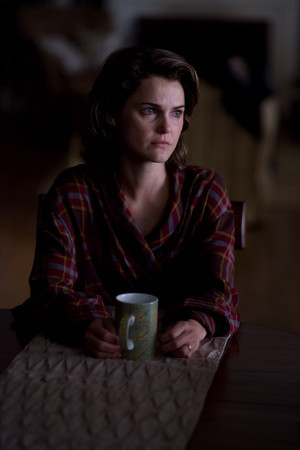 Extraordinary story? Absolutely.
Extraordinary storytelling? Not exactly.
But "Extraordinary Measures" gets the job done.
An inspirational, fact-based drama that simply radiates nobility, "Extraordinary Measures" ranks as a very nice movie — sometimes too nice for its own good.
Yet while its premise is straight out of the TV-movie playbook — a desperate search for a medical miracle, complete with triumph over an insidious, incurable disease — "Extraordinary Measures" does boast a few notable elements.
Chief among them: action guys Brendan Fraser and Harrison Ford. (Ford's an executive producer on this project — and takes second billing for the first time since 1983's "Star Wars" finale, "Return of the Jedi.")
We're used to watching these two-fisted heroes battle supernatural beasties and bigger-than-life baddies — but it's nice to see them engaged in a literal life-or-death drama.
For two of John Crowley's children, it is life or death — and death may be winning.
A rising corporate executive, Crowley (Fraser) has a lovely wife (a game Keri Russell) and three adorable kids.
His professional future may be promising, but his two youngest kids, Megan (Meredith Droeger) and Patrick (Diego Velazquez), have hardly any future at all.
They're both victims of a rare (and fatal) genetic disorder, Pompe disease, for which there's no cure and no treatment.
So Crowley decides to find one.
His quest leads him to the aptly named Dr. Robert Stonehill (Ford), an inevitably mavericky scientist whose research just might save Crowley's kids — assuming they can get the money to fund the research and develop a viable treatment.
Crowley quits his corporate job (and its dependable medical insurance benefits) to establish a start-up biotech firm with Stonehill.
Their research project soon attracts the attention of prominent medical firms with the millions of dollars it will take to fund the search for a treatment that could save Pompe patients.
As the plucky Crowley kids fight for their young lives, their parents — and the flinty Dr. Stonehill — confront the harsh realities of the biotech business, where for-profit principles sometimes outweigh idealistic research concerns.
It's a conflict that threatens to derail everything Crowley and Stonehill are working toward.
It's also a conflict that frequently threatens to throw "Extraordinary Measures" off-track.
Based on "The Cure: How a Father Raised $100 Million — And Bucked the Medical Establishment — in a Quest to Save His Children" by Pulitzer Prize-winning journalist Geeta Anand, "Extraordinary Measures" sometimes seems caught between two contradictory impulses.
On one side, there's the hard-hitting David-and-Goliath story of scrappy independents taking on the cold-hearted bean-counters. On the other, there's the heart-tugging tale of devoted parents determined to save their children no matter what.
But screenwriter Robert Nelson Jacobs ("The Waterhorse," "Chocolat") and director Tom Vaughan ("What Happens in Vegas") have trouble blending, let alone balancing, these two story threads.
As a result, "Extraordinary Measures" sometimes plays like the cinematic equivalent of Dr. Dolittle's Pushme-Pullyu — trying to go in two directions at once, and as a result not getting much of anywhere, let alone where it wants to go.
As the movie moves along in fits and starts, however, it does manage to deliver some striking moments — at least in the acting department.
Cold corporate types Jared Harris ("The Curious Case of Benjamin Button's" Captain Mike) and David Clennon ("thirtysomething's" ruthless Miles Drentell) prove eminently hissable villains. And the achingly earnest Fraser develops an undeniably touching father-daughter rapport with the precocious Droeger.
Not surprisingly, however, it's the dependably grouchy Ford who keeps "Extraordinary Measures" from sinking into a swamp of goody-goody goo. The iconoclastic Dr. Stonehill (a compendium of several real-life characters) is just the kind of tell-'em-off rebel Ford excels at playing — and he deploys his surly snarl (and trademark index-finger-in-the-face) to rip-snortin' effect.
Naturally, there's a calm before (and after) the storm, when "Extraordinary Measures" can't resist jerking the audience's collective tears. (Plan on breaking out the tissues — early and often.)
But just when a flood of sniffles threatens to scuttle the ship, Hurricane Harrison whirls in, providing a welcome blast of fresh air that keeps "Extraordinary Measures" from sinking under the weight of its good intentions.
Contact movie critic Carol Cling at ccling@reviewjournal.com or 702-383-0272.
Carol Cling's Movie Minute
Review
"Extraordinary Measures"
105 minutes
PG; thematic material, profanity, mild sexual references
Grade: C+
at multiple locations
Deja View
Crusading doctors working to find cures for seemingly incurable diseases have powered many a fact-based movie, including these:
"The Story of Louis Pasteur" (1936) — Paul Muni's Oscar-winning performance anchors this stirring biography of the French scientist who developed a vaccine against rabies — and the process of pasteurization.
"Awakenings" (1990) — Robert De Niro and Robin Williams headline this fact-based drama, set at a Bronx hospital in 1969, about a new drug that may help revive comatose patients.
"Lorenzo's Oil" (1992) — When their son develops an incurable degenerative disease, his parents (Susan Sarandon, Nick Nolte) launch a crusade to keep him alive in this Oscar-nominated drama from doctor-turned-filmmaker George Miller ("Mad Max").
"And the Band Played On" (1993) — Matthew Modine, Alan Alda and Ian McKellen lead the cast of this Emmy-winning adaptation of Randy Shilts' book about the discovery of the AIDS virus, its spread — and the political infighting that hampered research and treatment.
"Something the Lord Made" (2004) — This Emmy-winning cable movie focuses on the three-decade partnership between heart surgery pioneers: one white (Alan Rickman), one black (Mos Def).
— By CAROL CLING