October 5, 2007 - 9:00 pm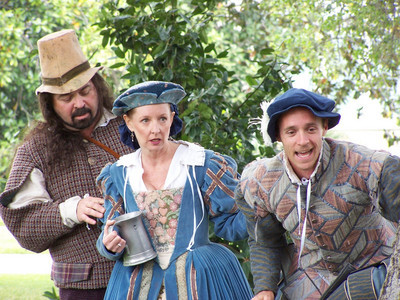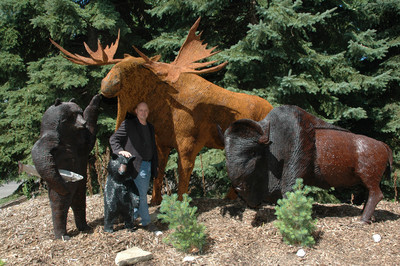 Not all Vegas buffets involve caloric overload and eventual heartburn.
This weekend's cultural feast, for example, offers traditional something-for-everyone variety.
If all your world's a stage, Henderson's annual Shakespeare in the Park presents the Bard's beloved comedy "Twelfth Night." Armin Shimerman, who played Ferengi bartender Quark in "Star Trek: Deep Space Nine," directs the free production tonight at Lake Las Vegas and Saturday and Sunday at Sonata Park.
A more contemporary stage production, Nevada Conservatory Theatre's "The Prime of Miss Jean Brodie," opens a 10-performance run tonight in the Black Box Theatre at the University of Nevada, Las Vegas.
Gotta dance — or, more precisely, gotta watch dance? Nevada Ballet Theatre opens its 2007-08 season with "Don Quixote," which has been a favorite ever since it premiered at Russia's legendary Bolshoi Theatre in 1869. The production runs today through Sunday at UNLV's Judy Bayley Theatre.
And if art warms your heart, Boulder City's 45th annual Art in the Park brings together hundreds of artists and artisans — and thousands of browsers and buyers — Saturday and Sunday.
The entrees on this weekend's cultural menu:
"TWELFTH NIGHT"
SHAKESPEARE IN THE PARK
Armin Shimerman has a double affinity for William Shakespeare's "Twelfth Night," Henderson's Shakespeare in the Park presentation.
For one thing, he shares a name with Robert Armin, who first played "Twelfth Night's" witty fool, Feste. For another, he's writing a novel about the play's motley, mixed-up characters.
"I've been a Shakespeare scholar all my life," Shimerman says. "This was a golden opportunity to put more research into the play."
It also proved a golden opportunity to work with members of the Los Angeles-based Shakespeare at Play theatrical troupe.
"The company has been together for 15 years," Shimerman notes, "and there's a great spirit of camaraderie."
Especially after Shimerman worked with them for three months on "Twelfth Night's" text.
"People will be enormously surprised about how understandable it is," the director says, citing his focus on Elizabethan rhetoric as a key to the play's clarity. "I guarantee anyone who comes will come away saying, 'This is the clearest Shakespeare productive I've ever seen.' "
And when it comes to "Twelfth Night," that's saying a lot, considering the mistaken identities and other misunderstandings that plague its assorted dreamers and schemers, whose experiences range from merry to melancholy.
Presented free of charge, "Twelfth Night" will be staged at 7 p.m. today at MonteLago Village at Lake Las Vegas and at 7 p.m. Saturday and 4 p.m. Sunday at Sonata Park, 1550 Seven Hills Drive. More information is available by calling 267-2171 or online at www.hendersonlive.com.
"DON QUIXOTE"
NEVADA BALLET THEATRE
Despite "Don Quixote's" title, the focus of this classical ballet — danced to Leon Minkus' sprightly score — extends beyond Miguel Cervantes' windmill-tilting title character (portrayed by Jay Kim) and his faithful squire Sancho Panza (Manso DeSousa).
Sharing the spotlight: young lovers Kitri and Basilio. She's the flirtatious daughter of an innkeeper who wants her to marry a rich (and much older) nobleman; he's a barber who doesn't qualify as a suitable suitor — at least according to Kitri's father.
In the ballet, Don Quixote is "the catalyst who brings the story together," explains Elizabeth Wistrich, associate artistic director of City Ballet of San Diego, who choreographed this production, after Marius Petipa's Bolshoi original.
It's the second time Wistrich has staged "Don Quixote" for Nevada Ballet Theatre (the first was in 2001) and "since that time, the company has improved so much," she says.
Principals Elena Shokhina and Baris Erhan, Yoomi Lee and Kyudong Kwak, Racheal Hummel-Nole and Zeb Nole dance the roles of Kitri and Basilio, leading a full corps de ballet featuring 42 company dancers and six students from Nevada Ballet's new Youth Company.
Performances are scheduled at 8 p.m. today, 2 and 8 p.m. Saturday and 1 and 4:30 p.m. Sunday at UNLV's Judy Bayley Theatre, 4505 S. Maryland Parkway. Tickets ($29-$72) are available by telephone at 895-2787 or online at www.nevadaballet.com.
"THE PRIME OF MISS JEAN BRODIE"
NEVADA CONSERVATORY THEATRE
Blaze your own trail and ignore what's gone before.
That's what eccentric educator Jean Brodie advocates.
And it's the path director Mandy Peters follows in staging "The Prime of Miss Jean Brodie," which launches Nevada Conservatory Theatre's Second Season tonight at UNLV's Black Box Theatre.
Maggie Smith won an Oscar for her performance in the 1969 movie version of Jay Presson Allen's play, which Allen adapted from Muriel Spark's 1961 novel. (Vanessa Redgrave first played the role onstage.)
"I had never seen either" the movie or the play, Peters says. "The first thing I did was read the play, then I read the book it's based on. But I held off on seeing the movie until I had formulated my own ideas."
Set at a private school in 1930s Edinburgh, the play introduces the charming but eccentric title character (played by Charlene Sher), who sidesteps the school's established curriculum to immerse her students in unorthodox ideas about art, music, politics — and passion. (The production, which features partial nudity, is recommended for mature adults.)
The play "is taking a critical view on what she does — how far is too far, how much is too much," says Peters, a third-year graduate student who's directing "Miss Brodie" as her master's thesis project.
This weekend's performances will be at 8 p.m. today, 2 and 8 p.m. Saturday and 2 p.m. Sunday in UNLV's Black Box Theatre. Additional performances will be at 8 p.m. Oct. 10-13 and 2 p.m. Oct. 13-14. (A discussion with actors and production staff members will follow the Oct. 11 performance.)
Tickets ($13-$15) are available at the UNLV Performing Arts Center Box Office or by calling 895-2787.
ART IN THE PARK
BOULDER CITY
In the beginning, back in 1963, the Boulder City Hospital Auxiliary gathered 50 local artists for a festival that raised $3,000.
Some 45 years later, Boulder City's Art in the Park — now presented by the Boulder City Hospital Foundation — has mushroomed into Nevada's largest art show, attracting more than 200,000 people in recent years.
But it really should be called Art in the Parks.
Stretching south from Colorado Street through seven-acre Bicentennial Park, Wilbur Square and both North and South Escalante parks, the festival features paintings, sculpture and mixed media pieces, along with ceramics, glass (and stained glass), jewelry, quilts, weavings, mosaics, dolls, metal furniture and other crafts.
Participating artists also contribute works to the traditional raffle, which takes place both days.
Musical performances will add a new note to Art in the Park this year, along with a dog-sitting park where visitors can drop off their canine companions while checking out the offerings.
Some new food vendors also join the lineup; children's activities will be located in the Bicentennial Park gazebo.
Admission is free; refreshments are available for purchase. More information is available online at www.artinthepark.org.