October 26, 2007 - 9:00 pm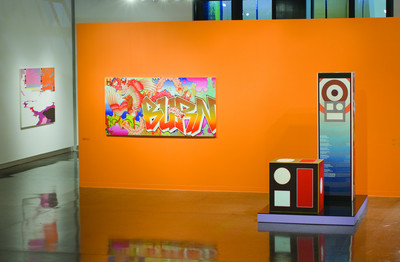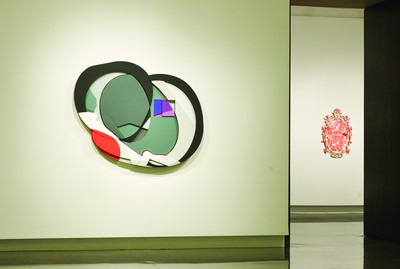 You can go home again.
At least if you're one of the artists featured in "Las Vegas Diaspora: The Emergence of Contemporary Art from the Neon Homeland."
The Las Vegas Art Museum exhibition, which continues through Dec. 30, represents a reunion of sorts for 26 artists who studied at the University of Nevada, Las Vegas from 1990 to 2001. (Two were born and raised in Las Vegas; 10 still live and work here.)
Curated by their former professor, Dave Hickey, the exhibition also reflects Hickey's feelings, which he likens to "kind of like a proud papa" basking in the glow of his children's collective success.
"They've done very well in the world," Hickey says of the participating artists. "I was recently in London (to deliver the keynote address for the Frieze Art Fair) and I didn't see a better gathering of art there."
Or a more eclectic one, in all likelihood.
The artworks that make up "Diaspora" cover a wildly imaginative range, in both form and content.
The two giant canvases that bookend the exhibit illustrate the exhibit's variety, from 18th-century fops frolicking before a painted mountain backdrop — in James Gobel's "Ridicule Is Nothing to Be Scared Of" — to the vibrating vertical stripes of color in Tim Bavington's "Step (In) Out," inspired by Cream's "Steppin' Out."
Gun-totin' gals populate Carrie Jenkins' "The Burnet Rose" and "Cherchez la Femme," while a samurai warrior braves a graffiti-tagged forest of flying arrows in Gajin Fujita's "Ride or Die."
A winged canine takes flight in front of the Country Club Towers entrance in the Rev. Ethan Acres' digital photograph "The Last Voyage of the Beagle."
In the sculptural realm, fused crystal and Pyrex form a three-dimensional wheel (Curtis Fairman's "Sadiddy"), while James Hough's towering pillar, adorned with geometric shapes and graffiti lettering, ponders "How Is My Baby So Far Away?"
The collection also lives up to the exhibition's "Neon Homeland" subtitle, whether in the concentric circles of Angela Kallus' "Black and Blue," the neon-green, pink and white twists of Jack Hallberg's "2103" or Thomas Burke's "Like a Heat Wave," with its geometric figures of yellow and orange undulating as if melting in a triple-digit Vegas summer.
To Jenkins, now based in Los Angeles, "The great thing is seeing how people's work has kind of evolved," she says. "I was speechless when I first saw the show."
Initially, she was struck by "the whole keyed-up color" that characterizes so many of the artworks, she says. "You can tell we came together."
Indeed, "a lot of it is a process of stealing from your friends," Hickey says of his students' artistic development during their years at UNLV.
Hickey, a renowned art critic — and winner of a MacArthur Foundation Fellowship "genius grant" — now serves as Schaeffer Professor of Modern Letters in UNLV's English department.
During the '90s, however, he taught art theory and criticism in the art department, which became a powerhouse with a national, and international, reputation.
In "The Neon Decade," an essay that accompanies the "Diaspora" catalog, Hickey describes that time as "the 12 years that my wife (Las Vegas Art Museum director Libby Lumpkin) and I taught in one of the best, most famous graduate programs in the world. The fact that no one in Las Vegas knew this didn't matter. We were famous in that gauzy, mysterious, art world sort of way. Our names were dropped in Zurich, Cologne, Tokyo and New York. The program was written about all over the world."
As a result, most of the "Diaspora" artists are better known in New York and L.A. than they are in Las Vegas, Hickey says now.
He hopes the exhibition will help change that.
"Diaspora" has been in the works for about a year. But Hickey and Lumpkin have been discussing it on and off for about two years, he notes.
Some of the artworks on display come from private collections, galleries and museums. Other works, like Bavington's "Step (In) Out" and Jenkins' "Cherchez la Femme," were created especially for the "Diaspora" exhibit.
"Dave knew that he wanted something big for the back wall," explains Bavington, a Las Vegas resident. "He left it up to me."
That's in keeping with Hickey's overall approach when working with his students at UNLV.
"My idea of teaching was to say, 'That's real good — do some more,' " Hickey recalls.
Kallus, who now lives in Las Vegas, came to UNLV after reading Hickey's books — and seeing an exhibit in Dallas showcasing work being done by his UNLV students.
"After I came here, I started making much different art," Kallus says. "I think it's quite a bit better."
Jenkins too decided to pursue a master's degree at UNLV after working with alumna Jane Callister (represented in "Diaspora" by the abstracts "Cosmic Collision" and "Cosmic Landslide"), Jenkins' first painting professor as an undergraduate at the University of California, Santa Barbara — where Hickey was a visiting professor.
UNLV may be "an obscure place to go to art school to begin with," Jenkins acknowledges. "But it was a huge phenomenon at the time."
Overall, the artists attracted to UNLV were "strong independent people with their own ideas," Bavington says. And Hickey encouraged independent thinking.
"Las Vegas attracts people who can take care of themselves," he says. Not only were they "not afraid to have fun, they're not afraid, period. They feel like they can make their own world."
Likening Hickey's teaching technique to coaching, Bavington says "Dave was to the art department what (former coach Jerry) Tarkanian was to the basketball department — a very different kind of coach" who helped put UNLV on the map.
"For Las Vegas and the university," Hickey writes in his "Neon Decade" essay, "it was just a flicker, a bright moment, but, if the cards had fallen as they might have fallen, we could have had it all."
Rather than mourn what was, however, Hickey celebrates it in "Las Vegas Diaspora."
Prior to coming to UNLV, "I taught brilliant students at a lot of fancy schools," he writes, "but never with such an extravagant result — never with this flowering of talent, joy and ambition. So, I have decided to gather together the work of these artists at ground zero — in one of the few venues where their work actually needs exposure — in the place whose generous spirit and powerful eccentricity made the work possible: the city of Las Vegas."
what: "Las Vegas Diaspora: The Emergence of Contemporary Art from the Neon Homeland"
where: Las Vegas Art Museum, 9600 W. Sahara Ave.
when: 10 a.m.-5 p.m. Tuesdays-Saturdays, 1-5 p.m. Sundays (through Dec. 30)
tickets: $3-$6 (360-8000, www.lasvegas artmuseum.org)