Festival-goers dance till dawn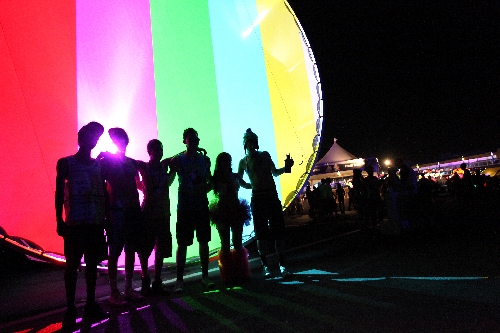 It was a human traffic jam, a gridlock of limbs.
At a bit past 1:30 Saturday morning, tens of thousands of bare-chested dudes, bikini-clad girls and costumed fruit items of both sexes jostled for space as DJ-producer Kaskade took to the main stage during the first of three days of the Electric Daisy Carnival, a cocoon of light and sound where audio and visual stimuli came from every direction.
As soon as Kaskade launched into set opener "Lessons in Love," a starry-eyed dance floor come-on as gooey as melted chocolate, the crowd exploded like it was part of the pyrotechnics display.
The crowd would do so over and over again until the sun rose over the Las Vegas Motor Speedway four hours later.
Repetition was a motif at EDC, a guiding principle for many of the performers in this fantasia of flesh, Ferris wheels and fire (bursting from every stage, as well as several art installation pieces).
Take Datsik (British dubstep DJ Troy Beetles), who pummeled the crowd before him with repeated low-frequency beats like a boxer working a punching bag: insistent and unrelenting.
His countryman, the masked DJ FuntCase (James Hazell), was similarly preoccupied with creating this sort of rhythmic hypnosis, with bass lines that left one feeling numb in the spine.
It was dance music, but people didn't really dance: they pumped their fists, pistoned up and down and vibrated in place like struck tuning forks.
Their movements were as varied as dance music itself has become.
It's less a genre than a collection of them, a big tent of sounds that en­compasses hip-hop's love of bass, heavy metal's veneration of raw power and pop's buoyancy – to name a few.
There's an immediacy to it, and as such, all the carnival rides that checkered the EDC festival grounds seemed like a fitting inclusion because their appeal is posited on the same thing the music's is: a near instantaneous, momentary, largely noncognitive thrill.
At best, they create a feeling of stupefaction, a desired state here.
And hopscotching among the seven EDC stages certainly provided as much.
Some acts bludgeoned (especially those on the gut roiling Bass Pod stage).
"These sounds will electroshock your mind," a sampled voice intoned in one tune from Brit duo Noise Controllers, who conjured a concussive, monolithic machine drone.
Just as jarring was drum 'n' bass duo Dieselboy and Bare, whose subwoofer agitating set was like a physical challenge to the crowd, a test of their mettle in the face of high-velocity rhythms that whizzed by with the speed and volume of the jet planes that continually buzzed the speedway, bound for Nellis Air Force Base.
"Brace yourself," a recorded voice warned before the duo got going. "You've entered the kill zone."
Where some acts came on strong, others soothed, such as Brit trance group Above & Beyond, who created a melodic, almost meditative reverie at times with surging synth lines and irrepressible energy levels.
And then there were the straight party starters, like Dutch DJ-producer Afro­jack, who built a melodic line around a wailing police siren at one point during his overheated main stage stint, and Italian Benny Benassi, whose performance on the Cosmic Meadow stage was 75 minutes of climaxing synth lines that had the crowd dancing the grass on the speedway's infield down to dirt.
The whole night was pretty much one grand, prolonged expulsion of energy, where even a semi-ballad like Oasis' "Wonderwall" was turned into a four-on-the-floor banger by DJ Figure (aka Josh Gard), who clearly enjoyed the mayhem he conjured among the overzealous crowd.
"You guys are so ridiculous," he panted at set's end, eyeing a crowd dressed as cartoon characters and superheroes.
It was meant as a compliment.
Contact reporter Jason Bracelin at jbracelin@reviewjournal.com or 702-383-0476.
Electric Daisy Carnival
FOLLOW US ON TWITTER
• @JasonBracelin
• @MikeWeatherford
• @VegasAnonymous (Doug Elfman)