Festival-goers register to vote at EDC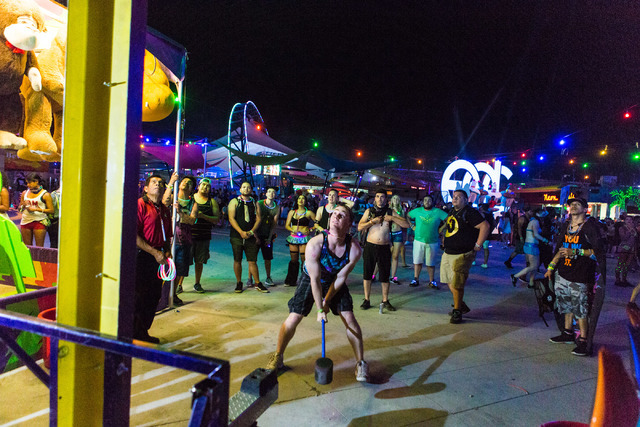 Most Electric Daisy Carnival attendees probably don't come to the three-day music festival seeking a civics lesson.
But the political whirlwind surrounding this year's presidential election did not stop at the Las Vegas Motor Speedway gates, where more than 150,000 people of voting age danced their way through the night.
Eager to promote political participation and remind festival goers of the virtues of being involved in the democratic process, volunteers from the non-partisan group HeadCount sat at a booth inside Carnival Square (described as "a communal destination and chill zone" on the EDC web site).
"We usually get a really good reaction from people," said Kimberly Abels, a HeadCount team leader. The EDC crowd hasn't been adversarial or overtly negative toward one candidate or another, she said, as has been the case at other events.
The nationwide organization has worked with music industry leaders, musicians, promoters and organizers to boost voter registration since 2004. After a good turn-out at last month's EDC New York, the group elected to set up a booth this weekend in Las Vegas as well. Attendees could register to vote in almost any state, although there were exceptions. Some festival goers who were already registered to vote stopped by to change party affiliation or update their mailing address.
On Friday night, about 100 people registered to vote, according to HeadCount volunteer Monique Garcia.
Saturday night, hours after Republican presidential nominee Donald Trump campaigned just a few miles away, there was a much lower turnout. An attempt to engage the crush of people in line waiting to enter the venue Saturday night proved unsuccessful, Abels said, with only about five people registering as they raced toward the concert stages.
"They're on a mission," she said.
The good news, Abel said, is that political participation and interest among young people has gone up overall. In Los Angeles, she used to register five to 10 people per concert, but during this particularly volatile election cycle, she said she has been registering about 20–30 people per show.
Maxwell Bullen, a 19-year-old first-time registrant from Henderson, came by because he felt registering to vote was something he should do.
"It's not supposed to be a political atmosphere, but it's also important to make your opinion heard," Bullen said.
After taking a few minutes to fill out he form and answering a couple questions, he was out under the electric sky again.
As he disappeared into the crowd, Abels called after him: "Make sure you actually vote!"
Contact Sarah Corsa at scorsa@reviewjournal.com or 702-383-0353. Find @sarahcorsa on Twitter.