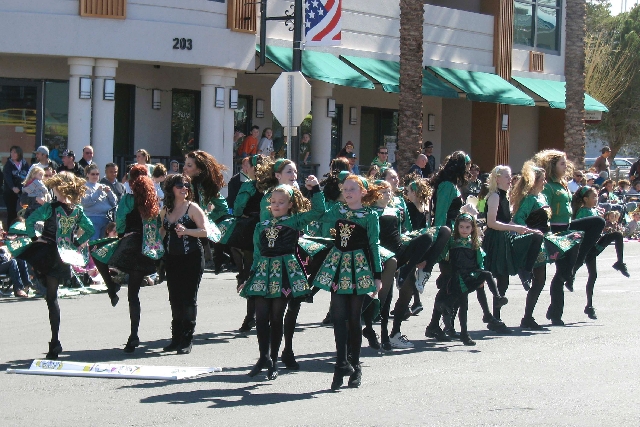 Since 1966, the Sons of Erin, a local group of Irish enthusiasts, has been honoring the Irish culture with an annual St. Patrick's Day festival.
This year, they have taken a one-day holiday and stretched it into a four-day celebration beginning today with a carnival in Henderson. It wraps up Sunday with a day of festivities, including soda bread demonstrations, Irish music and more.
You can be sure that the whiskey and Guinness will flow freely over the next few days. But Sons of Erin members hope people will delve a little deeper into the history of the Emerald Isle. Go beyond the green beer and leprechauns, says the group's spokeswoman, Dona Brown.
"St. Patrick's Day is the party day. It's a legal day to get drunk and happy and act the fool," says Brown, a native of Ireland who moved to Las Vegas in 1980. "But there's more to the heritage than just drinking and messing around."
A series of demonstrations and classes at the festival will introduce the uninitiated to some of that Irish culture and its influence on American music and dance. Brown will teach willing students how to dance a real Irish jig and how to play a bodhran, the Irish drum.
Irish foods, such as corned beef and cabbage, soda bread, stews and potatoes, will be available at various kiosks. Revelers can enjoy live music from Irish bands, whiskey tastings, a beer garden, a parade, a car show and even an ugly knees contest.
Organizers expect thousands to turn out this year, as interest in all things Irish is particularly strong across the nation. Not surprising, as nearly 35 million U.S. residents claim Irish ancestry, according to U.S. Census data. That's more than seven times the actual population of Ireland.
Of 2.7 million Nevadans, approximately 11 percent are Irish or have Irish ancestry. Only a couple of hundred are members of the Sons of Erin, though. The festival is an opportunity for the organization to increase its membership. One does not have to be Irish to become a member of the group, Brown says. It helps to have a love of Irish culture, though. Since the organization's founding, membership has remained steady; currently, the group has about 260 members. Of those, about 20 percent are women.
The Sons of Erin only started allowing women members four years ago, Brown says. Throughout the year, the group goes on pub crawls, golf outings and other family-friendly activities.
This year's St. Patrick's Day festival is designed to be more user-friendly, Brown says, while appealing to younger crowds. The carnival, which runs all four days, kicks things off today in the Henderson Events Plaza, 200 S. Water St. That will be the site of all of the festival's events.
Popular local band Finnegan's Wake will be performing Friday from 6 to 8 p.m.
"We've got more Irish rock music to try to attract the younger people, but we've got traditional Irish, as well," Brown says.
A parade featuring dance groups, floats and other units, starts at 10 a.m. Saturday and will travel through the Water Street District.
Admission is free to the public; carnival rides require tickets, which can be purchased on site. Prices range from $1.25 for a single ticket to $30 for an all-day ride pass. Some activities, foods and drinks require a fee.
A portion of the proceeds raised will benefit St. Baldrick's Foundation, a childhood cancer research organization.
The carnival and festival will be open from 5 to 9 p.m. Thursday and 10 a.m. to 10 p.m. Friday and Saturday. On Sunday, the carnival and festival is open from noon to 9 p.m.
For more information, visit the Southern Nevada Sons of Erin website at www.snsoe.com; HendersonLive.com or call 267-2171.
Contact reporter Sonya Padgett at spadgett@review journal.com or 702-380-4564. Follow @StripSonya on Twitter.