Finally, a wedding that takes the cake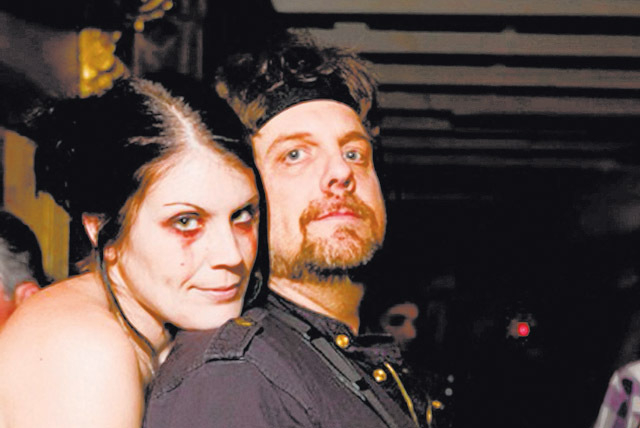 The macabre wedding cake says it all.
Saturday's circus-like wedding of comedy magician The Amazing Johnathan and Anastasia Synn, an extreme theatrical performer (as in impaler), will be anything but traditional.
Picture the scene when the cake arrives at the reception on a hospital stretcher:
Atop the five-tiered creation will be customized bride-and-groom figurines, each with their hearts cut out while blood (red corn syrup) oozes from the cavities, streaking the side of the cake.
The officiant will be Gallagher, who made a comedy career out of pulverizing watermelon with a large mallet.
Reportedly the survivor of five heart attacks, Gallagher was a perfect choice. At 67, he might be healthier than the 55-year-old groom, but not by much.
Johnathan, whose real name is Johnathan Szeles, is retiring in a month because his heart is giving out.
He's living on borrowed time. "I'm hoping (to last until) next year," he said Wednesday.
Seven years ago the magican discovered he had a heart muscle disease that leaves the heart unable to pump enough blood through the body.
"I thought I had it beat," he said.
He proposed to Synn on stage at a comedy club near Detroit, his hometown, in February.
They met about on Sept. 20, 2010, at a Criss Angel party. Before the magical night ended, "he was all over me," Synn said.
A single mom turned comedian turned sideshow act, she had moved from Toronto to Las Vegas "to make a name for myself." They met a week after she arrived. Their first date ended up being the same day they moved in together, she said.
I asked him to describe the moment he met Synn.
"My first thought was 'pre-nup,' " said Szeles, adding marriage was the furthest thing from his mind at that point in his life.
Under a gruff exterior, he was, at heart, she said, "a teddy bear."
She became his sidekick in his show at the Tropicana, one of a half-dozen hotel stops during his 13-year run in Las Vegas. The last stop was at Bally's in December 2012.
"I was Bally's best-kept secret," he said, who went public with his unhappiness over a perceived lack of marketing. "I don't need a lot of attention, but I need some," he said.
Back to the wedding day. They'll get hitched at downtown chapel.
At the reception, the 250 guests will have to wade through an obstacle course to get to their seats at a Summerlin restaurant, he said.
"There will be Cirque acts, the acrobats from 'Absinthe' and 'Vegas Nocturne' from Rose.Rabbit.Lie acts. There will be something going on all the time: comedians, a dunk tank, a bouncy house, a boxing ring," he said.
"Nobody's going to wear suits, and we told everybody to wear underwear," he added.
"And socks," his fiancee chimed in.
"There will be a big candy table, Willie Wonka-style," she added.
He's flying in a dozen family and friends, some he hasn't seen in three decades.
The blow-out bachelor party he predicted months ago had to be toned down.
"My health prevented it," he said. "I get tired easy."
After spending the next week with family and friends, they're planning a honeymoon on a California beach.
The final curtain on his 35-year career will fall at the end of a two-night engagement June 30 and July 1 at the Magic Castle in Los Angeles.
A camera crew will follow the couple through their wedding week to the final bows at Magic Castle.
THE SECOND TIME AROUND
Another wedding of note on Saturday will be the second wedding of KLUC DJ Chet Buchanan and Amy Byro.
They were married Sept. 21 near Seattle but recently learned the marriage certificate wasn't filed.
This time former Mayor Oscar Goodman is doing the honors "so we do it right," he told Buchanan, whose birthday is also on Saturday.
The ceremony is being held about 8 p.m. on the Third Street stage on Fremont Street.
The public's invited. The wedding is coming from "Cake Boss" Buddy Valastro and his Carlos Bakery.
The D hotel-casino is offering two Miller Lights to the first 98 people.
Buchanan has been co-hosting the morning show at KLUC-FM, 98.5, for 13 of the past 15 years.
Goodman shot a video for the ceremony in the event he can't make it.
THE SCENE AND HEARD
Singing impressionists Rich Little, Bob Anderson and Gordie Brown perform at a June 29 tribute for one of their own, Bill Acosta, at the Golden Nugget. Acosta faces more medical challenges in his fight with Parkinson's disease. The Nelson Sardelli-produced show starts at 3 p.m. Tickets: $45…
Judy Garland tribute artist David de Alba returns to The Onyx Theatre, 953 E. Sahara Ave., on June 22, the 45th anniversary of Garland's death. De Alba channeled Garland for years at San Francisco's legendary Finocchio Club…
May I Recommend: Rising Las Vegas teen Sabriel, pronounced shaw-bree-el, performs at the Brooklyn Bowl tonight at The Linq between 7-11 p.m. Her stylized singing talent earned her a spot among the Life is Beautiful lineup last fall.
SIGHTINGS
Piff the Magic Dragon and his Chihuahua Mr. Piffles from "Vegas Nocturne" joined Shania Twain on stage Tuesday at the Colosseum at Caesars Palace. She invited Piff to join the on stage singalong with the audience as well… Steve and Andrea Wynn, taking in Matt Goss' show on Friday at Caesars Palace.
THE PUNCH LINE
"French President Francois Hollande announced that he will be having two consecutive dinners on Thursday night in order to keep President Obama and Vladimir Putin separate. It's an old trick he learned from having a wife and a mistress." — Seth Meyers
Norm Clarke's column appears Sunday, Monday, Wednesday and Friday. He can be reached at 702-383-0244 or email him at norm@reviewjournal.com. Find more online at www.normclarke.com. Follow Norm on Twitter @Norm_Clarke.