First Friday, Brit Farce, Day of the Dead and more
October 31, 2013 - 10:50 pm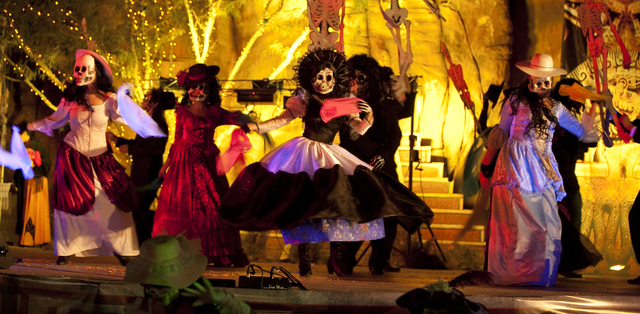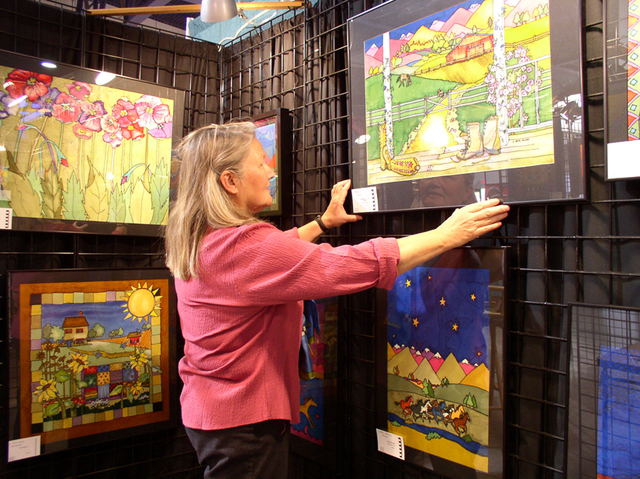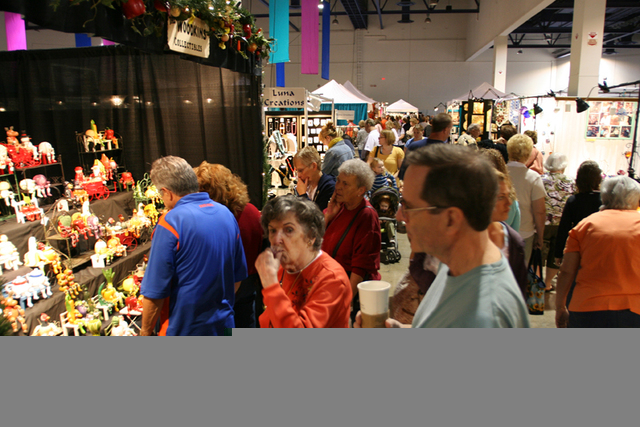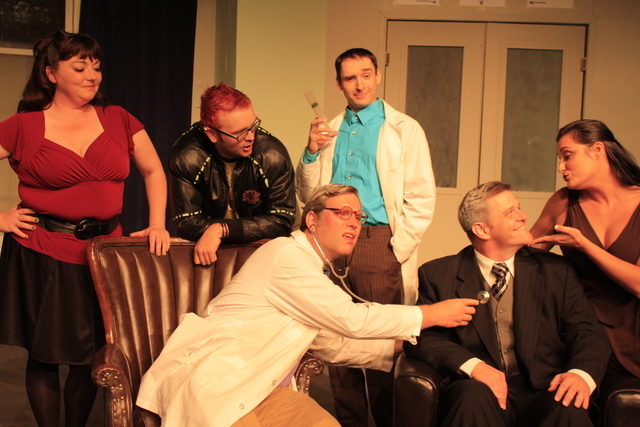 First Friday
Art, music and food
power monthly event
From a Welcome Tent community art project that asks "What are you powered by?" to an obstacle course, the Arts District's monthly First Friday gathering offers a range of art, music, food and family-friendly activities.
Art Row — on Casino Center Boulevard, between Colorado Avenue and Charleston Boulevard — will showcase works by emerging artists, while Social Paintbrush will provide all-ages art classes at 7:30 and 9:30 p.m. And more than 40 vendors will display arts and crafts at the Bazaar, at Casino Center and California Avenue.
North of Charleston, live music will be presented at Bar + Bistro and Artifice, with a variety of food trucks providing culinary offerings.
From 5 to 9 p.m., the KidZone will feature a visit from the Las Vegas Legends soccer team, adoptable animals from the Animal Foundation, plus opportunities for youngsters to make art and music. And on eco-friendly Green Street, First Friday patrons can pick up some Thanksgiving food tips.
First Friday runs from 5 p.m. to midnight in the downtown Arts District. For more information on First Friday Las Vegas, check the website www.firstfridaylasvegas.com, Twitter at @firstfridaylv, or the Facebook page www.facebook.com/firstfridaylasvegas.
Theater
BRIT FARCE INVADES
LV LITTLE THEATRE
Mistaken identities, impersonations, embarrassment and comic upheaval: all essential ingredients in farce. Especially British farce.
And they abound in Las Vegas Little Theatre's "It Runs in the Family," which opens an 11-performance run Friday.
The frantic comedy focuses on London physician David Mortimer, who's quietly trying to rehearse an important speech that might lead to knighthood. That is, until his preparations are interrupted by his wife, other doctors trying to rehearse for a Christmas show — and an old flame who claims their love child is waiting to meet him.
David Ament directs the production, which will be staged at 8 p.m. Friday and Saturday and 2 p.m. Sunday at Las Vegas Little Theatre, 3920 Schiff Drive. Performances continue at 8 p.m. Thursdays through Saturdays and 2 p.m. Sundays through Nov. 17.
Tickets ($24 for adults and $21 for seniors and students) may be obtained by calling 702-362-7996 or visiting www.lvlt.org.
Opera
SIN CITY OPERA OPENS
MENOTTI'S 'MEDIUM'
Sun City Opera kicks off its 2013-14 season this weekend with Gian Carlo Menotti's "The Medium," which opens a two-weekend run Friday at the Onyx Theatre.
Presented in conjunction with Off-Strip Productions, "The Medium" — a short two-act opera that premiered in 1946 — focuses on the strange and fateful relationships that link Madame Flora (Stephanie Sadownik),the title psychic, her daughter Monica (Marisa Johnson) and Toby (Russell Ray Slouffman), a mute servant boy rescued from the streets of Budapest. Renato Estacio directs the production.
The company's "mission (is) to inspire, challenge and uplift our audiences by creating productions of high artistic quality that celebrate the beauty and breadth of opera, but brought to you in an unconventional way," according to artistic director Skip Galla.
"The Medium" will be staged at 8 p.m. Friday and Saturday at the Onyx Theatre, 953 E. Sahara Ave.; additional performances will be at 8 p.m. Nov. 8 and 9. For tickets ($15), call 702-732-7225 or go online to www.onyxtheatre.com; more information is available at www.sincityopera.com.
Family fun
DAY OF THE DEAD
FESTIVITIES SET
Halloween may have departed, but the celebrations continue at the Springs Preserve, Winchester Cultural Center and Girl Scout Leadership Center, where separate Day of the Dead festivities will take place this weekend.
The Springs Preserve's three-day Dia de Muertos celebration, honoring 3,000 years of Hispanic tradition, blends time-honored customs with a variety of activities including live theater and dance performances, mariachis, face painting, sugar skull decorating and an art exhibition. Entries from an annual altar contest will decorate the preserve.
Dia de Muertos activities will take place from 4 to 9 p.m. Friday through Sunday at the Springs Preserve, 333 S. Valley View Blvd. For tickets ($8 for adults, $5 for children 5-12; children 4 and younger are free), call 702-822-7700 or visit www.springspreserve.org.
The Winchester Cultural Center's annual "Life in Death Festival" honors the dead — and mocks death itself — as decorated ofrendas (altars), glowing with candlelight, are covered with the food and drink and other objects the dead loved in life, to lure them back for a visit. Meanwhile, dance, music and humorous poetry provide reminders that death helps to define life.
Also at the Winchester center, a juried Day of the Dead art exhibition (continuing through next Thursday) celebrates the holiday, showcasing artworks by Clark County residents 14 and older that celebrate lives of past loved ones and life in the present. The artists — and the Best of Show winner — will be recognized Friday during the Day of the Dead festivities.
The free Life in Death Festival runs from 5 to 9 p.m. Friday and Saturday at the Winchester Center, 3130 S. McLeod Drive. Admission is free, although there are some fees for rides. For more information, call 702-455-7340.
And the Girls Scouts of Southern Nevada's Dia de Muertos program will honor women — including Girl Scout founder Juliette Gordon Low — during free Friday and Saturday celebrations.
The family fun runs from 6 to 8 p.m. Friday and 5 to 8 p.m. Saturday at the Girl Scout Leadership Center, 2941 Harris Ave. For more information, call 702-385-3677 or visit www.girlscoutsnv.org.
Music
CSN CONCERTS SPOTLIGHT
JAZZ, CHAMBER MUSIC
Weekend concerts at the College of Southern Nevada celebrate music, with Vocal Jazz Solo Nights and chamber music.
CSN singers will perform solos — singing jazz standards, blues tunes and Broadway melodies — during Vocal Jazz Solo Nights at 7:30 p.m. Friday and Saturday in the BackStage Theatre on CSN's Cheyenne campus, 3200 E. Cheyenne Ave., North Las Vegas.
"This music ensemble is extremely popular — enrollment has increased over the last couple years — and this semester's group of 19 has a very high level of experience," according to Mark Wherry, CSN's vocal studies director.
Laurence Sobel will accompany the singers — except during two a cappella selections.
And at 2 p.m. Sunday, members and friends of the CSN Orchestra will present an afternoon of chamber music selections to raise funds for CSN's strings program. The concert will be in the Recital Hall (Room 1430) on CSN's Cheyenne campus.
Concert tickets are $8 general admission and $5 for students and seniors; for reservations, call 702-651-5483. More information is available at www.csn.edu/pac.
Arts and crafts
CRAFT FESTIVAL RETURNS
TO CASHMAN CENTER
If you're itching to start holiday shopping, the 31st annual Craft Festival returns to Cashman Center this weekend.
Jewelry, pottery, leather, woodwork, glass, sculpture, toys, fine art and weaving will be available.
The Craft Festival will be open from 10 a.m. to 6 p.m. Friday and Saturday and 10 a.m. to 5 p.m. Sunday at Cashman Center, 850 Las Vegas Blvd. North.
Tickets (available at the door) are $6 for those 18-64, $5 for those 65 and older and $2 for children 12-17; kids 11 and younger are admitted free. For more information, call 702-386-7100.