First Friday listings, Sept. 3, 2015
September 2, 2015 - 11:28 am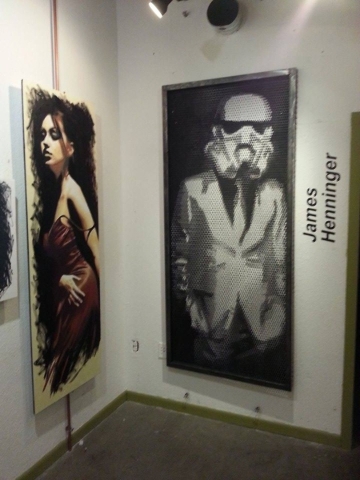 The First Friday arts festival is scheduled from 5 to 11 p.m. Sept. 4 at venues throughout the 18b Arts District in downtown Las Vegas, near the intersection of Charleston Boulevard and Main Street. Live entertainment, artists' booths, food vendors and more are planned. Admission is free. On-street and paid parking is available close to the event, but spaces fill up early. Visitors are cautioned to avoid parking in unauthorized parking areas, such as vacant lots, as they may be subject to towing.
The event is continuing its scaled back footprint with Summer Artwalk: 1st Friday in the Arts District. The closed streets will be limited to the area north of Charleston, which will be organized by the First Friday Foundation, while events south of that on Casino Center Boulevard will be organized by the galleries located there.
Although the main events are scheduled in the 18b Art District, organizers note that First Friday exists all over downtown Las Vegas, and the creative energy has expanded to the Fremont East area before and after each First Friday event with arts, crafts, bands, and food and drink specials at Fremont East locations at First Friday — Fremont.
For information on artists, music and more, visit firstfridaylasvegas.com.
Preview Thursday from 6 to 9 p.m. Sept. 3 offers a more low-key event before streets are closed and booths are set up. The preview presents an opportunity to see many of the galleries and shows before the crowds on Friday.
Galleries planning to participate in September's First Friday include:
The Arts Factory, 107 E. Charleston Blvd.
— Jana's Red Room: Works by Alexander P. Huerta, KD Matteson and Roberto Rico, who will be the judges in an upcoming juried show in the Main Gallery. Small works by local artists in the Salon Gallery. Visit janasredroom.com or call 702-454-3709.
— Sin City Gallery: "Seductive Simplicity," works by Francois Dubeau. Visit sincitygallery.com or call 702-608-2461.
— PeaceNArt Studio: "The Three Bad Sheep 5th anniversary show," featuring works by Eddie "CiCi Fu" Canumay, Alexander "Sky" Carranza and Alexander P. Huerta.
— Eden Art Studio and Gallery: "Men at Work," featuring photography by Juan Cardenas of the hands of local artists mixed with UFC fighters' hands. The gallery will also be featuring the work of Eden Pastor, Justin Lepper, Recycled Propaganda and others. Visit edenartstudioandgallery.com.
— 17 Moons Art Studio: "Angels and Insects," assemblages by Michael Delacruz. Visit 17moons.com.com or call 702-245-7725.
— Dray Studio & Gallery: New and classic works by artist Dray. Visit instagram.com/draydizzle1 or call 415-748-0713.
— EKlectica Gallery: Works by Lynn Adamson Adrian, Maran Rumer and Debbie Jane Sussman. Visit tinyurl.com/eklectica or call 702-686-4010.
—Twisted Artists Gallery: "War And Peace," works from Kat Tatz and Paula Rice. Visit twistedartistgallery.com or call 702-813-8428.
Other galleries:
— R. Cline Gallery, 8 E. Charleston Blvd. "Third Quarter Exhibit," a two-person show with work by Joseph Kucinski and Abraham Abebe. Visit tinyurl.com/rcline or call 702-577-8627.
— Reclaimed Art Suppliez, 1114 S. Casino Center Blvd.: An exhibition focused on Body Positivity, including live body painting, live art demonstrations and galleries featuring work by local artists. Visit reclaimedart.org or call 702-241-8926.
— City of the World, 1229 S. Casino Center Blvd.: Work by featured artist Dr. Marjorie Belsky. Visit cityoftheworldlasvegas.org or call 702-523-5306.
— Clay Arts Vegas, 1511 S. Main St.: "Texture Follows Form," work by Arizona artist Sandy Blain. Visit clayartsvegas.com or call 702-375-4147.
— Blackbird Studios, 1551 S. Commerce St.: "Furtherlands," new drawings, paintings, collages, prints and paper sculptural works by Spencer Olsen. Visit blackbirdstudioslv.com or call 702-782-0319.
Downtown Spaces at 1800 Industrial Road plans to celebrate First Friday from 6 to 10 p.m. on Sept. 4. Visit dtspaces.com for details. September First Friday at Downtown Spaces & Naked City Studios welcomes the beginning of fall's art walk-friendly weather with the openings of four additions to the buildings, including Rock Your Body Wellness, which is set to host a meet-and-greet. Confirmed activities include:
— Naked City Studios: Tagz1 in his first First Friday exhibition. The artist also plans to barbecue out front.
— Candy Werewolf: Benalex Dupris, showing a small studio exhibit of national Native American Pop artists in anticipation of the grand opening later in the month.
— Sisters Shop: Art and jewelry.
— Wasteland Gallery: Works by Don Michael Jr.
— Spectral Gallery: Tribute to Kurt Russell group show.
— Live painting by Shan Michael Evans.
— Music is planned starting at 9 p.m. on the outdoor Stagecoach, featuring Become Trees, Greasy Conversation, Payola Presley, a solo acoustic performance by Blair Newps Devaney of Rusty Maples, followed by hip-hop from Hassa. Common Ground is scheduled to perform across the street at The Hard Hat lounge, 1675 S. Industrial Road, for a First Friday after-party.
— To reach East Valley View reporter F. Andrew Taylor email ataylor@viewnews.com or call 702-380-4532.