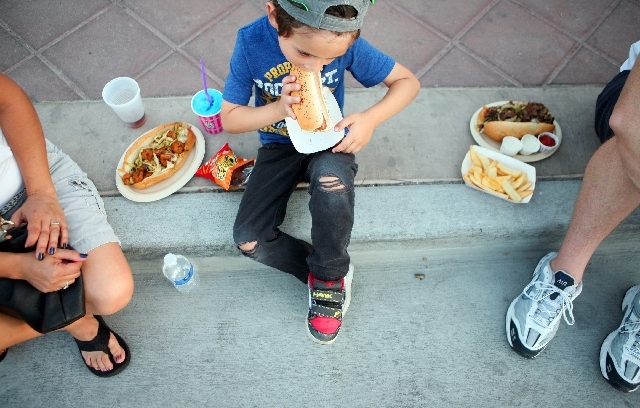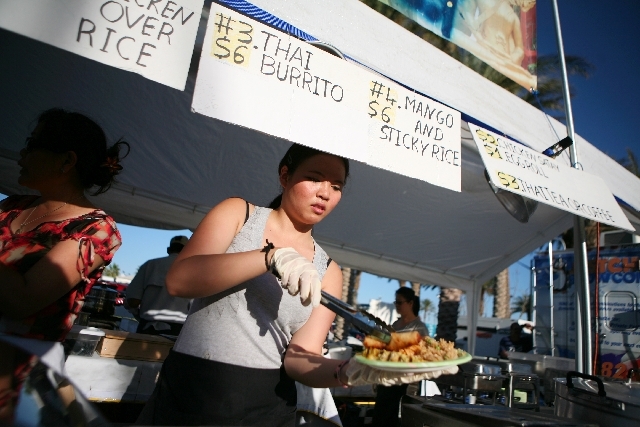 At 5:15 p.m., when the last details of May's First Friday were being transferred from drawing board to life, a line already was forming in front of Slidin' Thru, Las Vegas' first upscale food truck and still one of its most popular. Niki Miniaci and her daughter, Corey Taylor, were queueing up for sliders and fries, which Miniaci said is a monthly ritual.
First Friday reminds her of home in New York's Greenwich Village because of the "whole arts feeling."
"I always bring a lot of kids," she said. "The bands are awesome. We really just love the whole atmosphere, and people are cool and nice."
First Friday, which lately has been drawing between 20,000 and 25,000 people, was founded as an arts festival but has grown considerably beyond its original mission.
"I think the event is to the point where it's music, art and food," said Jake Speer, director of operations. "I guarantee you there are people who come just for the food, because there are people who pay $10 entry fees to get into food events in Las Vegas, and our entry fee is nothing. And we have all these great artists, all these great stages. We're feeding a ton of people if you have 35 vendors."
Janet Decker and Scott Shafer, first-time visitors to First Friday and to Slidin' Thru, ate while perched on a curb. There were plenty of tables and chairs nearby at Third Street and Imperial Avenue, but in the early evening the tables were in the sun and the curb was in the shade. They were dining from this particular truck because, they said, they'd heard about it from friends. But just around the corner a veritable smorgasbord — or buffet, in Las Vegas parlance — awaited.
While established restaurants in the First Friday area are limited to the fringes, there's no shortage of food or food selection along the festival's pedestrian-only streets. Lining Third Street between Imperial and California avenues — cheek by jowl, as it were — were old-school trucks; upscale trucks; booths consisting of little more than a table, canopy and food warmers; and a fire truck with a built-in pizza oven.
One offered hot roasted corn and Del's Frozen Lemonade. A shrimp-and-sausage truck promised a taste of the French Quarter. There was kettle corn and funnel cakes; hand-scooped ice cream, snowballs, self-serve frozen yogurt, gourmet frozen pops, Italian ice, snow cones and smoothies; Molto Meatballs; arepas from Rik's Arepa Express; smoked brisket from Ben's BBQ and Smokehouse. Hot Diggity Dog offered Nathan's hot dogs, garlic fries, chili fries, chicken fingers and corn dogs, just around the corner from a fortuneteller's truck straight out of a vintage movie. A large booth with a hand-painted sign was serving a variety of Thai foods.
Some were operated by established businesses familiar to most Las Vegans, such as Memphis Championship Barbecue, which offered its own covered seating area next to the homespun Thai booth. Others were a little less familiar, such as the one with the banner emblazoned with "Deep Fried," offering bacon brittle, cannolis, chocolate-chip cookie dough, peaches, s'mores, Milky Ways, brownies, Twinkies, cheesecake and lots more, all of which were just a customer away from a trip into the batter bin and the deep fryer.
At Roamin' Dough, with a menu of "trailer-made pocket pies," owner Lisa Popovsky said her business is an expansion of a food item she started making at home. In her year of business, she said, she's been at First Friday 12 times.
"There's a great crowd here," Popovsky said. "Such a variety of art and great music and great food. It's more local, different."
Near Quality Food Service, which promised tacos with handmade tortillas and chicken taco salad, a stand emblazoned "Dude, You Have Got to Try Us" — and decorated, appropriately, with surfboards — was serving subs, fried shrimp, calamari and sweet-potato fries. 3 Potato 4 offered baked fries. Jo Jo's Jerky tent had … well … jerky. The Sweet Spot Candy Shop offered its sweets, Sin City Wings its wings, Poppy the Pizza Guys their pizza. The classic Senor Blues truck offered a selection of Tex-Mex foods, Chi-Town Hustler Italian food.
There also were centralized beverage tents, some selling water and soft drinks, others with beer, wine and cocktails.
Jason Baratta, a managing partner with Slidin' Thru, said the truck had been at First Friday each month for at least the past 12 to 15 months.
"From a business standpoint, we always do very well," he said. "If we didn't go to First Friday, I think we would get a lot of push back in our social media," such as Facebook, where he said they have 11,000 friends.
Baratta said he likes that First Friday's food offerings are so diverse.
"It makes for a more enjoyable event," he said. "Typically, we do a lot of events where it's just us or us and one other truck. We serve burgers. Even though they're some of the best in the valley and they're unique and have unique recipes, not everybody wants to eat a burger. I'm a foodie, and first and foremost, I like feeding people and I like them to enjoy their food."
Nick Tarantino owns the Coast 2 Coast Deli truck, which serves sandwiches themed to various regions of the country, such as the Montreal, which is based on the classic Canadian poutine. They're also known for their varieties of waffle fries.
"We love being part of downtown — the whole boom," Tarantino said. "This is the demographic that we want to find. It ties right into the younger, hipper customer."
Speer said First Friday had a larger geographical footprint in May, encompassing Imperial Avenue on the south for the first time. The two natural "entrances" are from the intersection of Charleston and Casino Center boulevards, and the shuttle stop at Main Street and Colorado Avenue.
"The ideal flow would be that people go all the way down Casino Center and enjoy all the art," he said, "and then we have the big main stage called The Hub at Casino Center and Imperial," The Hub being hard to miss because of fire-oriented attractions such as the fire-breathing praying mantis. Then, following along Imperial, there will be around six food vendors this month, he said, along with a big dining area, seating up to 100, at Imperial Avenue and Third Street. The rest of the 30 to 35 food vendors will mostly be lined up along Third Street between Imperial and California avenues, with a few sprinkled throughout.
Speer said he tries to keep four or five slots open each month.
"We try to keep new stuff moving in and out," he said. "But we have a core variety of food that will always be at First Friday."
He said he appreciates that established local businesses with brick-and-mortar operations, such as Memphis Championship Barbecue, like to set up at First Friday.
"They see a value," he said. "They choose to set up this huge setup to drive our audience to their restaurant, which I think is really cool."
Baratta said Slidin' Thru will be back.
"It's a fantastic festival," he said. "Over the last couple of years it's really gotten much bigger, much better the way they're running it and managing it now. It's fantastic and organized. I kind of like the direction it's going, from the fostering-the-community standpoint. It's great for Las Vegas."
Tarantino said he'll be back, too.
"We'll be here all season," he said. "It is hot, but it is what it is."
Contact reporter Heidi Knapp Rinella at hrinella@reviewjournal.com or 702-383-0474.
FIRST FRIDAY
June's edition of the downtown event, which runs from 5 to 11 p.m. Friday, will feature the sweet "Sounds of Summer!"
The arts and culture festival, along Casino Center Boulevard and Third Street, from just south of Charleston Boulevard to Imperial Avenue (closed to vehicular traffic), will showcase more than 100 artists, 15 live bands and DJs on six stages and 30 to 35 food vendors.
Among this month's highlights:
The Welcome Tent near Charleston and Casino Center boulevards will offer a preview of the Life is Beautiful Festival with an early look at musicians and DJs and a chance to meet organizers and preview event highlights. Social Paintbrush will offer free art lessons at 6:30 and 8:30 p.m.
The Hub, at Casino Center Boulevard and Imperial Avenue, will be the site of various interactive activities, with Flameology returning at 8 p.m.
From 5 to 9 p.m., KidZone, off Casino Center Boulevard and California Avenue, will feature art lessons for kids by animators from The Chuck Jones Experience, while Mad Science of Las Vegas will offer a kids' science class and The Animal Foundation will have an adoption station.
Green Street, hosted by Living EcoSmart Solutions, will provide a meeting place with opportunities to learn about loving the environment, and Star Nursery will provide desert-friendly plants and ideas.
The Cosmopolitan Downtown Pop-Up will reflect aspects of the resort's Boulevard Pool such as frozen treats like the Watermelon Patch and La Bamba, and the resort's current studio artist, Tamar Ettun, will entertain with a participatory musical performance.
Free parking (including at the City Hall Garage at Stewart Street and Las Vegas Boulevard) and $5 parking lots will be available.
Shuttles (including one that's handicap-equipped; call 736-6491) will make continuous loops around the entire event.
Fremont Route shuttle stops are at the El Cortez (pickup and dropoff on Sixth Street, across from the El Cortez valet entrance); Golden Nugget, at the lobby doors just south of the Rush Tower; and the Arts District Hub at Colorado Avenue and Main Street.
The Clark County Government Center shuttle route has stops at the Government Center and the Arts District Hub at Colorado Avenue and Main Street.
For more information, visit FirstFridayLasVegas.com.