Fish bowl beards and foot-long goatees: The Battle Born Beard & Mustache Competition gets hairy
Updated March 27, 2023 - 6:16 am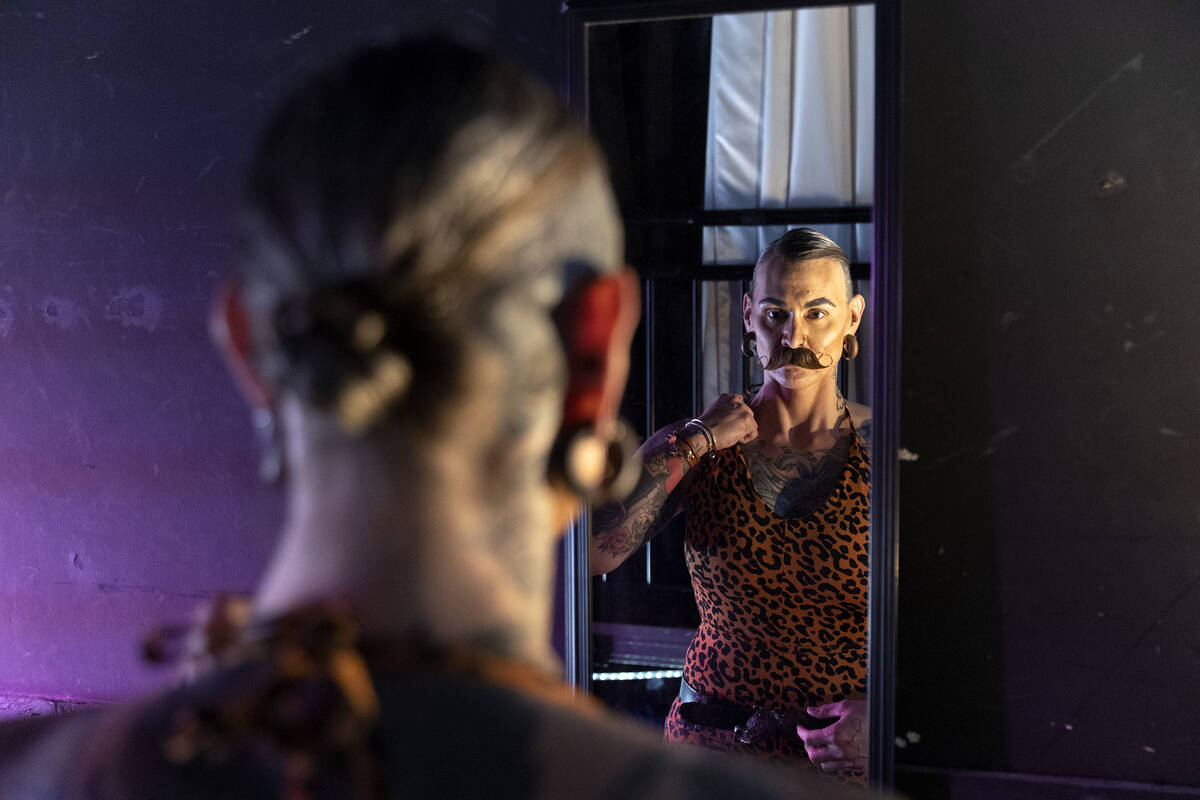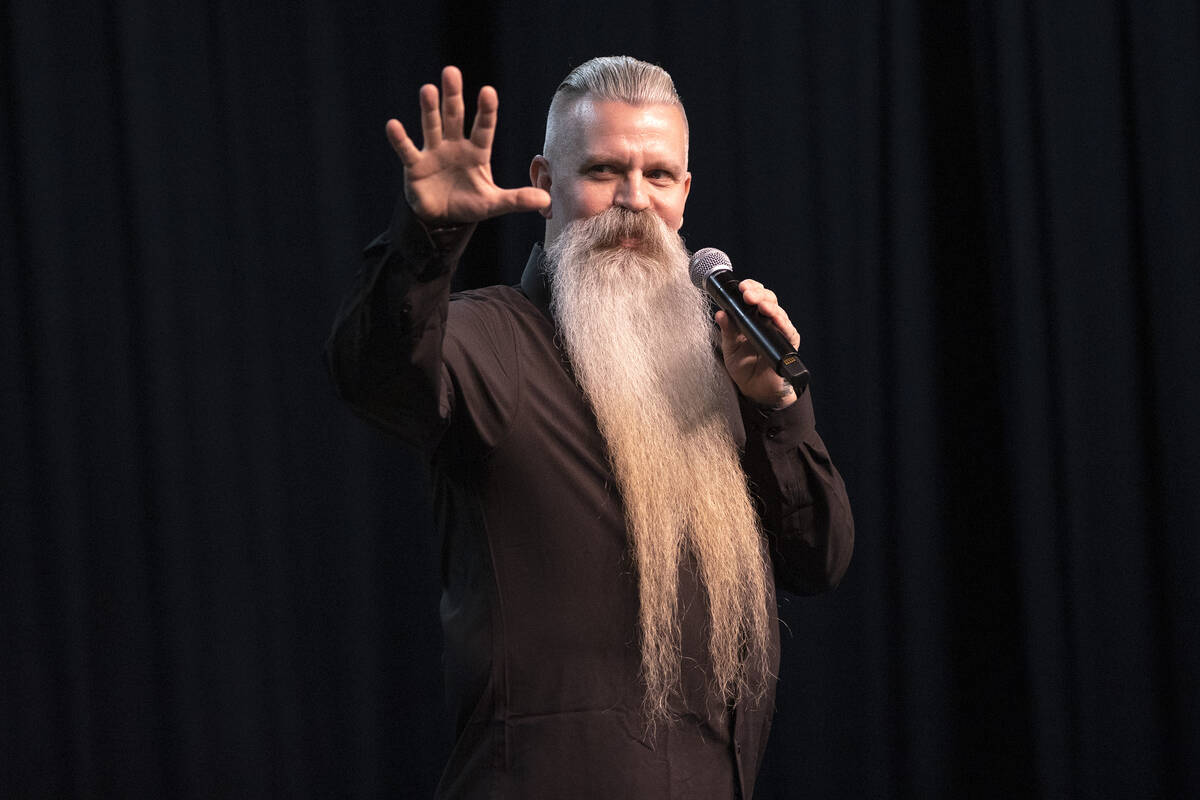 The suspense is as thick as the whiskers.
"Who's going to come out on top?" wonders this room full of fastidiously waxed lip warmers and Albus Dumbledore look-alikes.
Dead Rabbit Dylan is a strong contender, with his sweet ginger muttonchops and a killer fashion sense — Rainbow-colored mohawk, see-through mesh shirt topped with pink spikes and floral short-shorts? Check, check and check.
But he's in tough against a man whose facial hair is of such volume and thickness that he's able to sculpt them into grand, crescent-shaped tufts that jut from his chin like a train's cowcatcher, a look that he calls "Wings of Destiny."
It's going to be a hard choice for the judges, whose ranks include a magician who'll later spring a mousetrap on his tongue and none other than Santa himself. (At least that's what everyone calls him; he's actually a Hungarian fellow named Lorand who lives in Brazil, but his world-class, St. Nick-worthy white beard makes said nickname a given.)
It's nearing 3 p.m. Saturday at the Veil ballroom in the Silverton, we're but two categories in to the Sin City Beard Coalition's Battle Born Beard & Mustache Competition, and it's already proving to be as fierce as the collective aversion to shaving cream that defines this magnificently bushy bunch.
Contestants have traveled from all over the country, from Maine to North Dakota to South Carolina, to vie for top honors in 17 different categories, ranging from "Whaler" (aka the Amish look) to "Business Beard" (zero-to-four inches long) to "Whiskerina Realistic" and "Whiskerina Creative," in which women compete, the latter category won by a young lady from Texas dressed as a mermaid whose beard included an actual, water-filled aquarium.
"There is a literal fishbowl coming out of her face!" a crowd member gasps in amazement.
There's even a kids category, where half the contestants fashion beards from their own hair.
What does it take to be a true contender here? Just what goes into this? (Aside from beard oils, beard balms, beard conditioners and the occasional fish receptacle, of course.)
"A lot," explains Dead Rabbit Dylan, aka Las Vegan Dylan Petruska, who earned his nickname after unknowingly taking a dip in a swimming pool with the deceased creature during a beard competition in Lake Havasu, Arizona. "Frustration. Headaches. Beard hairs going into your food as you're trying to eat."
Sin City Beard Coalition co-founder Patrick Dawson, who hasn't shaved his chin in 23 years, breaks it down further.
"I always tell people there's three things about growing a big beard," he explains, his expertise exemplified by a foot-long goatee. "You have to be dedicated, committed and patient."
The latter part is key.
Las Vegan Jacob Trost, who sports an incredible facial hair creation that looks kind of like an octopus' tentacles swarming from his face, spent nearly five hours this morning getting ready for the show.
He says he dedicates at least a half-an-hour every morning tending to his beard.
Why is it worth so much effort?
For some, there's a freedom in their facial hair.
Former welder Kevin Kuykendall, who hails from Modesto, California, couldn't have a beard when he was on the job, lest the thing catch fire with all those sparks flying around.
"I retired four years ago," he says, his wispy white mustache descending down past a sparkling red bow tie and matching sport coat. "I told my boss, 'I'm shaving no more.' "
For others, there's a therapeutic dimension to it all.
John Banks was an avid biker in his native San Bernardino County, California when a crash in 2012 left him disabled, forcing him to give up riding.
"I was sitting at home doing nothing every day; it was getting to me, mentally," he says. "Those 70-80 hours a week (riding), to nothing — it was hard. So finding this was my outlet."
He began competing in 2015 and has since won multiple national titles. On Saturday, he takes first place in the "Full Beard Freestyle" category with an impressive display of sculptured chin whiskers.
This was year two for the Battle Born Beard & Mustache Competition, with the event debuting in Pahrump last March.
Dawson and his partner Lori Fries, who hosts the show on Saturday in a flowing black Flapper dress, founded the Sin City Beard and Mustache Coalition in June 2021 as a way of making like-minded friends.
"As we get older, it's hard to meet people," Dawson says. "So we were like, 'Let's start a beard and mustache group, because it'll be a great way to meet people.' "
They held their first competition six months later, a central component of which is charity: all proceeds for Saturday's event will go to The Ride for Kids program supporting the Pediatric Brain Tumor Foundation and the Xtreme Couture GI Foundation, which helps veterans in need and was founded by former UFC champ Randy Couture.
Most beard competitions benefit various causes.
"The Beard Alliance, which is like 30-40 clubs through the United States, we've been able to raise over a million dollars for different charities in three years' time, just doing facial hair competitions," Dawson says. "It's amazing how much money can be raised just by having a good time, bringing people together."
Speaking of which, there is a family reunion-type vibe here, buoyed by a common interest in uncommonly elaborate grooming habits.
"We're all into this kind of stuff," says magician John Shaw, who both performs and serves as a judge of the competition, his angular facial hair meticulously shaped. "Those of us who grow facial hair and maintain it, there's a thing where you just know how much effort goes into it. A lot of people don't put effort into the way they look anymore — and I'm all about the effort, obviously."
He's not alone here, as dozens of contestants take the stage in what turns out to be a marathon of mustaches, the event running for over five hours before all the battle shield-shaped trophies are handed out — "Wings of Destiny" guy does, in fact, top Dead Rabbit Dylan in the "Chops" category — and the "Best in Show" winner is anointed with a silver battle axe.
No one seems to even notice the show's length, though.
After all, what's a few hours to this bunch?
"I tell ladies a lot, 'You got to find a guy with a big beard," Banks grins. "Because he's got patience.' "
Contact Jason Bracelin at jbracelin@reviewjournal.com or 702-383-0476. Follow @jbracelin76 on Instagram.