10 best things to do in and around Las Vegas this weekend — June 30-July 2
Updated June 30, 2017 - 6:10 pm
There's a lot of "new" happening in Las Vegas this weekend.
Downtown, three new restaurants have taken over shuttered spaces including the old Glutton restaurant and Grassroots counter. In southwest Las Vegas, Fiiz Drinks is offering a blast from the past with their 1940s-style soda fountain.
The robots begin their imminent takeover this weekend when Tipsy Robots opens, crafting cocktails on the Las Vegas Strip.
Here are the best things to do, see and eat in and around Las Vegas this weekend.
Grab a bite
3 new restaurants are open Downtown.
Two Bald Brothers — Mediterranean Cuisine, the motto of which is "it's shak-shuka time," has opened at 616 E. Carson Ave. in the space formerly occupied by Zydeco Po'Boys.
Around the corner at 124 S. Sixth St. is the new Smooth Eats. From the owners of the hugely popular Donut Bar, with which it shares a courtyard, it serves smoothies, avocado toast, paninis and gelato.
And just a block away at 616 E. Carson Ave., 7th & Carson restaurant and bar opened yesterday in the former Glutton location. It offers a range of such dishes as duckling pot pies, oven-baked clams with white miso, a boneless half-chicken with caraway stuffing, a grilled peach and burrata salad, flatbreads, toasts and charcuterie plates.
Smooth Eats offers smoothies, avocado toasts and panini sandwiches. Janna Karel Las Vegas Review-Journal
Get a drink
It has all the furnishings of a classic drugstore soda fountain—a large marble counter, bright red spinning stools and gooseneck soda flavor spouts. Walking into Fiiz Drinks is like taking a step into the 1940s, when soda shops were the place to be. But of all the hundreds of items on the Fiiz menu, it's the neon-colored kids' drinks that are dominating social media.
See a show
David Goldrake came to Las Vegas from Luxembourg and has now opened his "Imaginarium." "The themes of the show are about subjects that matter to the spectators. Things that we deal with in everyday life, be it self-deception, be it love, be it time, or aging. People can relate to it on a personal level." What it won't be is "about me," he says. "It's not my life story." You can see him at the Tropicana Tuesdays through Sundays at 7 p.m. Read more about his optimistic magic show here.
Illusionist David Goldrake, right, rehearses for his new show Imaginarium. Benjamin Hager Las Vegas Review-Journal
Rock out
There's bang for your buck, and then there's mushroom clouds for your money. It's the latter that Iron Maiden and Rammstein provide for the longhair dollar. These two international metal favorites, who put on some of the most over-the-top live shows the genre has ever seen, are hitting Vegas mere days apart. See Rammstein, Korn and Stone Sour at 6:30 p.m. Saturday night at T-mobile Arena. See Iron Maiden with Ghost at 7:30 p.m. on Monday at T-Mobile Arena. Not sure who to see? Compare the two here.
Catch a movie
You know the feeling when you leave a great movie and you can't stop thinking about that one outstanding scene? At least half of "Baby Driver" is made up of those scenes, woven together by one of the finest soundtracks ever assembled. "Baby Driver" isn't a musical in the traditional sense, but music drives getaway driver Baby's world the same way he drives stickup men. Read the full review here.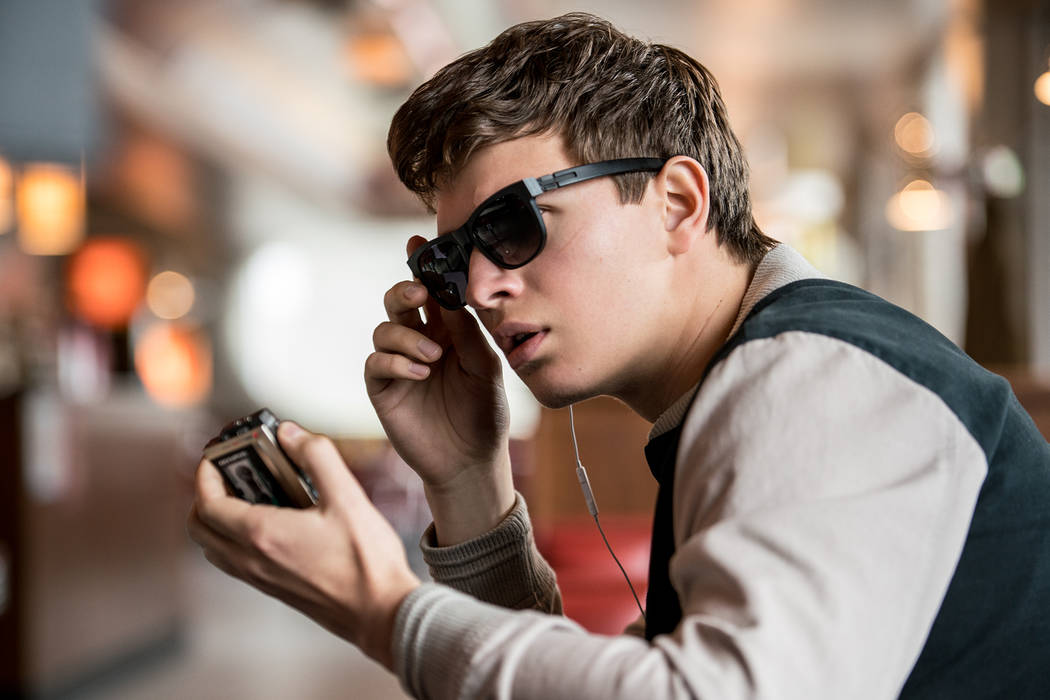 Baby charms Debora as she works in TriStar Pictures' "Baby Driver." Tristar Pictures
Stay in
It's summer, and once again ABC is partying like it's 1979.
For the third straight year, Steve Harvey is hosting back-to-back episodes of "Celebrity Family Feud" (8 p.m. Sundays). "The $100,000 Pyramid" (10 p.m. Sundays) is back, too. Hosted by Michael Strahan, this week's games have Green Bay Packers quarterback Aaron Rodgers taking on Fox Sports' Erin Andrews. Anthony Anderson is once again hosting "To Tell the Truth" (10 p.m. Wednesday). And the revival of "The Gong Show" (10 p.m. Thursdays) debuted last week. "Battle of the Network Stars" (9 p.m. Thursday) brings star power by the way of Ronda Rousey.
Tom Arnold tackles the obstacle course while teammates Dave Coulier, left, and Bronson Pinchot look on during ABC's revival of "Battle of the Network Stars." Byron Cohen ABC
Sunday Assembly
On a recent Sunday morning, while many Las Vegans attended church, about 50 people gathered at the Center for Science and Wonder. The group was Sunday Assembly and although the talk never explicitly mentioned it, the attendees were united by one belief, or lack thereof — Sunday Assembly is a monthly service for the nonreligious. That's not to say Sunday Assembly is antireligion, or that religious people can't attend.
The appeal of Sunday Assembly for many attendees is community, which they may have previously found at a church or seen others find at church. The next assembly is at 12:30 p.m. on Sunday at the Center for Science and Worship. Find out more here.
Author and journalist Matthew O'Brien introduces the keynote speaker for the local chapter of Sunday Assembly. Elizabeth Brumley Las Vegas Review-Journal
Tipsy Robot
Tipsy Robot at the Miracle Mile Shops is scheduled to open today. Here's how it works: Customers belly up to one of Tipsy Robot's 33 stations, each complete with blue-painted steel bar stool and permanently mounted electronic tablet. They can scroll through menus of eight classic and 18 signature drinks, all of which can be customized, or can choose a purely custom option. Find out more here.
Utah Shakespeare
As the Utah Shakespeare Festival launches its 56th season this weekend — the second in its new home — the mix of new and time-tested elements reflects changing times in Cedar City, on stage and off.
Rounding out the festival's opening lineup: the regional premiere of "Treasure Island" (adapted from Robert Louis Stevenson's adventure classic), plus the Shakespeare favorites "As You Like It," "Romeo and Juliet" and "A Midsummer Night's Dream." The Utah Shakespeare Festival kicks off tomorrow with "Romeo and Juliet" at Southern Utah University. Read more about the festival here.
Betsy Mugavero (left) as Viola de Lesseps (disguised as Master Kent) and Quinn Mattfeld as Will Shakespeare in the Utah Shakespeare Festival's 2017 production of Shakespeare in Love. Karl Hugh Utah Shakespeare Festival 2017
Party at the Plaza
Ages 21 and older can celebrate the Fourth of July starting at 7 p.m. Saturday at the Plaza's rooftop pool party. The '80s tribute band Flashbax will provide the sounds as guests await the fireworks at 10:45 p.m.
Celebrate Independence Day this Saturday 7pm with #PlazaLV Pool Nights! Fireworks, BBQ Buffet, 80s dance party! https://t.co/eS4bHAl2p9 pic.twitter.com/rLajJhcsZc

— Plaza Hotel Casino (@PlazaLasVegas) June 29, 2017
Contact Janna Karel at jkarel@reviewjournal.com. Follow @janninprogress on Twitter.