10 best things to do in Las Vegas this weekend, April 28-30, 2017
Updated April 29, 2017 - 12:47 pm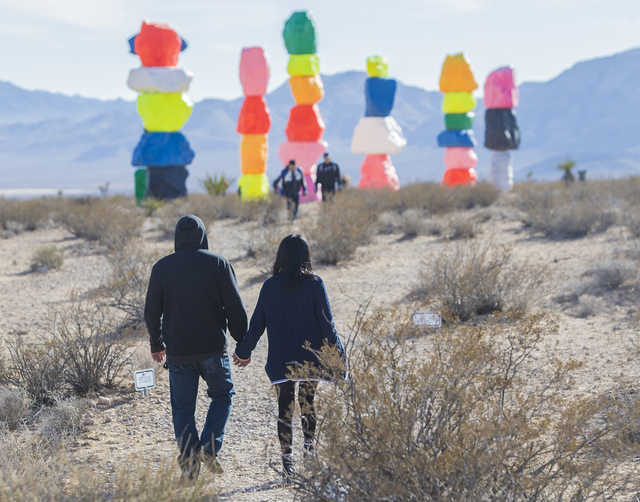 When the pool parties reopen, you know Las Vegas is heating up. Beat the heat at one of three grand opening pool parties this weekend. For a '90s throwback, don't miss the Rock into Spring festival at the M Resort Pool.
If you would prefer things get hotter, check out the "Magic Mike Live!" show at the Hard Rock Hotel.
Make sure not to miss out on your chance to try meals, drinks and tastings from the city's best chefs at Vegas Uncork'd.
Here are your top ten picks for what to see, eat and do this weekend in Las Vegas.
Grab a bite
Chef David Chang and his staff at Momofuku are known for experimenting with food, in large part to reduce the amount of meat his kitchens use. That showed in the chickpea ramen ($18), which gets its smoky essence, heaps of umami, rich nature and silken body not from the soybean-based miso and pork usually used but from hozon, a Momofuku-created fermented seasoning that contains, among other things, the garbanzo beans of the name. Read more about Momofuku here.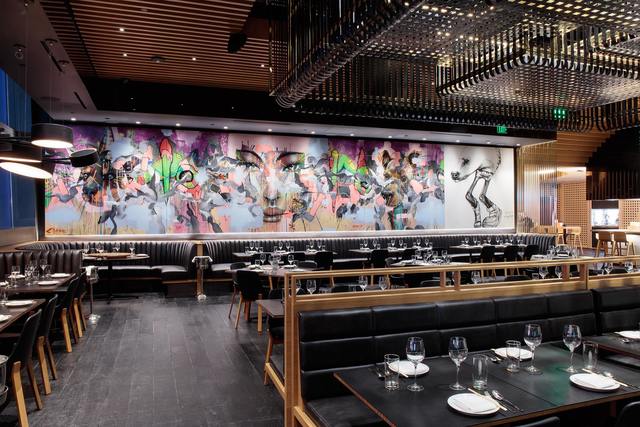 Get a drink
Picasso's signature spring cocktail, the Modernista, is a tribute to the restaurant's namesake Pablo Picasso's formative years in Barcelona. According to the cocktail's creator, Andrew Tau, the cocktail's lemon oleo sacchrum "would have been a really popular ingredient in cocktails around the time Picasso and Gaudi were really making their marks." Find out more about the Modernista here.
Cole McBride, a two-time finalist in the U.S. Barista Championships and formerly at PublicUs, opened the pop-up Prediction Coffee at the Soho Lofts this spring. McBride offers the usual espresso drinks, made with beans from a selection of independent roasteries, as well as Prediction specials such as the "One & Fun," a single espresso and a single macchiato, and the "White Velvet," with white chocolate, espresso and your choice of milk.
See a show
Make no mistake, Tatum's big-budget update of the male dance revue does get around to plenty of bumping and grinding, even if it's quite modest on G-string nudity. At the end, the male revue signs off with "We all hope you leave here tonight feeling loved and respected." "Magic Mike Live!" turns out to be as agile as its dancers in having it both ways. It does a crafty job of arguing those other shows are cheesy and misogynistic. But this one? It really cares about you. Catch the show at 7:30 p.m. and 10 p.m. at the Hard Rock Hotel. Read more about the show here.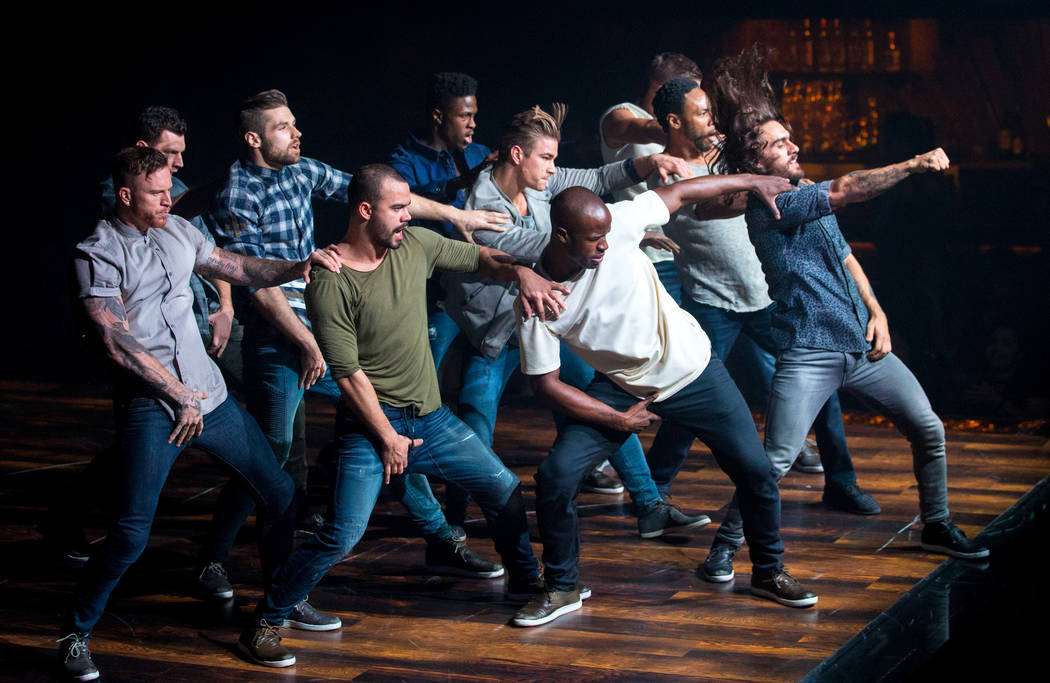 Chita Rivera first sang these words in 1975: "It's good, isn't it? Grand, isn't it? Great, isn't it? Swell, isn't it? Fun, isn't it? Nowadays …"
Yet those lyrics from "Chicago" apply well in 2017, as the 84-year-old Broadway legend will no doubt demonstrate at The Smith Center on Sunday during a songs-and-stories session with pianist, writer, director, performer and radio host Seth Rudetsky. See more about the show here.
Rock out
"After not playing this music for 32 years, I really didn't remember my part," Journey drummer Steve Smith says. The best way to catch up is to "put the album on and play it front to back." Smith is not just relearning the hits, but some deep album cuts as well. He says it was his idea to devote the Wednesdays of Journey's three-week Hard Rock Hotel run to playing the "Escape" and "Frontiers" albums in their entirety. (Fridays and Saturdays through May 20 will be the usual mixed bag.) Find out more about the residency here.
Sunday brings the premiere of "Las Vegas Suite," the latest and most ambitious of Nathan Tanouye's ongoing work with the Las Vegas Jazz Connection collective. This time, the composer and trombonist teamed with Las Vegas entertainer Clint Holmes, who added lyrics to four of the five movements and will sing them in front of the 27-piece orchestra. Hear the suite at 2 p.m. on Sunday.
Catch a movie
As Mae (Emma Watson) advances inside the world's biggest social media company, she's asked by its founder (Tom Hanks) to push the boundaries of ethics and privacy in the thriller "The Circle," premiering Friday. Then, put together your summer movie bucket list with our summer movie preview.
Stay in
Have a few laughs on the couch with one of these streaming comedies you may not be familiar with. FXX's "You're the Worst" (Hulu), is hilarious, heartbreaking and among television's best. Also from FXX, the animated "Archer" (Netflix) is a sublime blend of sophistication and sophomoric humor. The awkward relationship comedy, "Love" (Netflix), from Judd Apatow, highlights the absolute horrors of modern dating. See more recommendations here.
Seven Magic Mountains
Since "Seven Magic Mountains' " May 2016 debut, the installation — a smaller Stonehenge with a Day-Glo paint job — has attracted up to 1,000 people a day. On social media, visitors have posted photographs of "Seven Magic Mountains," often adding their own personal touches —from body-paint inspired by its neon colors to paintings of the stacked boulders. A monthly Instagram contest (artist Ugo Rondinone's idea) showcases the best "Seven Magic Mountains" photos.
Vegas Uncork'd
Vegas Uncork'd by Bon Appetit will be four days of meals, tastings and demos hosted by some of Las Vegas' top celebrity chefs. And with tickets priced from $79 to $595 per event, there's something for just about everyone. The weekend's traditional focal point is the Grand Tasting, held Friday night at Caesars Palace's Garden of the Gods Pool Oasis. That's where nearly every celebrity chef on the bill, and countless other movers and shakers in the restaurant world, drops by to meet and serve fans, mingle, drink and just cut loose. The event runs through Sunday at multiple locations along The Strip. Find out more here.
The #VegasUncorkd Grand Tasting is almost here! Don't miss out on incredible dishes prepared by Forum Shops chefs: https://t.co/AwWpG4MCP6 pic.twitter.com/DUG3fN3nWM

— The Forum Shops (@TheForumShops) April 16, 2017
Rock Into Spring
Hey, wanna hear Buckcherry's "Crazy (Nice Young Lady)" outside a strip club for a change? C'mon, Scott Friggin' Stapp will be in the house, fronting rockers Art of Anarchy. And you know Trapt isn't going to miss this three-day bonanza of bands. What's that you say? You need a little Alien Ant Farm? Done and done, dudes. The party starts at 4 p.m. Friday and 3 p.m. Saturday and Sunday at the M Resort pool. Tickets start at $39.99 per day; three-day passes start at $99; call 702-797-1000.
Less than one month away! https://t.co/5usVY4Xu6v pic.twitter.com/QkWgM8mHtk

— Rock into Spring (@rockintospring) March 30, 2017
Pool party grand openings
Kygo launches his two-year residency with Wynn Nightlife on Sunday. The Norwegian DJ and producer will perform at the soft opening of XS Nightclub's popular Sunday night pool party, NightSwim. Doors open at 10 p.m.
Wet Republic's grand opening celebration starts off with the launch of the annual Spy on Vegas Hot 100 bikini competition Friday. Steve Aoki performs Saturday and Lil Jon on Sunday. Doors open at 11 a.m. at the MGM Grand.
Kevin Hart will join the festivities at Rehab's grand opening this weekend, hosting the pool party on Sunday. Rapper Flo Rida will perform at the beach club Saturday. Doors open at 11 a.m. at the Hard Rock Hotel.
Close out Grand Opening Weekend with @LilJon this weekend for #EndlessSundays!
Tickets: https://t.co/g37epxRkHA pic.twitter.com/hP1NYK6ROq

— Wet Republic (@WetRepublic) April 25, 2017
Contact Janna Karel at jkarel@reviewjournal.com. Follow @jannainprogress on Twitter.