10 best things to do in Las Vegas this weekend, March 31-April 2, 2017
Updated March 31, 2017 - 4:08 pm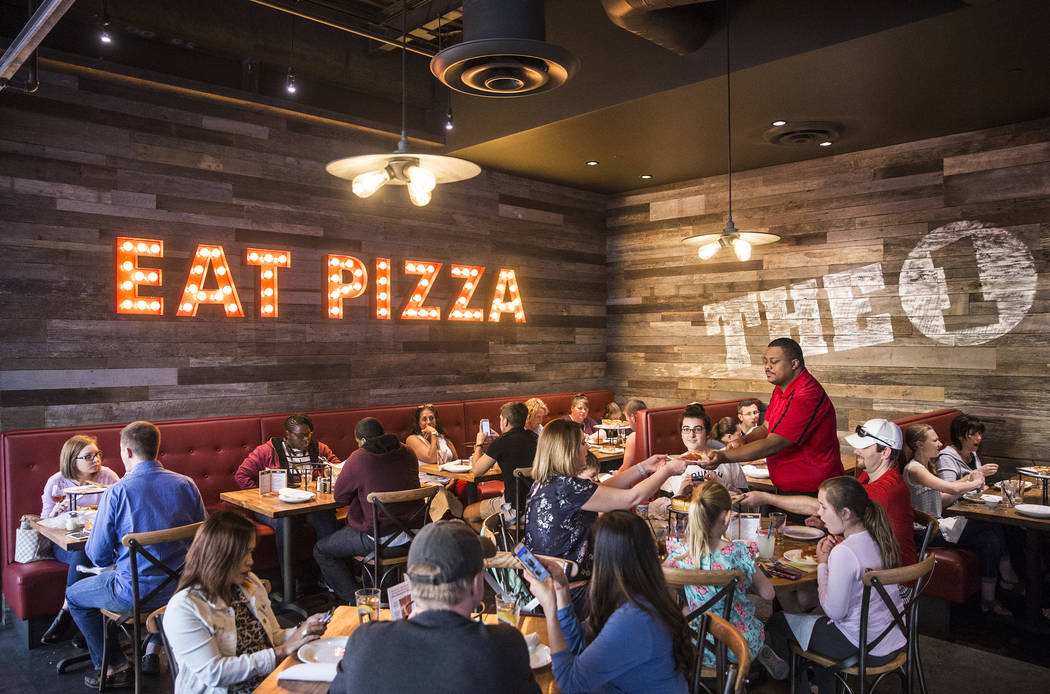 It's a windy weekend in Las Vegas. Stay out of the dust storms with events indoors. The ACM Awards are hitting the city this weekend with parties spanning from the Strip to Red Rock. Also at Red Rock, don't miss Sake Fever night of UNLVino. If you'd rather stay in, make a pit stop at Wax Trax Records first to pick up some killer vinyl.
Here are your top things to see, eat and do in Las Vegas this weekend.
GRAB A BITE
Photos of Giordano's have been all over Instagram since it opened on the Las Vegas Strip late last year: A gooey slice of Chicago-style deep-dish stuffed-crust pizza dangling copious strings of cheese, a tantalizing array of toppings just out of the oven. The photos alone have probably pulled in people by the dozens, and there's nothing wrong with that. Read the full review here. [link]
Celebrate the last day of National Peanut Month with the Vermicelli Noodle Bowl at 8 Noodle Bar at Red Rock Resort. The delicate noodles are tossed with grilled pork, carrot, cucumber, mint, peanuts and sweet chili and served with a crispy egg roll. See more nutty bites here.
GET A DRINK
There's a night for just about every taste at UNLVino.
Sake Fever, from 7 to 10 p.m. Friday at the Red Rock Resort pool, will showcase an extensive selection of sakes in addition to cuisine from 8 Noodle Bar, Moko Ramen Bar, RA Sushi, SoHo Sushi Burrito, T-Bones Chophouse, Yuzu Kaiseki and Zenshin. Tickets are $75 in advance and $100 at the door.
The Grand Tasting, from 7 to 10 p.m. Saturday at Paris Las Vegas, will serve premium beverages along with food from UNLV's culinary students as well as local restaurants. Entertainment also will be provided. Tickets are $100 in advance and $125 at the door.
Proceeds benefit UNLV's William F. Harrah College of Hotel Administration scholarship fund.
For more information, visit unlvino.com.
Every party needs some punch, and Bubble-Licious is no exception. Time to pop bottles with #UNLVino. Cheers! pic.twitter.com/uzgjobaohs

— Palazzo Las Vegas (@PalazzoVegas) March 31, 2017
SEE A SHOW
Human voices join instrumental players at 7:30 p.m. Saturday at The Smith Center, where the Las Vegas Philharmonic performs two vocal works — including Brahms' powerful A German Requiem — with the Las Vegas Master Singers and UNLV's Concert Singers and Chamber Chorale, plus award-winning soloists Alisa Jordheim and Will Livermore. Learn more here.
Be the first on your block to "Shake Your Bon-Bon" at Ricky Martin's Park Theater residency, which he kicks off Wednesday. The 45-year-old star promises a bilingual spectacle with the help of "Michael Jackson: One" director Jamie King. Tickets are $59.50 to $250 for the 8 p.m. show at the Monte Carlo; call 800-745-3000.
ROCK OUT
The ACM Awards will host a series of musical parties, spread among 13 venues, including concert halls, a parking lot and casino swimming pools, scattered from the Strip to Red Rock Resort.
On Friday, check out the After Party for a Cause featuring Lindsay Ell and Ryan Kinder at 10 p.m. at Toby Keith's I Love This Bar & Grill.
On Saturday, don't miss the Pool Party for a Cause featuring Jackie Lee, Jerrod Niemann, Old Dominion and Dee Jay Silver at noon at Go Pool, Flamingo Las Vegas.
See the full lineup of parties here.
STAY IN
The ACM Awards air at 8 p.m. on CBS Tuesday. Kelsea Ballerini, who filmed her video for "Peter Pan" in Nevada's desert is nominated for female vocalist of the year. She scored three consecutive No. 1 country hits from her debut album, something no female singer has done since Wynonna Judd in 1992.
She will perform a fourth single, "Yeah Boy," on Sunday's show but says that's it for singles from "The First Time." Her second album is half done, and she's "already way more proud of the music I'm going to be putting out later this year than I ever have been," she says.
FREE ICE CREAM
Tuesday is Free Cone Day at Ben & Jerry's locations nationwide. Scoop Shops in Las Vegas will give away a small cone or cup of any flavor (including non-dairy) from 12 p.m. to 8 p.m on April 4. Read about participating locations here.
#FreeConeDay is happening April 4th in our Scoop Shops all around the world! https://t.co/BOrk2POJpR pic.twitter.com/LUCsvWQAGZ

— Ben & Jerry's (@benandjerrys) March 31, 2017
JAPANESE SPRING FESTIVAL
From kimonos to koto music, from tea to taiko drums, experience the sights, sounds and tastes of Japan during a free Japanese Spring Festival from 10 a.m. to 5 p.m. Saturday at Lorenzi Park's Sammy Davis Jr. Festival Plaza, 720 Twin Lakes Drive. An authentic tea ceremony, the art of flower arrangement, children's games and origami are all on the menu; Japanese food and anime collectibles will be available for purchase. For more information, call 702-626-0303 or visit www.kizunajapanesesociety.org/english/.
WAX TRAX
Wax Trax has become an international attraction for the most serious of record collectors. Entering the former two-story home means entering a labyrinth of a half-million records, most of them original pressings, along with enough memorabilia to stock a wing of the Rock and Roll Hall of Fame, from sheet music autographed by the Jackson Five to Kiss figurines to some of the rarest vinyl in the world. You can visit Wax Trax at 2909 S. Decatur Blvd. See more of Wax Trax Records here.
NERD NIGHTCLUB
A crowd turned out Thursday for a ceremony marking the opening of the Nerd nightclub on the second floor of Neonopolis.
The nightclub is taking over the space formerly occupied by the Drink & Drag nightclub. The space includes a 12-lane bowling alley and dance floor. See more photos here.
SEE MAGIC MIKE
Channing Tatum was fired up after Wednesday night's performance of "Magic Mike Live." Tatum addressed the audience at the start of what amounted to a final, public dress rehearsal, a full performance for an invite-only audience. Tickets are $49-139 with two shows per night Thursdays through Sundays. Tatum is in town through the first week in April.