10 best things to do in Las Vegas this weekend — Dec. 1-3
December 1, 2017 - 2:56 pm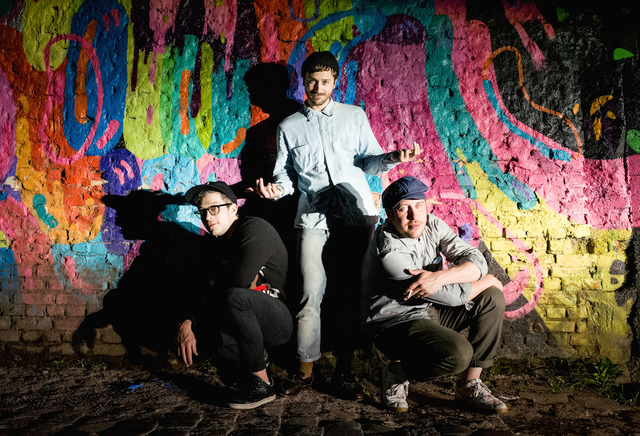 The holidays are here in Las Vegas.
Welcome the beginning of December at the first night of Hard Rock's Holiday Havoc with Portugal. The Man.
Support the Las Vegas community on the two-month anniversary of the mass shooting at tonight's Vegas Strong benefit concert with The Killers and Imagine Dragons.
Make sure to head downtown and catch the last First Friday festival of 2017.
Here are your top 10 picks for what to see, eat and do in Las Vegas this weekend.
Grab a bite
Naked City Pizza has pushed forward the opening of its downtown location to be open for First Friday. The popular local chain is taking over the space at El Cortez that was previously Pizza Lotto. Read more about Naked City Pizza here.
Get a drink
Since downtown doesn't have a dedicated tiki bar, Pizza Rock is the best place to get your Polynesian drink fix. The Freaky Tiki offers all the key ingredients: multiple types of rum, fruit juice and a cool glass. Learn how to make it yourself here.
See a show
As much as anything else, this is who Patton Oswalt is: an intensely funny, equally conscientious dude whose stand-up specials and albums are united by a constant chronicling of his evolution as a person.
Oswalt explains in a recent phone interview, "I'm the classic 'Thinks he's very liberal, progressive and open-minded' and yet has prejudices that he can't even see. So to start realizing that about yourself is very fascinating — and can be very funny." See Patton Oswalt at 9 p.m. Saturday at The Joint at Hard Rock Hotel. Read more about Patton Oswalt.
Rock out
'Tis the season for Christmas-themed concerts, so let's break down the lineup for Holiday Havoc Night 1 (Night 2, headlined by The Killers, is Dec. 11). See Portland, Oregon-based alt-rock changelings Portugal. The Man hit Vegas in support of their eighth record, "Woodstock," one of the best albums of the year. Read more about Holiday Havoc.
Catch a movie
To celebrate the 20th anniversary of "Titanic," writer-director James Cameron has remastered the Oscar-winning love story yet again. A weeklong 3-D engagement will begin Friday in Dolby Cinema at 20 AMC locations, including Town Square. Read the RJ movie writer's real-time thoughts while he watches "Titanic" for the first time.
Vegas Strong
Imagine Dragons were in Los Angeles on Oct. 1, playing at the Hollywood Bowl.
"We walked off stage to the news," singer Dan Reynolds says. "We sat down and we all just cried and watched the news together that night at the venue."
They reached out to their manager, Mac Reynolds, Dan's brother, the morning after the tragedy to coordinate a benefit show. See the Vegas Strong Benefit Concert at 7:30 tonight at T-Mobile Arena, where Imagine Dragons and The Killers will team up with a variety of Vegas performers and local notables.
First Friday
As 2017 rapidly moves toward its close, December's First Friday celebration acknowledges the fact with an "Art of Movement" theme.
The monthly gathering in the downtown arts district runs from 5 to 11 p.m. Friday, mustering a mix of art, music, food, fun — and, inevitably, holiday shopping. Read more about the monthly downtown arts fest.
Downtown
The first of two Brunch with Santa events will be from 10 a.m. to 1 p.m. Saturday at Downtown Container Park at Fremont and 7th streets. In addition to an all-you-can-eat brunch, guests can make hot chocolate, decorate a holiday cookie and sit for pictures with Santa. Tickets are $30, plus $15 for unlimited mimosas, $15 for kids under 12.
Mac and cheese
Grab a bite of your favorite comfort food. At Yardbird Southern Table & Bar go for the torchio pasta (they look like little torches), but stay for the complex five-cheese blend and the crispy herb crust in a definitely updated take on Southern supper. See 4 more of the best spots for mac and cheese in Las Vegas.
The Las Vegas Philharmonic
The Las Vegas Philharmonic is performing not one but two concerts Saturday. The family-friendly matinee, dubbed "Home for the Holidays," promises a more traditional musical menu while Saturday evening's "A Baroque Christmas" teams the orchestra with its resident vocal ensemble, the Las Vegas Master Singers, for Part I of Handel's oratorio "The Messiah." See the shows at 2 p.m. and 7 p.m. at The Smith Center for the Performing Arts.