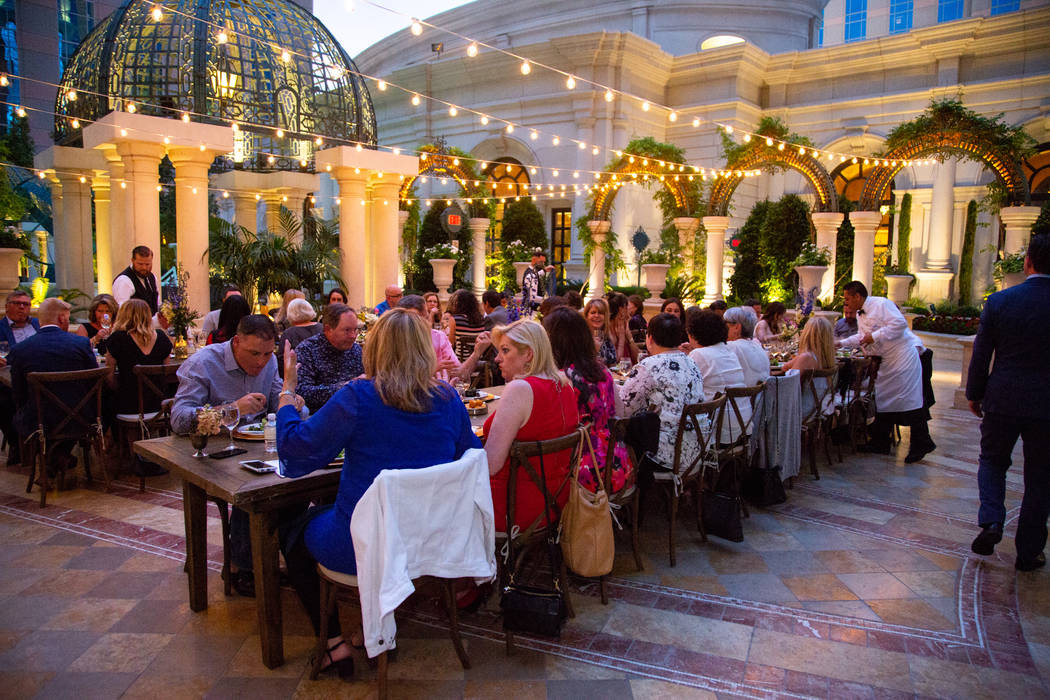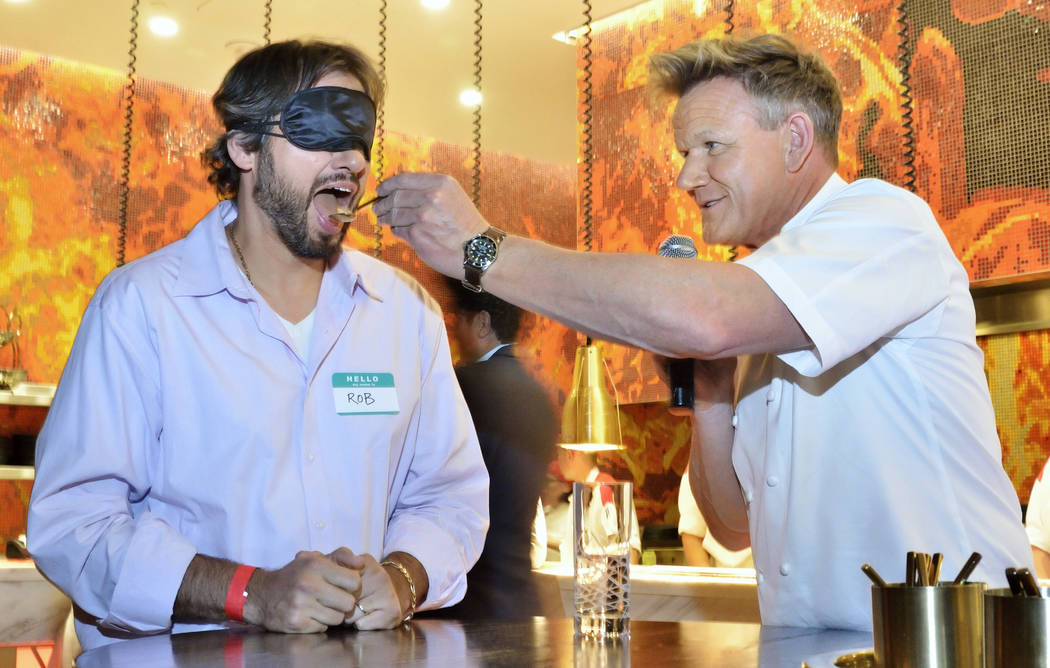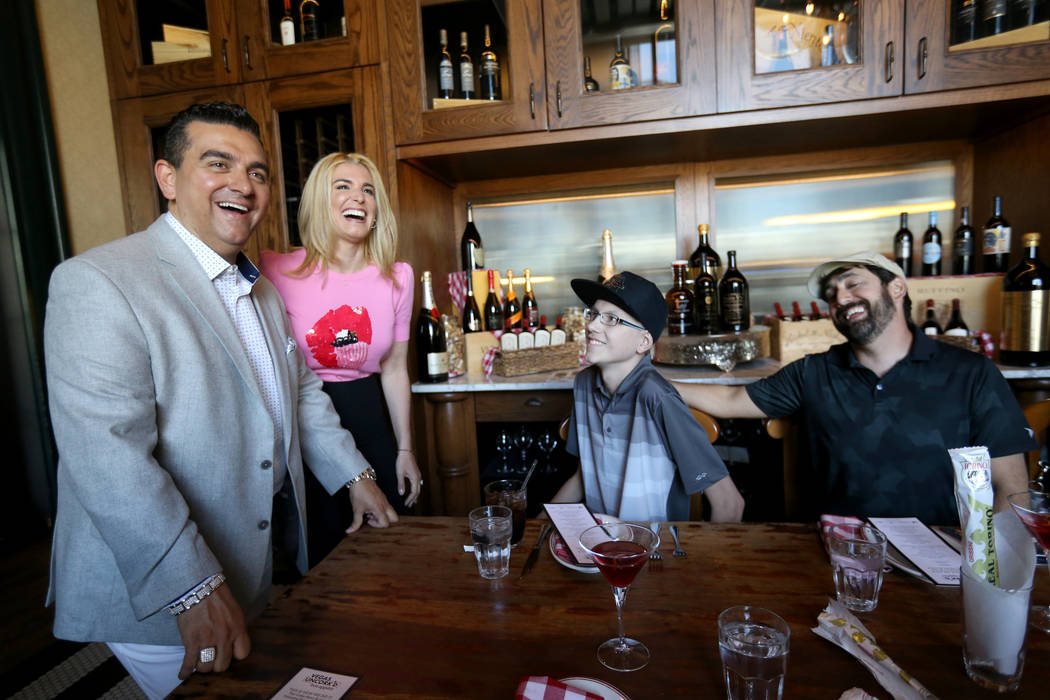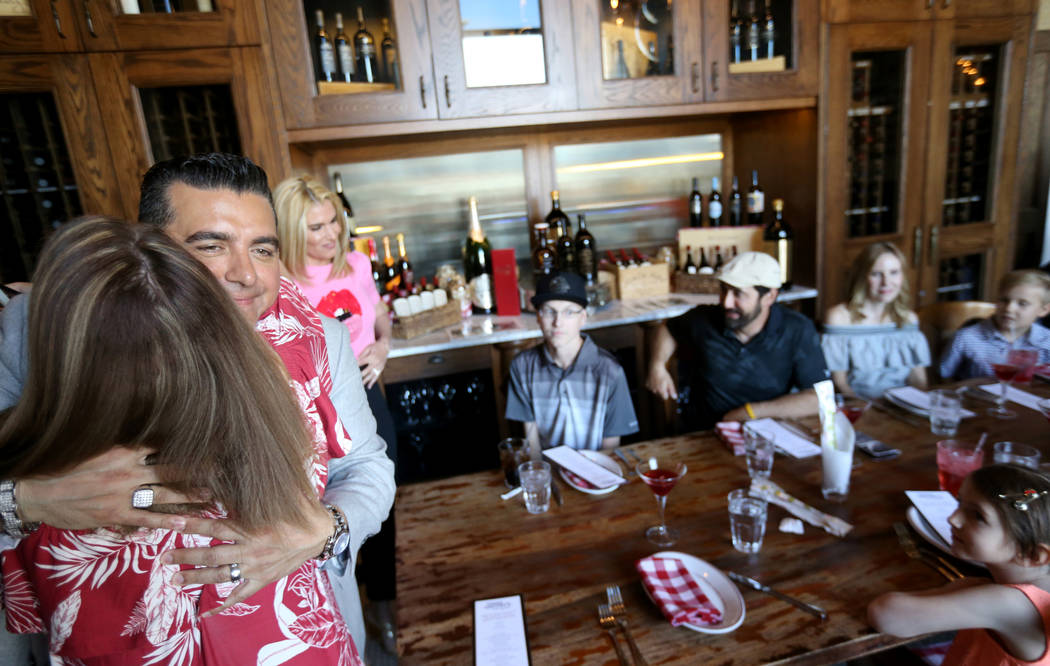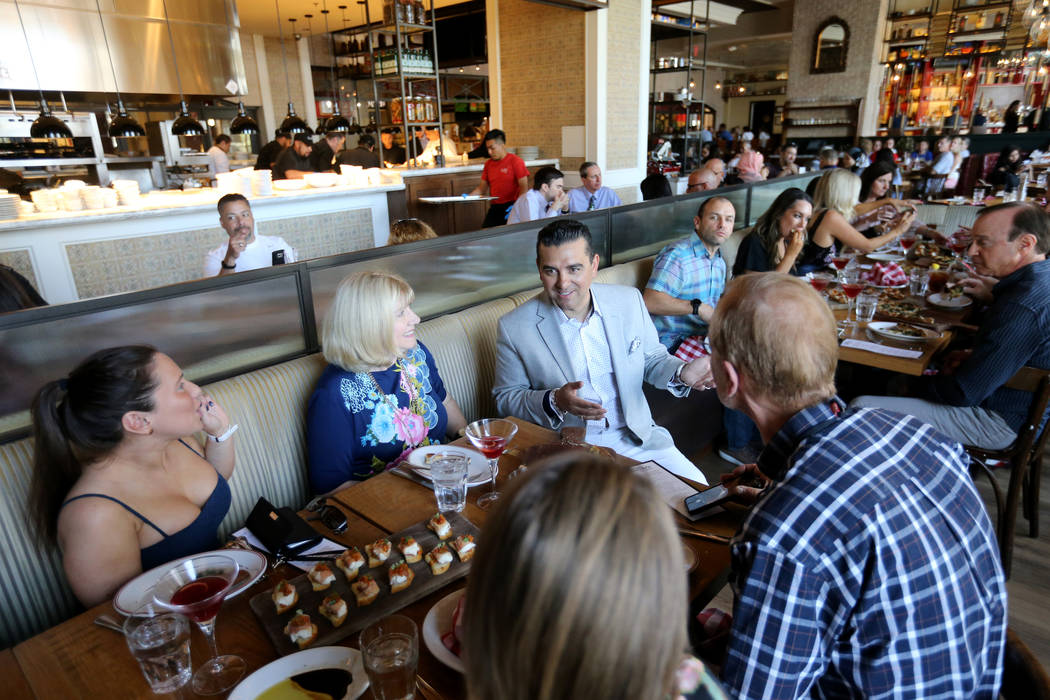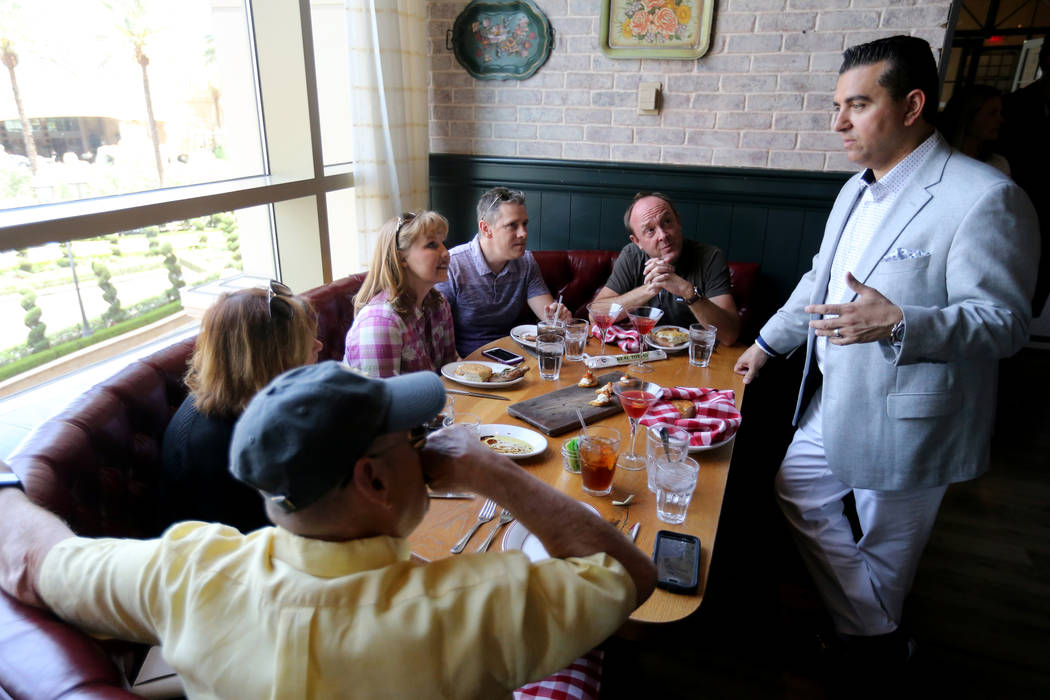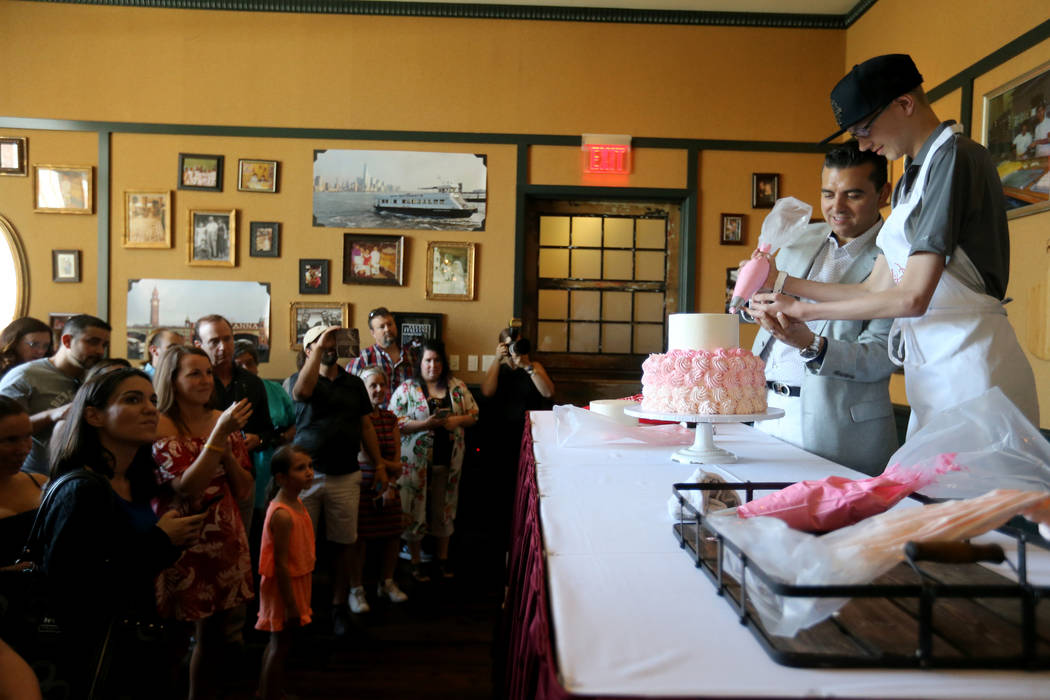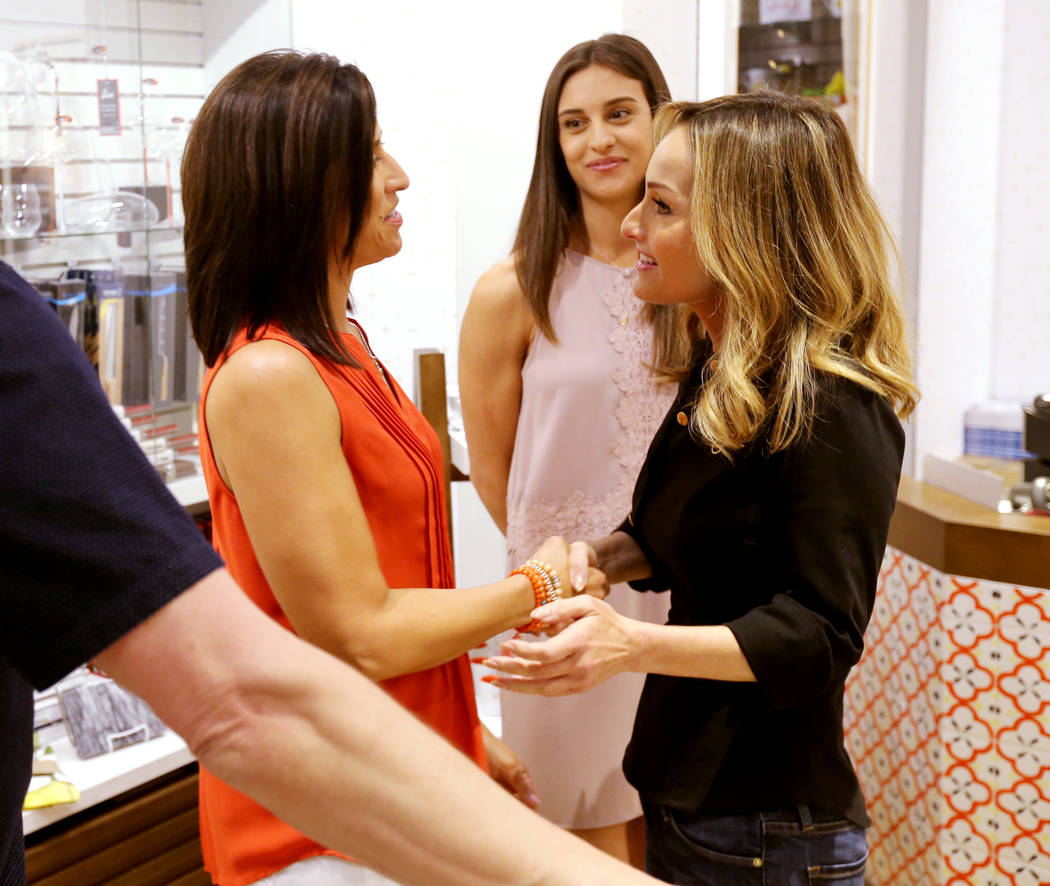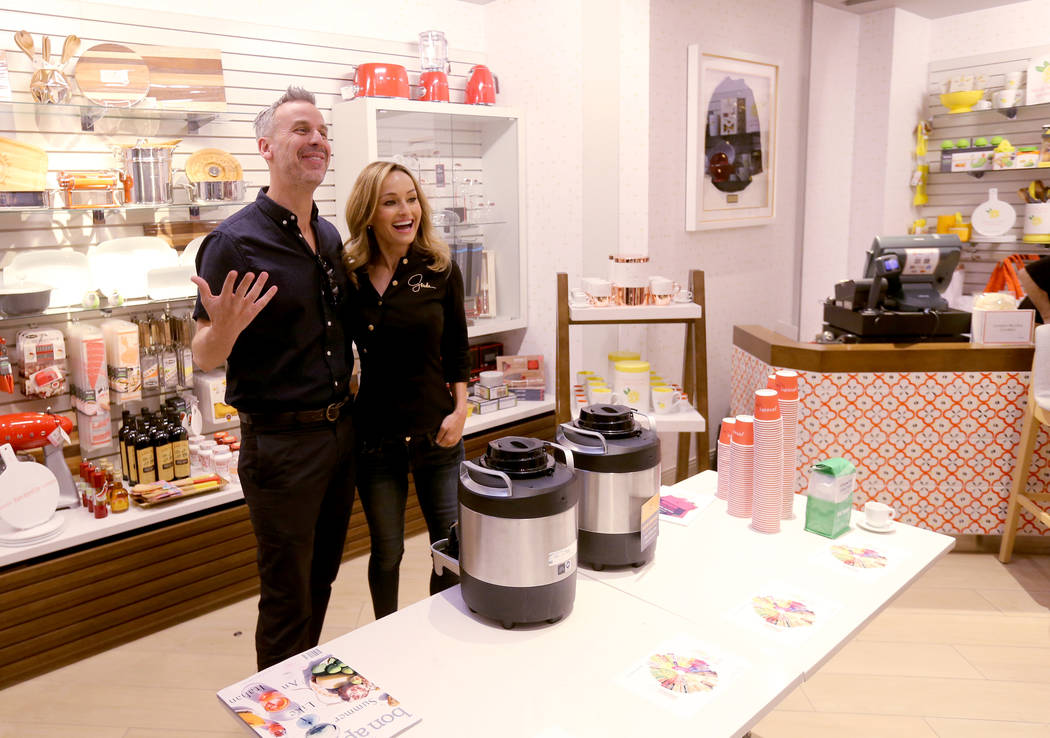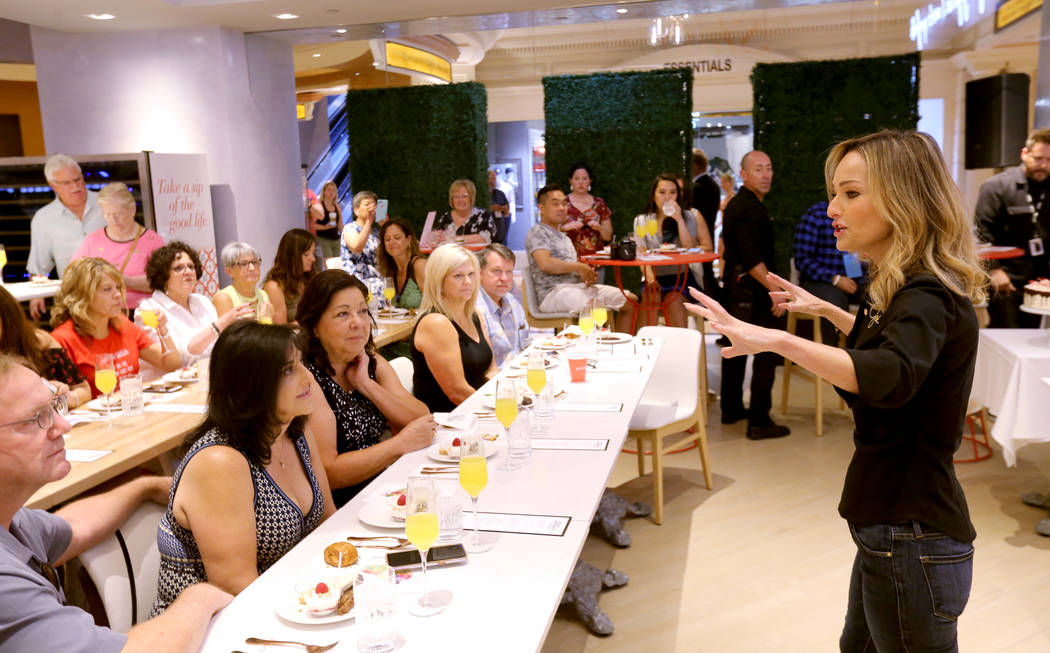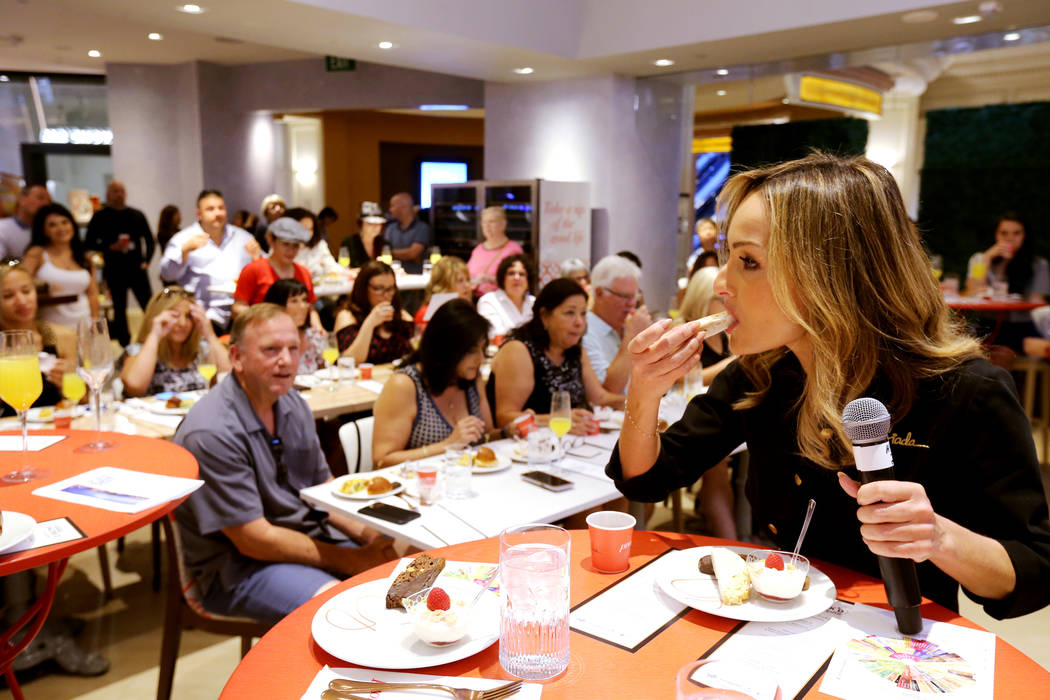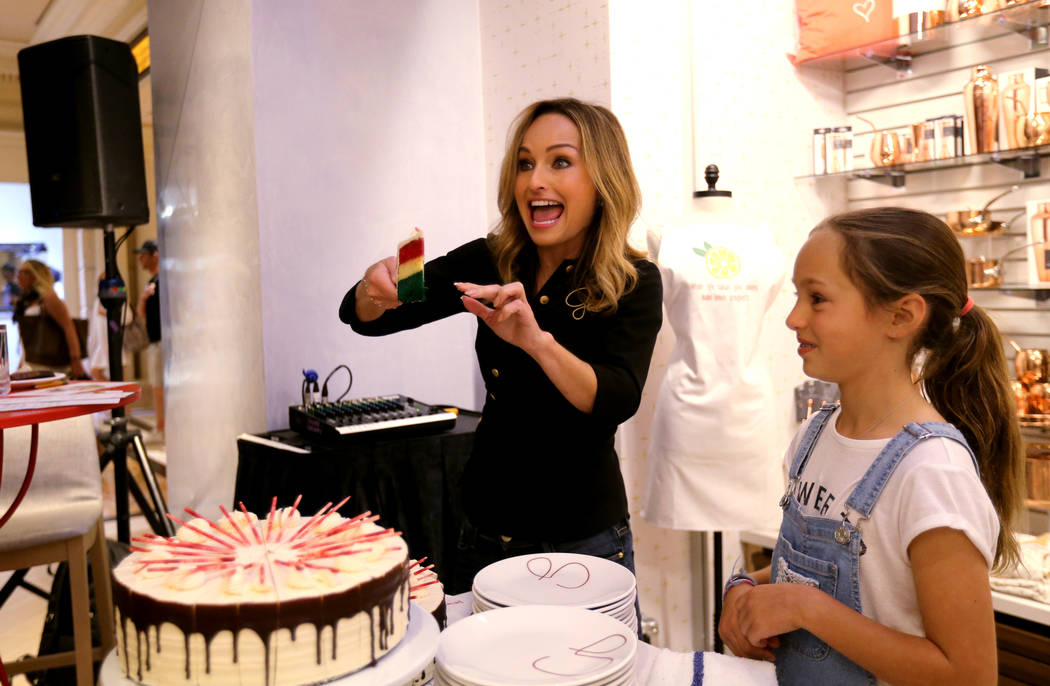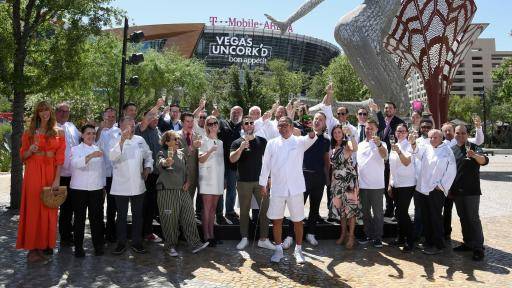 The 12th annual Vegas Uncork'd took over the Strip this past weekend, with more than two dozen events scattered over four days. Here are some highlights:
Opening Champagne with a saber is always tricky, but using a samurai sword on a bottle of Prosecco was extra challenging. Masaharu Morimoto eventually did it for the festival's opening toast Thursday at The Park in the annual ceremony attended by more than 20 top chefs.
Thursday night's Master Series Dinner at Nobu Caesars Palace doubled as a fifth-anniversary dinner for the restaurant and the Nobu Hotel tower. In addition to serving a nine-course dinner, Nobu Matsuhisa had his pastry team prepare three multi-tiered birthday cakes.
The Thursday night Master Series Dinner at Rao's was a remembrance of the restaurant's late owner (and actor) Frank Pellegrino Sr., hosted by his son, Frank Jr., and partner, Ron Stassi. The menu included his favorites from the restaurants in Harlem and Las Vegas and one Pellegrino used to enjoy at home: pasta with cherry peppers, olive oil, anchovies and toasted garlic.
Also on Thursday night at Caesars, Gordon Ramsay entertained a packed house at his new Hell's Kitchen restaurant. The highlight of the night was when he picked a handful of audience members to compete in blind ingredient taste tests, with mixed results.
At The Cosmopolitan of Las Vegas, guests gathered at long, red-checked tablecloths on the slightly breezy deck of the Boulevard Pool for a Sunset Clambake with live music.
Those gathered for Coffee & Cake with Giada at Pronto at Caesars Palace on Friday morning learned all about the brews of Counter Culture Coffee, which is served at the Giada De Laurentiis restaurant.
At This Is How We Do It at Buddy V's at the Grand Canal Shoppes on Friday, Cake Boss Buddy Valastro and his wife, Lisa, mingled heavily with the crowd and posed for photos with fans.
Michael Mina showed off his newly redesigned namesake Bellagio restaurant at a Friday lunch. The chef was on hand to provide samples from his rewritten menu and MGM Resorts International's corporate mixologist Craig Schoettler, known for his time at Alinea and Aviary in Chicago, provided the beverages.
Friday night's Grand Tasting remains the centerpiece of Uncork'd. Guests dressed up to walk the Garden of the Gods pool complex at Caesars Palace and hobnob with celebrity chefs.
The Venetian and the Palazzo hosted several high-profile events. One that wasn't open to the public was a Southern California radio broadcast Saturday from Lagasse's Stadium, with Andrew Harris hosting a special Uncork'd edition of KLAA-AM's SoCal Restaurant Show with appearances from some of the festival's top names.
Susan Feniger's Women's Power Lunch & Conversation on Saturday at Border Grill at the Forum Shops addressed serious issues facing women in the industry. It also elicited laughs when panelists joked about people and places they'd written off prematurely. Feniger recalled working at the original Quilted Giraffe in New Paltz, New York, before it conquered Manhattan, and quitting because "they don't know anything." She also once referred to her boss Wolfgang Puck as "a screwball." Restaurateur Elizabeth Blau admitted she turned down an opportunity to work with Outback Steakhouse because she thought "that's so stupid, who would go to an Australian steakhouse?"
Saturday's Picnic in The Park brought some of the biggest stars of the MGM family outdoors on a gorgeous afternoon to cook for guests who dined at flower-strewn picnic tables and on blankets. Michael and Bryan Voltaggio were on hand cooking, as was Graham Elliot, though none have restaurants in Las Vegas — at least not yet.
At Sugarcane at The Venetian on Saturday, Timon Balloo stressed the importance of compound flavors — from brining, salts and spices — during his Thrill of the Grill session.
Black Tap at The Venetian was closed to the public Saturday night while attendees got the scoop on how the restaurant creates its famous Crazyshakes.
The sole off-Strip event of Uncork'd was Saturday night at the Mob Museum. Guests were given a password and sent down an unmarked outdoor staircase where they rang a doorbell to gain entry through a locked door with sliding peephole.
After attending his daughter Sophie's college graduation, Bobby Flay flew to Las Vegas to host a Mother's Day brunch at his Caesars Palace restaurant. Some of the VIPs granted access to the kitchen seemed shocked when the celebrity chef actually spent time on the line with his team, plating dishes himself.
Related
Vegas Unstripped food festival brings chefs to downtown
Contact Heidi Knapp Rinella at hrinella@reviewjournal.com. Contact Al Mancini at amancini @reviewjournal.com.