3 Mario Batali restaurants on Las Vegas Strip to close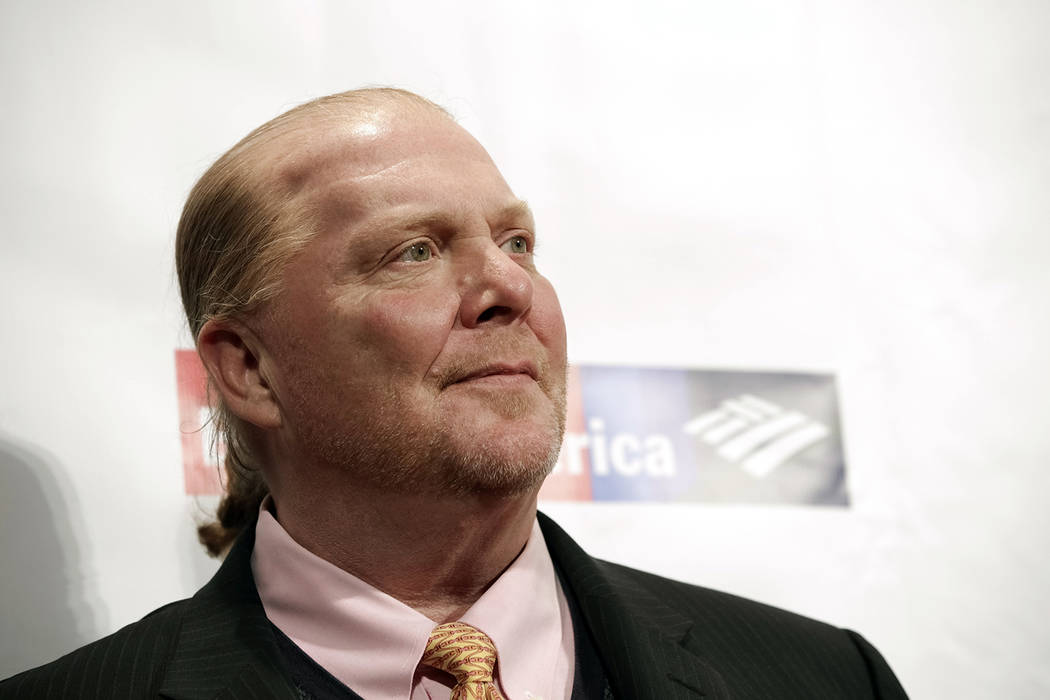 Days after new sexual misconduct allegations were made against celebrity chef Mario Batali, his company announced Friday that it will close its three Las Vegas restaurants July 27.
Employees of Carnevino Italian Steakhouse, B&B Ristorante and Otto Enoteca e Pizzeria, all located in The Venetian and Palazzo resorts, were informed of the decision Friday morning in a letter from B&B Hospitality Group partner Joe Bastianich. B&B estimates that 298 employees will be affected by the closures.
"These restaurants have continued to succeed, and they are a tribute to every one of you who works in them and brings great dining experiences to our guests," Bastianich's letter reads. "Unfortunately, our partner in these restaurants, Las Vegas Sands Corp., has decided to end our relationship."
It goes on to promise: "I am committed to continuing our presence in Las Vegas. I am beginning to explore options, but it will take some time to execute them."
Bastianich is scheduled to visit the restaurants Friday to speak to employees about the next two months of operation as well as how the company plans to help them transition to new positions.
Las Vegas Sands Corp., which owns The Venetian and Palazzo but does not operate the restaurants, issued its own statement Friday.
"We would like to thank the team members of B&B Restaurant Group for their dedication and many contributions to The Venetian and The Palazzo. We appreciate the hard work and energy of director of operations Zach Allen, Chef/Culinary Director Nicole Brisson and the rest of this team. At this time, there are no other plans for the space," the statement said.
Although the affected workers are employees of B&B, Las Vegas Sands said it has provided them with a contact to apply for open positions within the company.
The news comes in the wake of Sunday's "60 Minutes" report about Batali's alleged sexual misconduct. In the piece, a woman recounted waking up in The Spotted Pig restaurant in New York, in which Batali was invested, remembering having sat on Batali's lap the previous evening, kissing him and vomiting in a toilet. She told interviewer Anderson Cooper that she believes she had been drugged and that Batali had done something "very wrong."
The segment also featured a former manager at the Spotted Pig who said she intervened after seeing Batali assaulting a woman she believed to be unconscious or semi-conscious. The New York Police Department is investigating allegations raised in the "60 Minutes" report. Batali denies the allegations.
The latest accusations follow reports in December alleging inappropriate behavior by Batali toward several women. Batali stepped away from the daily operation of B&B after those reports, and negotiations to buy him out of the company followed.
A spokesperson for B&B said the decision to close the Las Vegas restaurants was made before the "60 Minutes" report aired. Las Vegas Sands, while confirming it made the decision to close the restaurants, would not comment on the timing of that decision.
Message to Employees by Las Vegas Review-Journal on Scribd
Related
Celebrity chef Mario Batali accused of sexual harassment
Mario Batali investigated by NYPD, denies any wrongdoing
Mario Batali presence scrubbed from Las Vegas Strip
The Review-Journal is owned by the family of Las Vegas Sands Corp. Chairman and CEO Sheldon Adelson. Las Vegas Sands operates The Venetian and Palazzo.
Contact Al Mancini at amancini@reviewjournal.com. Follow @AlManciniVegas on Twitter.