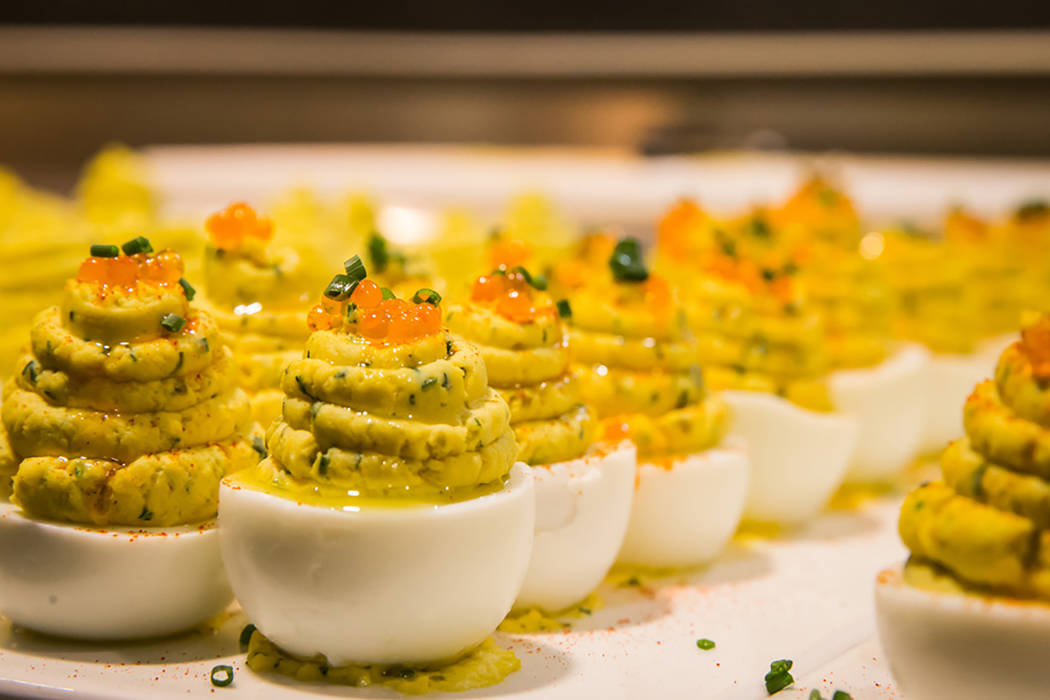 Couscous
Carson Kitchen's chilled Couscous Confetti spices up the simple grain with bell pepper, cucumber, celery, carrots, red onion, fresh parsley, apricot vinaigrette, champagne vinegar, shallots, fresh thyme and dried apricot. Together, they're a perfect way to keep cool while taking in the Carson Avenue crowds from the upstairs patio.
Carson Kitchen, 124 E. Carson Avenue, 702-473-9523, carsonkitchen.com.
Soup
While most people associate soup with warming us on cold winter's nights, there are plenty of chilled summertime varieties. Celebrity chef Giada De Laurentiis' Cromwell restaurant Giada offers a green pea version rendered silky smooth with a touch of mascarpone and accented with croutons and the crispy saltiness of dried speck.
Giada, The Cromwell, 855-442-3271, caesars.com.
Deviled eggs
While these backyard favorites have had a recent fine-dining resurgence that often leaves them almost too fancy to recognize, Yardbird Southern Table & Bar strikes the perfect balance between homey and high-end. The chef overloads the whites with a tower of dill-seasoned yolk, then fancies them up a smidge with a dab of trout roe and a sprinkling of scallions, followed by a dash of paprika.
Yardbird Southern Table & Bar, The Venetian, 702-297-6541, runchickenrun.com.
Caviar
Nobody presents sturgeon roe, the pinnacle of elegance, quite like Michael Mina at his namesake Bellagio restaurant. His tableside caviar cart offers three prized ossetra varieties: golden, Russian and Siberian. Enjoy your choice with traditional accompaniments or in an intricate parfait, and chase with chilled vodka or Champagne.
Michael Mina, Bellagio, 866-259-7111, michaelmina.net.
Noodles
Served with pork charshu, egg, cucumber, bean sprout and tomato, in your choice of sesame or yuzu sauce, this is a perfect dish to battle the Las Vegas heat. Because while some Asian restaurants offer their "cold" noodles merely room temperature or even warmer, Monta Ramen's are ice cold. And vegetarians are encouraged to order them without the pork.
Monta Ramen, 5030 Spring Mountain Road, 702-367-4600, montaramen.com.