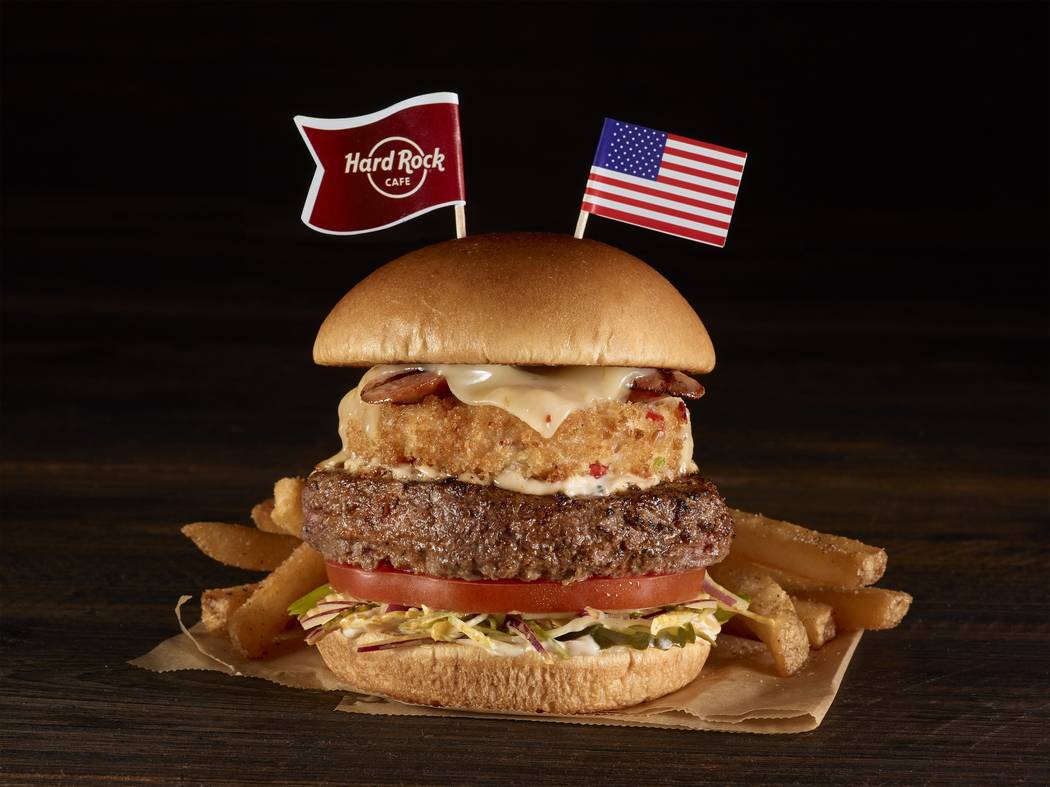 Rockin' around the world
The taste tour of Hard Rock Cafes worldwide is back at the cafe at 3771 Las Vegas Blvd. South, through June 25. The eight featured burgers on the World Burger Tour were chosen from among 160 of the company's local burgers served worldwide. Among the winners was the Jambalaya Burger, which is a beef patty with Cajun mayo, pickles, andouille sausage, pepperjack cheese and a jambalaya rice cake. It's $18.95.
Dining for a change
Five Las Vegas chefs will participate in an educational dinner featuring plant-based dishes from local farms at 5:30 p.m. Sunday at VegeNation, 616 Carson Ave. The chefs are Rick Moonen of RM Seafood and Rx Boiler Room, Mark Sandoval of UNLV, Hansel Tan of Chow, Vincent Pellerin of Eatt and Donald Lemperle of VegeNation. It's $77; proceeds benefit Create a Change Now. Go to www.brownpapertickets.com.
Helping animals
Vegans have one more option in Las Vegas — and it's a chance to help animals in another way. Urban Turban, 3900 Paradise Road, now serves a vegan buffet from 6 to 11 p.m. Tuesdays. It's $12, and 10 percent of sales goes to the One Family Animal Sanctuary for farm animals.
Rush in, rush out
If you're in a rush after work, you may appreciate the Rush Hour Menu available from 5 to 6 p.m. daily at Austin's Steakhouse at Texas Station. On the menu: scallops with linguine puttanesca, a 10-ounce top sirloin with broccoli and a baked potato, and an 8-ounce mushroom and cheddar burger with seasoned fries, $15 each. And the A-Bar is offering 50 percent off featured martinis and house wines from 5 to 7 p.m. daily.
Justin wines
The master sommelier from Justin Winery, which produces Bordeaux-style wines on California's Central Coast, will discuss them during a dinner at 6:30 p.m. Thursday at Aureole at Mandalay Bay. The four-course dinner, which begins with an amuse-bouche of lionfish ceviche and has an entree of wagyu flat-iron with beef-cheek ravioli, is $150; call 702-632-7401.