5 fresh-pressed juices to try in Las Vegas
Updated June 9, 2017 - 8:24 pm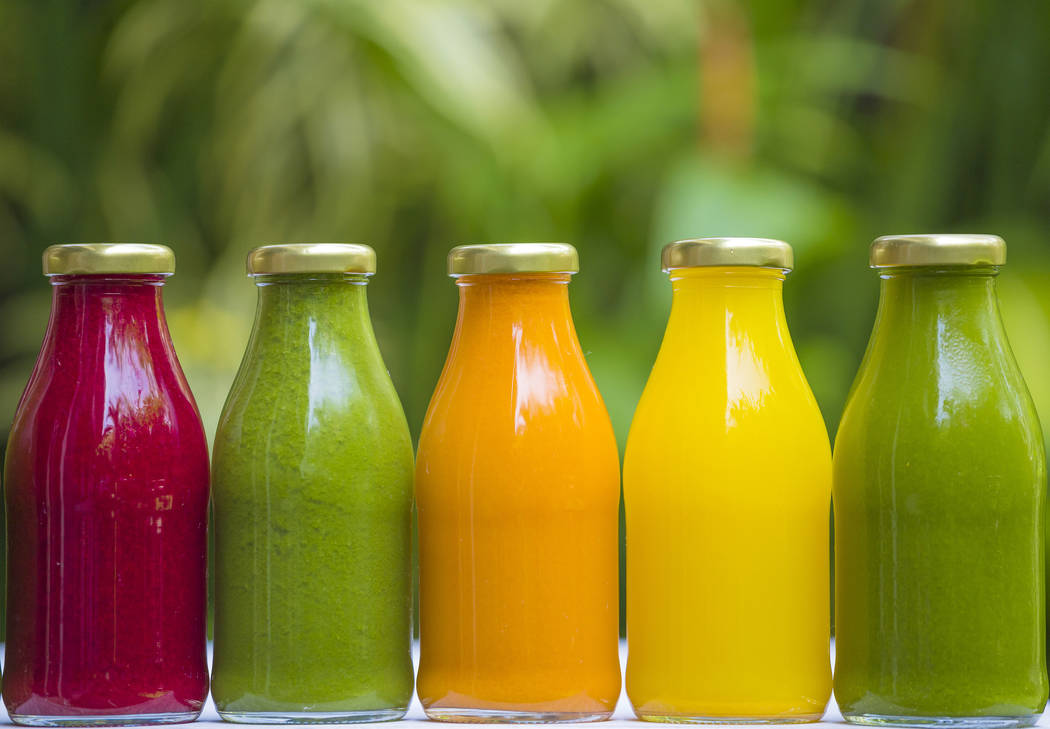 Green Valley
All the area sushi spots have rolls with local references, so why not juice bars? Pressed for Juice's Green Valley is about as green as it gets, a mix of kale, spinach, romaine, cucumber, celery, parsley and microgreens — and lemon, deviating from the monochromatic scheme. The company says it's highly alkalizing and has anti-aging and metabolism-boosting qualities.
Pressed for Juice, 6145 S. Fort Apache Road and in the District at Green Valley Ranch in Henderson
Matcha Tea
The Pressed Juicery has five green juices and lots of other choices, but it's also a good place to meet your matcha. Choices are matcha tea (lemon, maple syrup, matcha and probiotic), matcha lemonade (lemon, maple syrup, matcha, mint and probiotic) and matcha almond (almonds, cinnamon, dates, matcha and vanilla bean).
The Pressed Juicery, Aria, Fashion Show mall and Tivoli Village; www.pressedjuicery.com
Bee Happy
The Juice Standard's Bee Happy isn't actually a juice; it's a nut milk, and one the company says can serve as a meal replacement or post-workout drink. Best of all: a mix of alkaline water, coconut water, cashews, Brazil nuts, walnuts, local honey, cacao, vanilla bean and pink Himalayan salt, it tastes a lot like chocolate milk.
The Juice Standard, 4555 S. Fort Apache Road, 2530 St. Rose Parkway in Henderson and at The Cosmopolitan of Las Vegas, www.juicestandard.com
Apple Spice
If green juices aren't your thing consider the Apple Spice from Fruits and Roots. It's a blend of organic apple, lemon and ginger, and you can even get it steamed with a dash of Ceylon cinnamon.
Fruit and Roots Organic Juice & Wellness Kitchen, 7885 W. Sunset Road and inside the Look Style Society at Town Square, fruitsnroots.com
Boomshakalaka
It makes sense that a juice bar that calls its green juice Nostalgia would have choices like Boomshakalaka, an offbeat blend of red cabbage, grapes, cucumber, apple lemon and ginger. Other choices include Astonishing, Adrenaline and Epic, although you can get Composed if you wish.
Carpe Diem Juice Co., 8180 Blue Diamond Road, 702-750-0488, www.cdjuice.com