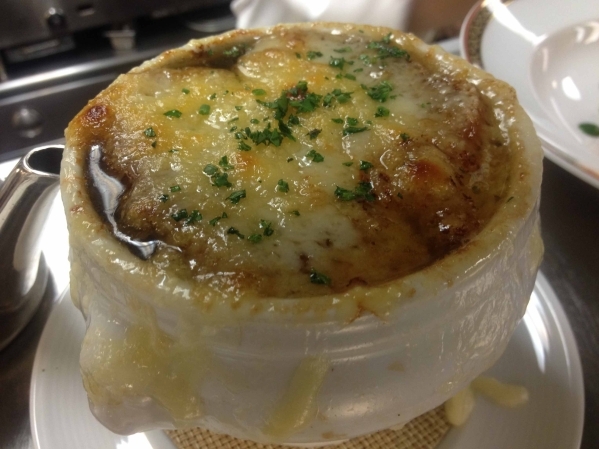 It's National Soup Month, so warm up with one of these.
Tonkotsu Ramen
8 Noodle Bar, Red Rock Resort
Rich and creamy pork broth carries chunks of pork belly plus a poached egg, pickled ginger, bamboo, scallions and mushrooms, $12.
Clam chowder
The Oyster Bar, Palace Station
This hearty, creamy New England-style chowder contains shucked clams, potatoes, vegetables and traditional herbs and spices, $6.99 for a cup, $8.99 for a bowl.
French onion soup
Alize, Palms
Traditional beef stock is embellished with house-made herb croutons, Devon cream and L'Etivaz cheese, which is similar to but more pungent than Gruyere, $17.
Curry Kabocha squash soup
Artisanal Foods Cafe
The soup made with Kabocha squash — also known as Japanese pumpkin — is finished with baby crudite and sweet potato and brulee marshmallow fluff, $6.
Ku Monk Soup
Ku Noodle, SLS Las Vegas
Wheat noodles, tofu skin, mushrooms, cabbage, scallions, carrots, choy sum, a poached egg, chili and a crispy rice cracker are mixed in a vegetable broth, $16.88.
— If you have suggestions for On the Menu, please contact Heidi Knapp Rinella at hrinella@reviewjournal.com. Find more of her stories at www.reviewjournal.com and follow @HKRinella on Twitter.