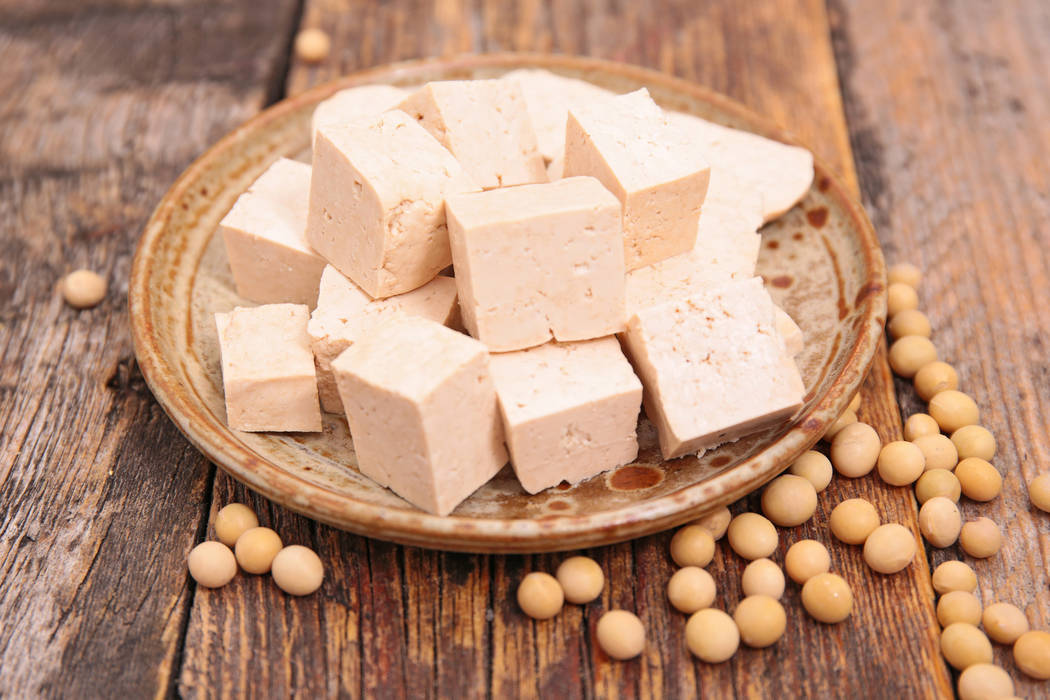 Pearl Ocean
Lucky Dragon's high-end restaurant offers numerous tofu dishes, some vegetarian or vegan, others utilizing meat or seafood. But the most interesting may be the tofu pudding dessert. This cousin of rice pudding has little taste on its own, but comes alive when you mix in an accompanying sweet ginger sauce.
Lucky Dragon, 702-579-1287, luckydragonlv.com
Aburiya Raku
Chinatown's acclaimed Japanese restaurant Raku is one of the few places in town to make tofu in-house, from scratch. Try the Oyaji version: a half-disk of tofu accompanied by small piles of chili oil, chives and takana (pickled Japanese mustard leaves). Guests mix them in according to taste as they break up the tofu.
Raku, 5030 W. Spring Mountain Road, 702-367-3511, raku-grill.com
Kaiseki Yuzu
This Silverado Ranch restaurant does Raku one better by making four styles of tofu (green tea, black sesame, seaweed and kinugoshi) in-house, each with a distinctive color, texture and taste. Each also comes with one of three house-made soy sauces (dashi, bonito and seaweed) and specially selected condiments. The green tea is available a la carte, while the others come as part of the various four-, nine- or 10-dish kaiseki menus.
Kaiseki Yuzu, 1310 E. Silverado Ranch Blvd., 702-778-8889, yuzukaiseki.com
Portion Control
This Gramercy healthy dining option doubles as a meal prep service and a cafe. The latter menu offers tofu fries: rectangular logs of bean curd seasoned with paprika, kosher salt, Cajun seasoning and Old Bay, then fried to crisp up the outer layer. The contrasting textures and umami-heavy seasoning make this more than just a french fry pretender.
The Gramercy, 9275 W. Russell Road, 702-629-6030, portioncontrollv.com.
Nacho Daddy
Each of Nacho Daddy's locations offers about a dozen vegan choices. While some (kale salad, chips and salsa, etc.) don't bring a lot of originality to the table, the restaurant's tofu cheese spread is central to some of the more interesting ones. The silky-smooth, tangy liquid is used in skinny dip (vegan queso fundito), Gardein Chick'n nachos and vegan quesadillas.
Nacho Daddy, 113 N. Fourth St., 702-778-7800, nachodaddy.com, and other locations