8 chef tips for cooking steaks at home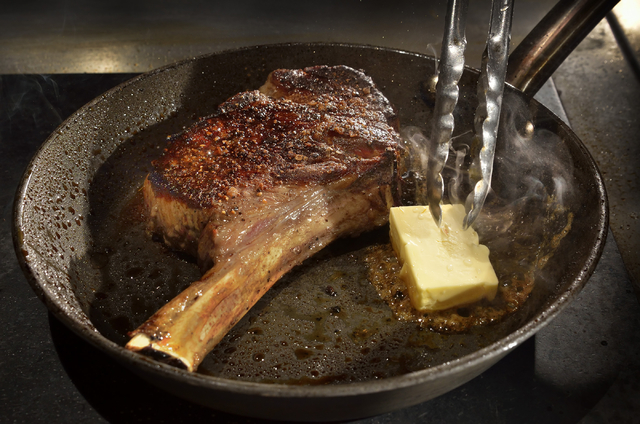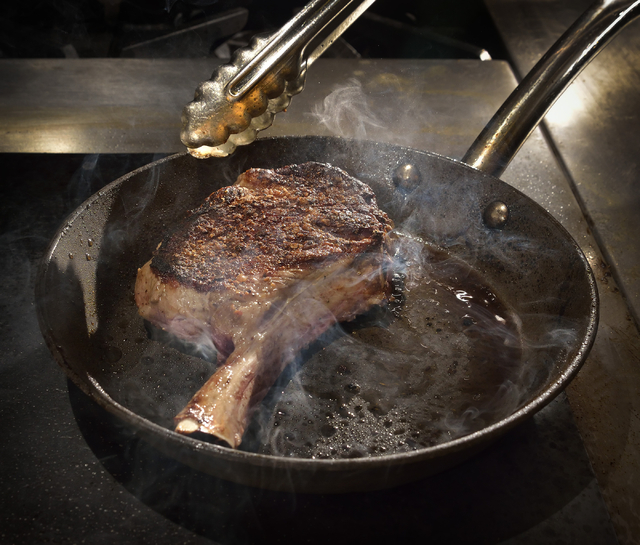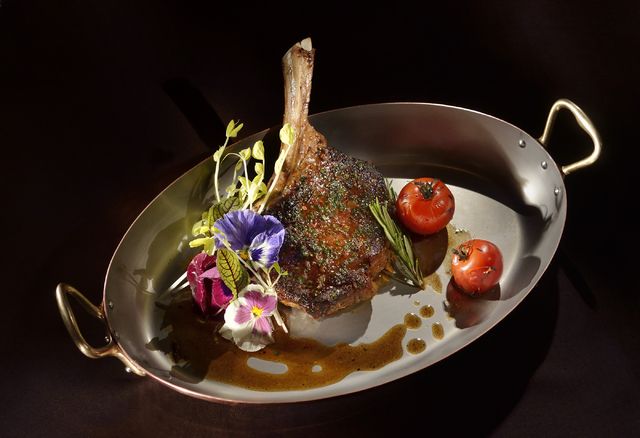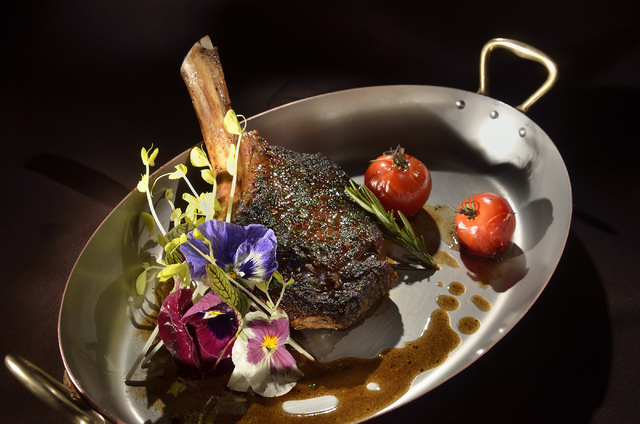 Eight chefs, eight opinions.
We've known for a long time that chefs don't tend to agree on much. They're creative types, not scientists, so formulas usually don't figure into the process.
So when we asked eight local chefs to tell us the best way to cook a steak at home to approximate steakhouse quality, it wasn't a surprise that we got eight techniques. (The only thing they agreed on was the importance of removing the steak from the refrigerator and leaving it at room temperature before cooking — this is called tempering — although the suggested times varied. Figure 20 to 60 minutes, depending on size and thickness.)
And so, here they are — in alphabetical order, so you may want to scan down for your favorite restaurant. Our advice is to do as we plan to do: Pick one for Fourth of July grilling this weekend, and work your way through until you find the one that works best for you.
Mike Anderson, Executive chef of Brio Tuscan Grille at Tivoli Village:
Start the steak over direct heat for 1½ to 2½ minutes, then turn 90 degrees and let it sear for the same amount of time, repeat with the other side, then move it to the cooler side of the grill over indirect heat to rest.
Jack Cantella, executive chef of Off the Strip at The Linq:
Season the steak heavily with salt, and also with pepper, on both sides. When coals are ready, season the grill with olive oil and put the steak on it.
Depending on thickness and desired doneness (2 minutes for medium-rare), put the steak on, and then turn it 90 degrees to get the grill marks. Flip the steak three more times at even time intervals. Remove from grill and let rest 3 to 5 minutes before serving.
Matthew Hurley, executive chef at Cut at The Palazzo:
"They can do the same quality steak on a grill they have at home as what I have here," Hurley said. "It's just making sure the grill is hot enough and it's clean."
Hurley said he uses both gas and charcoal at home. Charcoal gets hotter and imparts more flavor, he noted.
"It's just keeping the lid closed and letting that grill get as hot as it can get so you can get that nice sear and char on the outside," he said.
His favorite cut is a dry-aged New York strip from Whole Foods Market or The Butcher Block. Season the grill with oil and the steak with oil, coarse salt and pepper. Put the steak on the hot grill and leave it alone for about 5 minutes. Once the steak releases from the grill, flip it and cook on the other side for 5 minutes.
"People normally only cook it on the bigger sides," he said. "Here, we'll stand it up on its side on the grill and cook it on the sides, too. A New York has that nice fat on the side."
Once the steak is seared, let it cook to the desired temperature, then pull it off, cover and let it rest for 8 to 10 minutes to redistribute the juices.
Sidney Jones, executive chef of Trump international:
Jones said he prefers a 16-ounce, bone-in, USDA Prime, corn-fed rib-eye, which he gets at Whole Foods Market.
"They have great products there," Jones said. "Extremely expensive, but you only have rib-eye once a month; might as well get the best one."
He uses a cast-iron pan and cooks the steak on a conventional stove. Heat the pan on high for 3 minutes. While it's heating, season the tempered steak (he recommends an hour) with freshly cracked black pepper, Maldon sea salt and a drizzle of Italian olive oil.
"And massage it lightly," Jones said.
You'll also need a brick (Jones said he gets his at Home Depot), wrapped in aluminum foil.
Don't put any oil in the pan. Put the steak in the hot pan, then put the brick on the steak. Sear it for 3 minutes, then flip it over, adding 2 tablespoons of Kerrygold butter and searing for 2 more minutes, with the brick on the steak. Then remove the brick, add three sprigs of fresh thyme, three cloves of garlic that have been peeled and smashed and 2 tablespoons of extra-virgin olive oil.
"The butter is going to start foaming and frothing," Jones said.
Baste the steak with the pan juices for about 2 minutes, then take it out of the pan and let it rest on a rack. Turn the oven on to broil, and after the steak rests for 10 minutes, put it back in the pan and put it under the broiler for 2 minutes.
"Take the steak out of the pan; it's been rewarmed, it's rested, it's hot and you can slice it on the bias," Jones said. "If you want to get crazy, you can drizzle some of that butter on top, maybe a drizzle of olive oil and Maldon sea salt."
Joseph Parrino,executive chef of Andiamo Italian Steakhouse at the D Las Vegas:
"The most important thing is to make sure the steak doesn't have an excessive amount of fat," Parrino said. "Trim some of the fat off. Make sure it has some marbling, which gives it flavor and tenderness."
Parrino said rib-eyes or New York strips are most popular.
"Most people who eat New Yorks eat it because of the fat," he said. "And rib-eye has that eye of fat in the middle that helps keep it moist and juicy."
Parrino said to get your grill as hot as you can, although it's unlikely to reach to the 800 degrees used in the restaurant. Brush both sides with olive oil and sprinkle with your desired seasoning, plus salt and pepper. Dip a cloth in oil and rub it on the grill grates; repeat the process again right before you put the steak on.
"At home I put it in a spray bottle and I spray it on," Parrino said.
Put the steak on the grill, let it sit for about 3 minutes and then turn it sideways to get cross-hatch markings. Cook it for 4½ minutes on the first side, then turn and repeat.
Parrino recommends using direct heat if you want the steak rare or medium-rare, indirect heat for medium.
Ronnie Rainwater, chef de cuisine at Delmonico Steakhouse at The Venetian:
"I like using a cast-iron pan," Rainwater said. "It gets hot and stays hot."
Rainwater said he typically uses a regular stove, although the process could be done on a grill; "I highly suggest using your hood to keep the heat from building up and the smoke alarms from going off."
Don't season the steak (Rainwater said he prefers a rib-eye for the flavor that comes from its marbling) until right before you cook it, because it'll pull out moisture. When ready to cook, pat the moisture off the steak with a paper towel, then season with kosher salt and freshly ground black pepper, and be generous with the salt.
Heat some vegetable oil in the pan, then add the steak.
"Once I put it in the pan, I don't really touch it," he said. "Let it sear. I want that caramelization on the outside; that caramelization actually adds flavor."
Cook 5 to 6 minutes on each side for medium rare, flipping with tongs.
"I never use a fork," Rainwater said. "As soon as you poke it, the flavor comes out."
When the steak is done, let it rest, and put a pat of butter on top of it, and some Maldon sea salt.
"It's one of those classic French techniques — finishing a sauce with butter to enrich the sauce," Rainwater said. Atop the steak, he said, "you almost create your own little natural sauce. You don't really need any steak sauce or something like that."
Craig Taylor, executive chef of Treasure Island:
Heat your grill as hot as possible, preferably 600 degrees or more. Season both sides liberally with kosher salt and pepper. Sear on the first side "until a nice crust forms," then flip and sear on the second side, then move it to indirect heat until desired doneness — 120 degrees for medium-rare, 130 for medium or 135 for medium-well.
David Thomas, executive chef of Bazaar Meat at SLS Las Vegas:
Thomas said to start the steak on the raised rack at the back of the grill — the one usually used for hamburger buns, etc.
"It's far enough from the flames or the heat that it's indirectly cooking it," he said. "We take the temperature every so often and flip it over every few minutes. Once the internal temperature reaches 105 degrees, that's when we put it on the grill. And we make sure it's a really hot grill. "You just want it give it a nice sear as quickly as possible. As soon as it reaches 114, 115 degrees for medium-rare, we pull if off."
The process, he said, "takes a little bit longer, so you've got to be a little bit more patient."
If you don't have the rack, you can use indirect heat by only heating one side of your grill and starting the meat on the other side, but Thomas said that because heat rises and doesn't travel side to side, the raised rack is more effective. And he pointed out that while the steak is indirectly cooking on the back rack, you can cook other things — corn, maybe — on the main part of the grill.
"Another thing is that there's no resting time," he said. "This is such a slow and low process that the resting time is first rather than last."
Contact Heidi Knapp Rinella at Hrinella@reviewjournal.com. Find more of her stories at www.reviewjournal.com and bestoflasvegas.com and follow @HKRinella on Twitter.