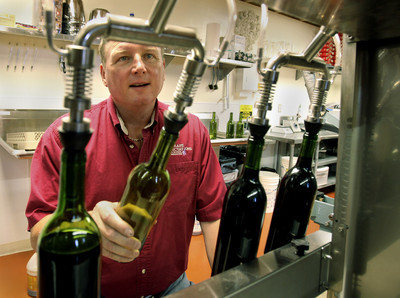 Corinne Price and Vito Lonardo both live in the Las Vegas Valley, and both make wine. They just go about it in different ways.
After Lonardo moved here in 1981, he went to California each year for his grapes. He did the crushing, pressing, aging and bottling at home. Since moving 12 years ago to a house on an acre of land, Lonardo has grown his own grapes — zinfandel and muscatel, as well as seedless table grapes. Each year, he produces about 30 gallons of wine or more, depending on the season.
Price, on the other hand, met a guy named Charlie Peters in a bar and heard about his new business, Grape Expectations. She got together with friends — six couples in all — to make 250 bottles of wine with grapes Peters brought in from Northern California using Peters' equipment and in Peters' shop, with Peters handling the often very sticky cleanup.
There was a time not long ago when wine-making usually meant buying juice and a few pieces of equipment and ending up with a product that represented a lot of personal pride and not much more. Few people were like Lonardo, willing to make the effort for quality. Despite the fact that this isn't a region exactly known for being conducive to growing good wine grapes, Lonardo is pleased with his wine; "If I wasn't happy with it, I wouldn't make it." When he gives it to friends, he said, "they don't expect it to be so good."
But nationally, businesses like Grape Expectations are popping up to make things a little easier for fledgling winemakers. Customers there make their wine by the barrel or half-barrel. A barrel, which yields 250 bottles, costs $2,300 to make; a half-barrel yields 125 bottles and costs $1,200. The clients also get 758 pounds of grapes (for a full barrel), bottles, corks, cork capsules and storage, plus Peters' expertise as a winemaker and registered sommelier. You can make a barrel by yourself, or have a whole group of friends and family involved.
Last year's first-year participants created 71 barrels of wine; the people represented by 65 barrels have signed on for another go. (Peters can take new customers through Oct. 1; call 806-3383). The winemakers, he said, were a "broad spectrum: girls who work in a gentleman's club, corporate team-building operations, a prominent casino family and two groups who fly down from Reno. People with a passionate and a casual interest about wine."
They're expected to show up at least four times during the nine-month operation. The first is the crush; all of the grapes have to be crushed within three weeks after they arrive. They're tested for brix (sugar level) and acid; modifications may be made, and a yeast nutrient and yeast are added.
The crushed grapes ferment in tubs for a week and then the second step arrives: The fermented juice is pumped into the oak barrels and the skins and seeds put into a barrel press to extract all of the juice, which is added to the barrels. After a month, the fermentation bung that allows gases to escape is removed and a permanent bung inserted.
Then, after a month and a half of 18-hour days for Peters and assistance from his wife, Patty, who also has a day job, "we get to take the holidays off," he said. "It's either the penthouse or the outhouse."
The next step is to drain the wine into a stainless steel tub, because several inches of sediment have accumulated in the bottom of the barrel. The barrels are inverted and cleaned with a device Patty Peters dubbed the "barrel bidet," and then the wine goes back into the barrel — along with some reserved juice so that the barrel is full, eliminating any air, which could ruin the wine. The fourth step is the bottling, in mid-May to mid-June. Customers can design their own labels.
And along the way, Peters said, they're welcome to stop by to taste their wine as it develops.
"It's really amazing from month to month how the nuances of the wine change," he said. "It goes into the barrel bitter and softens as time goes on." As for possible varietals, he said, "if you can think of it, we probably can get it."
Patti Bonacci was part of a party of eight who made two barrels of wine; her foursome made merlot.
"From start to finish, it was so much fun," she said. "We gave it to people who are really into wine and asked for feedback. They were really impressed how young the wine was and how good it tasted. The type of wine we made, the longer it stays in the bottle, the better it's going to be."
Price's group made wine that was 80 percent barbera grapes and 20 percent cabernet sauvignon. They took advantage of Peters' make-serious-wine-but-have-fun mantra by bringing in a psychic to help them select their barrel. Customers also are welcome to bring in food, Peters said, and some groups went from a block of cheese in the beginning to a personal chef at the end.
Price is eager to do it again this year — with nine couples participating.
"You sit and drink and eat and make wine and learn about wine and crush grapes," she said. "It turned into a sophisticated, educational tailgating experience."
Contact reporter Heidi Knapp Rinella at hrinella@reviewjournal.com or 702-383-0474.
CENTER TRYING HAND AT GRAPES
Bob Morris, a horticulture specialist with the University of Nevada Cooperative Extension, also grows wine grapes in Southern Nevada — 18 varieties, at Cooperative Extension's research center on the north side of town. This was the first year of production for the grapes, Morris said; they were harvested between mid-July and the end of August and are being held in freezers at the center and in four restaurants on the Strip.
"What I'm doing right now is getting some baseline information about the quality of the grapes," he said, looking at the Ph, sugar level or brix, and total acidity. Volunteers will make wine with them, Morris said — he estimates they'll produce about 40 cases — and he hopes to have sommeliers evaluate the wines. None will be for sale.
"This climate is not the best for wine grapes, but there are some hot-weather varieties — some grown in the southern part of France and Spain and Italy, where the weather's not as hospitable." Among the varietals that look promising, he said, are zinfandel, golden muscat, marsanne, tempranillo and barbera. The biggest drawback in wine grapes grown in this climate, he said, is that the sugar content is high in relation to acid content. He suspects that problem can be solved, or at least alleviated, by harvesting the grapes earlier or mixing them with grapes from other climates.
"So it looks very promising," Morris said, adding that he hopes the wine-making equipment the center is purchasing can eventually can be used by members of the public who grow their own wine grapes.