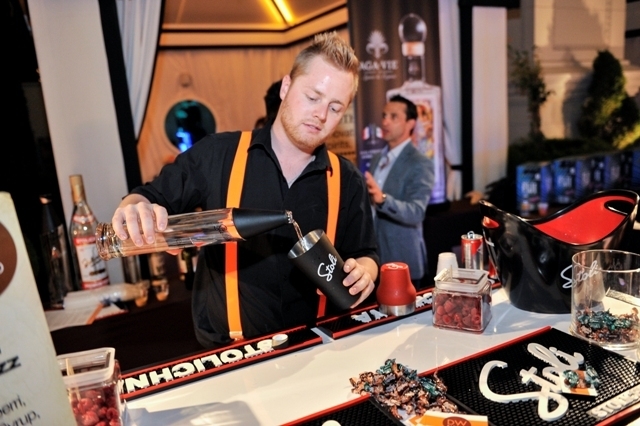 PT'S PLANS JOB FAIR MAY 14 AT SIERRA GOLD
PT's Entertainment Group plans to host a job fair from 9 a.m. to 1 p.m. and 3 to 6 p.m. May 14 at the Sierra Gold Tavern in the second-floor banquet room, 6515 S. Jones Blvd.
About 100 positions are available, including bar hosts, tavern managers, servers, cooks and kitchen managers.
Applicants 21 or older are asked to download an application at ggilv.com/careers and bring the completed form to the job fair.
RESTAURANTS TO TAKE PART IN UNITED WAY'S PAY IT FORWARD CAMPAIGN
United Way of Southern Nevada plans to launch its inaugural Pay It Forward campaign through May 14, offering the public the opportunity to raise money for Southern Nevada families while dining and shopping at their favorite restaurants and retailers. Ten businesses are taking part and will donate a portion of their proceeds to the organization.
Restaurants that plan to participate are: Gritz Cafe, 1911 Stella Lake St.; Pizza Rock, 201 N. Third St.; Sambalatte at Boca Park, 750 S. Rampart Blvd, Suite 9; Tasti D-lite at the Meadows Mall, 4300 Meadows Lane, and Town Square Las Vegas, 6587 Las Vegas Blvd. South; and Tropical Smoothie Cafe, 7580 Las Vegas Blvd. South, Suite 100.
For more information, including participating retailers, visit tinyurl.com/mva8g29.
CABO OFFERS ALL-YOU-CAN-EAT TACOS IN MAY
Caba Mexican restaurants inside Station Casinos plan to serve all-you-can-eat tacos for $8.99 for Boarding Pass members through May in honor of Cinco de Mayo. Choices for the crunchy tacos are ground beef or shredded chicken. They are served with rice and beans, salsa bar and chips.
Cabo is inside Boulder Station, Palace Station, Santa Fe Station and Sunset Station.
CULINARY DROPOUT TO HOST CRAFT BEER PAIRING DINNER AT HARD ROCK HOTEL MAY 8
Culinary Dropout at the Hard Rock Hotel, 4455 Paradise Road, plans to host a five-course craft beer pairing dinner at 7 p.m. May 8.
Signature brews from Las Vegas' Joseph James Brewery will be featured. The cost is $50.
For reservations, call 702-522-8100.
VEGAS UNCORK'D GRAND TASTING SET FOR MAY 9
The Grand Tasting, the highlight event of Vegas Uncork'd, is planned for May 9 at the Garden of the Gods Pool at Caesars Palace, 3570 Las Vegas Blvd. South. Restaurants representing The Forum Shops at Caesars will showcase specialties in A Taste of The Forum.
For more information or to purchase tickets, visit vegasuncorked.com.
CRAZY PITA PLANS MENU ITEMS WITH FARM FRESH VEGETABLES
Crazy Pita plans to offer menu items featuring farm fresh vegetables twice a week through fall.
Vegetables will be acquired from local farmers to create fresh, grilled vegetable platters at both locations. The platter will be offered Tuesdays at the Town Square Las Vegas location, 6587 Las Vegas Blvd. South, No. 190, and Thursdays at The District at Green Valley Ranch location, 2225 Village Walk Drive. Platters are $8.95 each.
For more information, visit crazypita.com.
NURSES TO RECEIVE HALF-PRICED DRINKS THROUGH MAY 12
In celebration of National Nurses Week, Longbar, D Bar and Vue Bar in the D Las Vegas, 301 Fremont St., and Bar Prohibition! and OneBar at the Golden Gate, 1 Fremont St., plans to offer nurses half-priced drink specials through May 12. A hospital or nurse ID is required.
VINTAGE VEGAS FOOD TOUR TO HIGHLIGHT DOWNTOWN RESTAURANTS
A historic food tour is planned in downtown Las Vegas from 4:30 to 7:30 p.m. May 10 and 24 and will feature five vintage restaurants that have been part of the Las Vegas community for at least 25 years.
Between tastings, a local tour guide will highlight architectural features, local culture and historical facts that put Las Vegas on the map.
The Vintage Vegas Food Tour is set to begin at the El Cortez, 600 Fremont St. The cost is $109 (code CITY15o).
For more information, call Courtney Mooney at 702-229-5260.
LOBSTER ME OPENS IN THE GRAND CANAL SHOPPES AT THE VENETIAN
Lobster Me has opened a new location with an extended menu in The Grand Canal Shoppes at The Venetian, 3355 Las Vegas Blvd. South.
Items include Lobster Nuevo, chilled lobster meat topped with house-made corn and black bean salsa, and Bahn ME, chilled lobster tossed with Vietnamese ginger-lemongrass aioli and topped with sweet pickled veggies.
For more information, call 702-912-0776.
THE FLAME OFFERS STONE CRAB SPECIAL THROUGH MAY 17
The Flame Steakhouse in the El Cortez, 600 E. Fremont St., is offering a fresh stone crab special Friday and Saturday nights through May 17, while supplies last. Stone crab is flown in fresh from Florida and served for $28 per pound with cottage fries and coleslaw.
For more information, call 702-385-5200.
BREWBQ TO BENEFIT THREE SQUARE FOOD BANK MAY 17 AT ELLIS ISLAND CASINO
Ellis Island Casino, 4178 Koval Lane, plans to host BrewBQ: A Celebration of Spirits, Beer & BBQ from 8 to 11 p.m. May 17. The event will benefit Three Square food bank.
Participating breweries will contribute full-pint brews for patrons to sample, including brands such as Stella Artois, Beverly Hills Gold and Eurobrew, along with local boutique labels and imports. Music is also planned.
All-you-can-drink tickets are $55, and VIP all-you-can-drink plus barbecue tickets are $85. For tickets, visit sincitybeerfestival.com/tickets.html.
CARRABBA'S TO HOST WINEMAKER DINNER MAY 20
Carrabba's Italian Grill, 8771 W. Charleston Blvd., plans to host its first winemaker dinner at 6:30 p.m. May 20 featuring Kimberlee Nicholls from Markham Vineyards in St. Helena, Napa Valley, Calif.
The cost is $50. For reservations, call 702-304-2345.
CANTINA LAREDO PLANS TEQUILA DINNER MAY 21
Cantina Laredo at Tivoli Village, 430 S. Rampart Blvd., Suite 110, plans to host its quarterly tequila dinner at 7 p.m. May 21. A four-course dinner will be paired with Milagro tequila.
The cost is $49.99. For reservations, call 702-202-4511.
LAS VEGAS EPICUREAN AFFAIR TO RETURN TO THE PALAZZO MAY 22
The Las Vegas Epicurean Affair is set to return to The Pools at the Palazzo, 3325 Las Vegas Blvd. South, from 7 to 10 p.m. May 22. The event is sponsored by the Nevada Restaurant Association and showcases prestigious restaurants and beverage purveyors.
Cuisine and cocktail sampling are planned poolside, with Wolfgang Puck's Postrio, Delmonico Steakhouse, Morels French Steakhouse, STK, Bouchon, Tao Asian Bistro and Il Mulino are among those set to participate.
Tickets are $155 for early admission at 6 p.m. and $105 for general admission. Proceeds benefit the association's educational and scholarship programs.
For tickets, visit palazzo.com or any box office at The Venetian or Palazzo.
FRIENDS OF SMITH CENTER MEMBERS CAN ENJOY PERKS AT EL CORTEZ
Diners who have a Friends of The Smith Center card or who show tickets and stubs from a same-day performance at The Smith Center for the Performing Arts can get $10 off an entree at The Flame Steakhouse at the El Cortez, 600 Fremont St., as well as a free cocktail inside The Parlour and a free additional night's stay with a booked one-night stay.
For more information, visit elcortezhotelcasino.com.
CLUB CORTEZ MEMBERS CAN ENJOY FREE WHITE CASTLE MAY 26
Club Cortez members can enjoy free White Castle cheeseburgers from noon to 6 p.m. on Memorial Day at the El Cortez, 600 Fremont St., May 26.
LES KINCAID TO CONTINUE CLASSES IN MAY, JUNE
Les Kincaid, host of the radio wine show "Wines Du Jour," plans to host the class Sauces, Rubs & Marinades from 6 to 8:30 p.m. May 27 at Ferguson Enterprises, 4175 S. Grand Canyon Drive. The cost is $59.
A class on grilling is planned from 6 to 8:30 p.m. June 3 at Ferguson. The cost is $59.
A class on barbecuing is planned from 6 to 8:30 p.m. June 10 at Ferguson. The cost is $59.
An Herbs & Spices workshop is planned from 2 to 4:30 p.m. June 6 in room 300 at the UNLV Paradise Campus, 851 E. Tropicana Ave. The cost is $39.
To register, visit continuingeducation.unlv.edu or call 702-895-3394 from 8 a.m. to 9 p.m. Monday through Thursday or 8 a.m. to 5 p.m. Friday and Saturday.
BELLAGIO ANNOUNCES CULINARY CLASSROOM SCHEDULE FOR 2014
The Executive Chef's Culinary Classroom at the Bellagio, 3600 Las Vegas Blvd. South, has announced its schedule for 2014. The educational series includes interactive cooking classes led by executive chef Edmund Wong and his team. Each two-hour class is held in Tuscany Kitchen, a state-of-the-art demonstration kitchen. Each class has a seasonal theme and features a menu created with fresh ingredients.
The schedule is: Grilling Perfection, May 28; Father's Day Bellagio Barbeque, June 12; What to Eat First? The Chicken or the Egg, Aug. 27; Farm to Table, Sept. 24; Cooking with Chocolate, Oct. 1 and Harvesting Thanksgiving, Nov. 19.
Classes are $125. To sign up, call 866-406-7117.
SPRINGS PRESERVE PLANS BREWS & BLUES FESTIVAL FOR MAY 31
The Springs Preserve, 333 S. Valley View Blvd., plans to host its fifth annual Brews & Blues Festival from 4 to 8 p.m. May 31.
The headliner is scheduled to be old-school roots blues master Mac Arnold & Plate Full O' Blues. An array of craft beers from local brewers and others across the country and world will be featured.
Tickets are $35 and can be purchased at vegasbrewsandblues.com or at the Springs Preserve box office. Remaining tickets will be sold at the door for $40. Each ticket includes a sampling mug and unlimited beer samples for guests 21 or older.
TASTE & LEARN SERIES TO CONTINUE AT FERRARO'S ITALIAN RESTAURANT
The Taste & Learn series is set to continue May 31 at Ferraro's Italian Restaurant & Wine Bar, 4480 Paradise Road.
Additional events are planned for June 28 and July 26. Guests will discover facts about the winemaker and learn about wine pairings. Each wine will be accompanied by a small-bite pairing.
The cost is $50. For reservations, call 702-364-5300.
ALIZE PLANS SEVEN-COURSE WINE DINNER JUNE 1
Alize at the Top of the Palms, 4321 W. Flamingo Road, plans to host a seven-course Bec Fin wine dinner at 6:30 p.m. June 1. Winemaker Jessie Katz of Chalk Hill and Lancaster Estates Wineries is set to attend to discuss the history of the wines and highlight the flavor profiles.
The cost is $155. For reservations, call 702-951-7000.
SOUTH POINT RESTAURANTS REVAMP MENUS
Silverado Steak House at the South Point, 9777 Las Vegas Blvd. South, is offering new menu items, including chipotle-glazed flat iron steak for $29 and double-cut pork chop for $27.
New items at Don Vito's include sweet balsamic scallops for $32 and chicken Tuscany for $22.
Primarily Prime Rib's new items include Primarily Flat Bread for $6.95, with barbecue prime rib, caramelized onions and blended cheeses or zucchini.
Big Sur Oyster Bar's new items include fish sliders for $15 (fried cod), pan roasts for $23 (crab, shrimp or combination) and $7.95 lunch specials, including Big Sur Shrimp Salad or fish tacos.
Baja Miguel's new items include $7.95 lunch specials, including chicken cilantro, chile relleno norteno and fish tacos, and new entree choices of pescadore Veracruz (halibut topped with tomato sauce) for $18.95 and shrimp tacos for $15.95.
For more information, visit southpointcasino.com.
GIADA'S ITALIAN CUCINA OFFERS ALL-YOU-CAN-EAT MEAL WEDNESDAYS
Giada's Italian Cucina, 250 Anthem Village Drive, No. 100, in Henderson, is offering all-you-can-eat pizza, pasta, salad and bread, all served family style, on Wednesday nights.
The cost is $12.99 for those 12 or older and $8.99 for 11 or younger. Drinks and desserts cost extra.
For more information, call 702-462-9830.
DB BRASSERIE OPENS IN THE VENETIAN
Chef Daniel Boulud's db Brasserie has opened inside The Venetian, 3355 Las Vegas Blvd. South. An updated version of French brasserie, the restaurant's menu includes Boulud's version of escargots spatzle, crispy duck confit and steak frites from the grill. The wine list has nearly 300 international selections.
The restaurant seats 280 diners and includes two private dining rooms, a casual bar and a lounge. Hours are daily from 5 to 11 p.m., with the bar open until midnight. Restaurant hours are soon planned to be 11 a.m. to 11 p.m.
For reservations, call 702-430-1235.
LUCILLE'S ANNOUNCES SOUTHERN SUMMER MEALS
Lucille's Smokehouse Bar-B-Que is offering six Perfect Southern Summer Meals for a limited time.
The meals are: barbecue chicken lettuce wraps; smokehouse brisket chili; Lucille's homemade pastrami sandwich; barbecue ribs and burnt ends platter; Southern Gulf shrimp and grits; and Cajun skirt steak and jumbo Gulf prawns.
Lucille's Las Vegas Valley locations are in The District at Green Valley Ranch, 2245 Village Walk Drive, and Red Rock Resort, 11011 W. Charleston Blvd.
For more information, visit lucillesbbq.com.
AMIGO'S AT FIESTA HENDERSON TO OFFER HALF-OFF MENU
Amigo's in the Fiesta Henderson, 777 W. Lake Mead Parkway, plans to offer half off its entire menu Sundays and Mondays in May for guests who have a Boarding Pass and pay cash. Alcohol is not included.
For more information, visit fiestahenderson.sclv.com.
FLEMING'S PRIME STEAKHOUSE LAUNCHES TASTE OF THE SEASON MENU
Fleming's Prime Steakhouse & Wine Bar plans to offer a new Taste of the Season two-course prix fixe menu through May 31.
The menu features Southwest shrimp ceviche and sliced, herb-roasted filet. Seasonal cocktails available for pairing are Sage Blossom Smash and Key Lime Tartlet, each $9.95.
The cost is $40.95. Las Vegas Valley locations are in Town Square Las Vegas, 6515 Las Vegas Blvd. South (702-407-0019), and at 8721 W. Charleston Blvd. (702-838-4774).
SMASHBURGER OPENS NEW WEST CHARLESTON BOULEVARD LOCATION
Smashburger recently opened its eighth Nevada location at 6300 W. Charleston Blvd., Suite 170.
Hours are from 10 a.m. to 10 p.m. daily. For more information, call 702-605-7300.
SERENDIPITY 3 MARKS FIVE YEARS WITH EXPANDED SPACE
Serendipity 3 at Caesars Palace, 3507 Las Vegas Blvd. South, is celebrating five years, new features and an expanded interior space.
New features include a 26-foot-tall Tiffany-style lamp flanking the expanded outdoor patio. The Strip-facing patio now features a full bar with counter seating and TVs. The expanded interior space had additional tables and seating and floor-to-ceiling windows.
For more information, call 702-731-7373.
RED ROCK RESORT PLANS HAPPY HOUR SPECIALS
T-Bones Chophouse at Red Rock Resort, 11011 W. Charleston Blvd., offers happy hour from 4 to 7 p.m. in the bar area. Selections are $10 or less, including appetizers such as T-Bones nacho fries, crispy kale salad, Bloody Mary oyster shooters, ahi tuna tacos, barbecue beef sliders, mushroom and goat cheese tart, house-cured duck prosciutto, Buffalo chicken oyster bites and Thai-style beef jerky. Craft beers, cocktails and wines by the glass specials also are available.
T-Bones offers Ladies' Night Out on the outdoor patio from 6 to 7 p.m. Friday and half-price cocktails until 10 p.m.
The Lobby Bar offers Wined Up Thursdays from 5 to 7 p.m. for $25 per person. Enjoy samples of select wines and small bites, which rotate weekly.
For more information, visit redrock.sclv.com.
ARIZONA CHARLIE'S ANNOUNCES MAY DINING SPECIALS
The Sourdough Cafe in Arizona Charlie's Boulder, 4575 Boulder Highway, plans to offer a ham or steak and eggs breakfast special all day for $4.49 with an ace I PLAY card and $4.99 without a card.
The Yukon Grille plans to serve a salmon Oscar dinner special through June 30 for $18.99 with a card and $21.10 without a card. A 14th anniversary champagne special will be offered May 21-25, with a free glass of champagne with any entree, from 5 to 10 p.m. Thursday through Saturday and 4 to 9 p.m. Sunday.
Ron's Steakhouse at Arizona Charlie's Decatur, 740 S. Decatur Blvd., plans to offer its Steakhouse Triple Selection for $24.99 with a card and $27.77 without a card through May. It features an appetizer, 6-ounce prime dry-aged filet mignon, 14-ounce prime rib of beef, rainbow trout or chicken piccata with soup or salad and bread.
A pot roast special will be $9.99 with a card and $11.11 without a card.
KGB: KERRY'S GOURMET BURGERS TO CONTINUE BURGER AND SHAKE SERIES
KGB: Kerry's Gourmet Burgers at Harrah's Las Vegas, 3475 Las Vegas Blvd. South, plans to return its yearlong burger and shake series. The combinations are $18 and feature different selections each month. May's combination is Chorizo Burger and the Mexican Hot Chocolate Milkshake.
For more information, call 702-369-5065 or visit harrahslasvegas.com.
DOWNTOWN GRAND TO OFFER SMITH CENTER SUNDAYS DINING DEAL
The Downtown Grand, 206 N. Third St., plans to offer Smith Center Sundays in April, giving patrons who attend performances at The Smith Center for the Performing Arts half off their meals.
The offer is available at Triple George Grill, Stewart + Ogden, Red Mansion and The Commissary. Patrons are asked to show their ticket stub or proof of ticket purchase. Alcohol is excluded from the offer.