Air Force base has surprising selection of dining options
Updated November 7, 2018 - 3:53 pm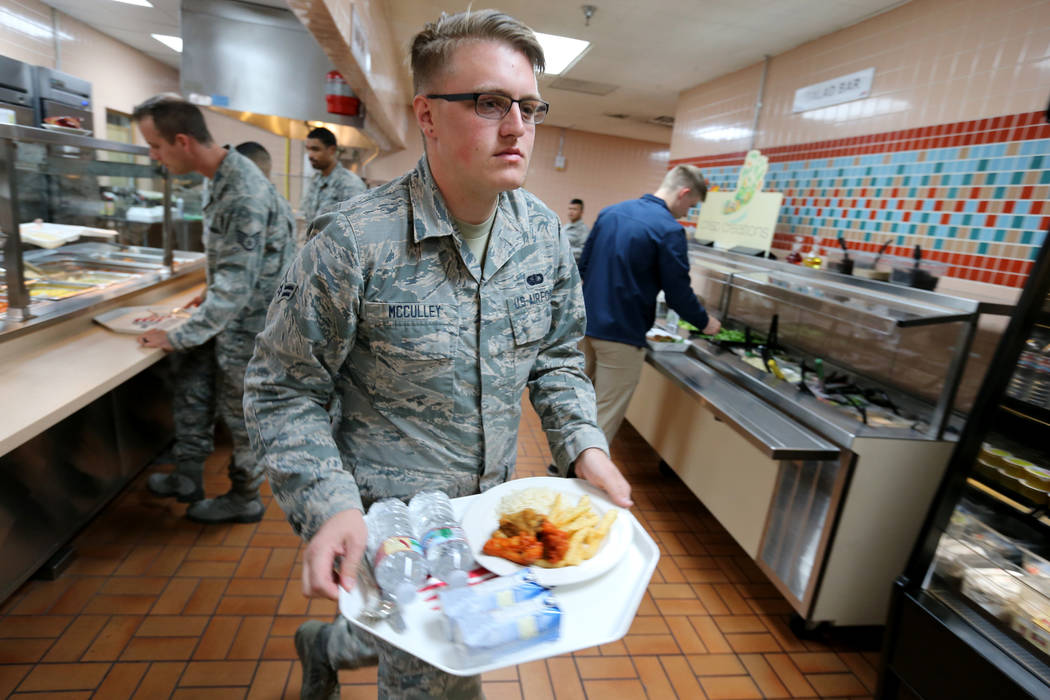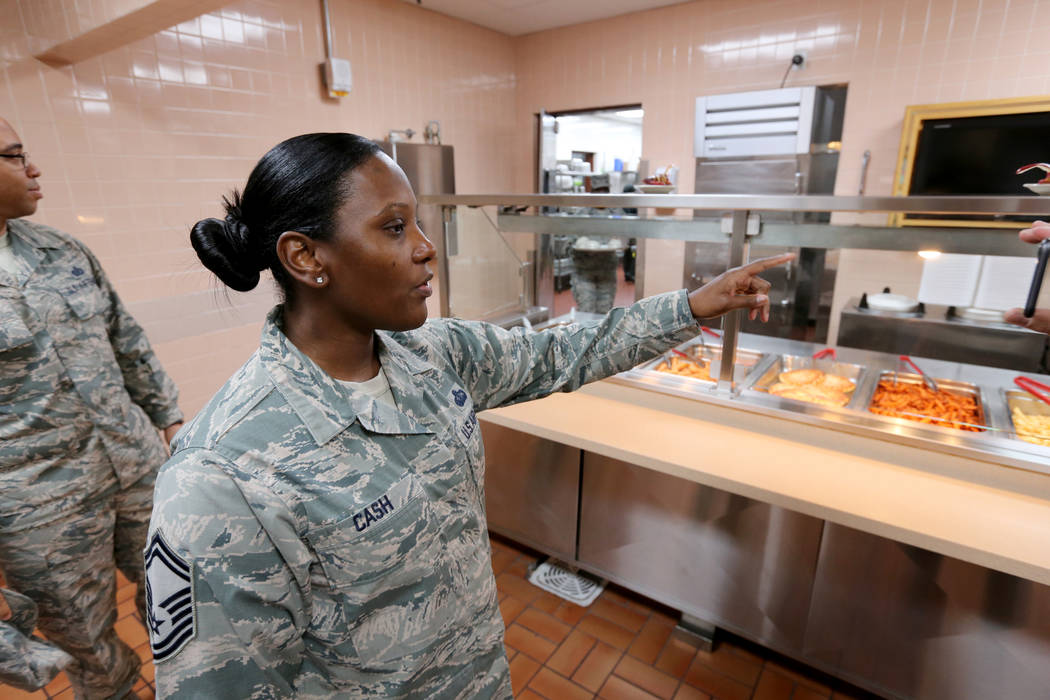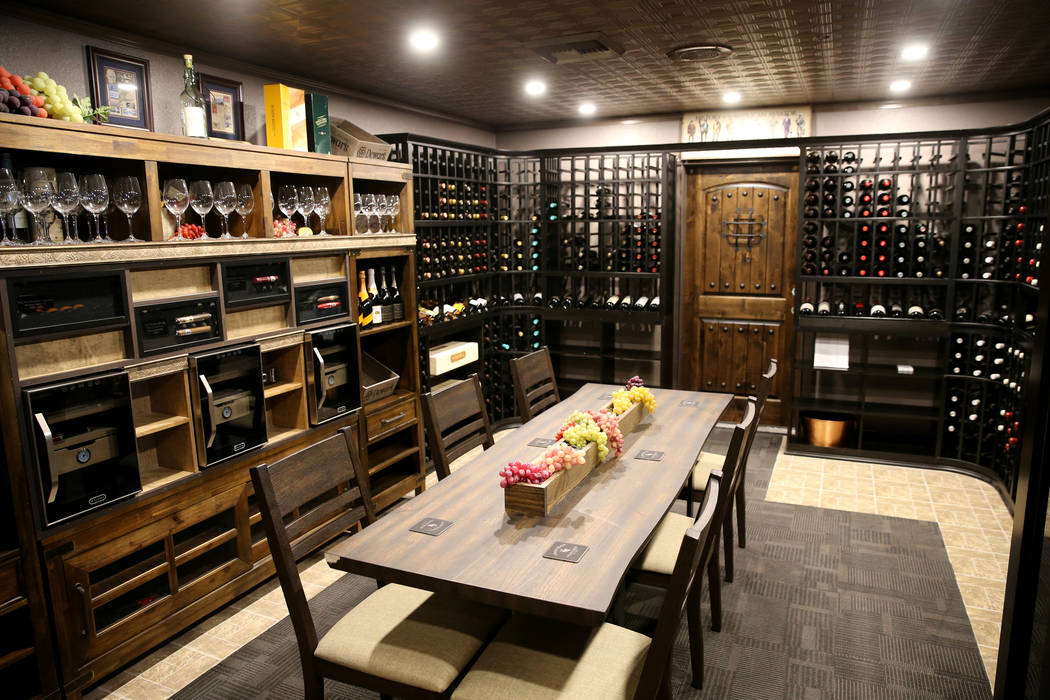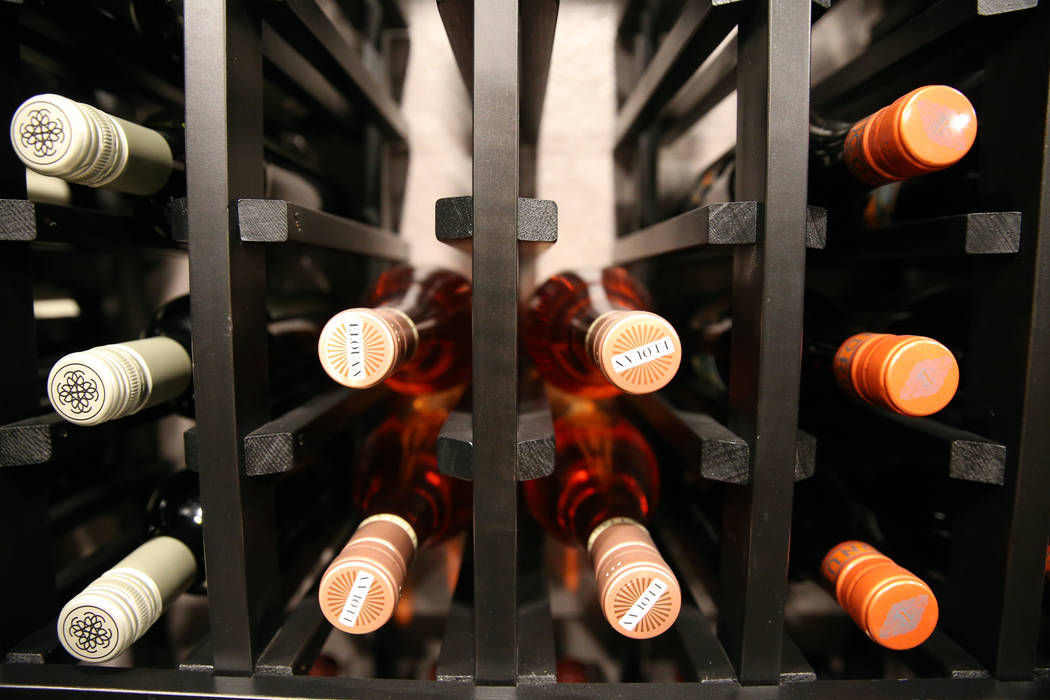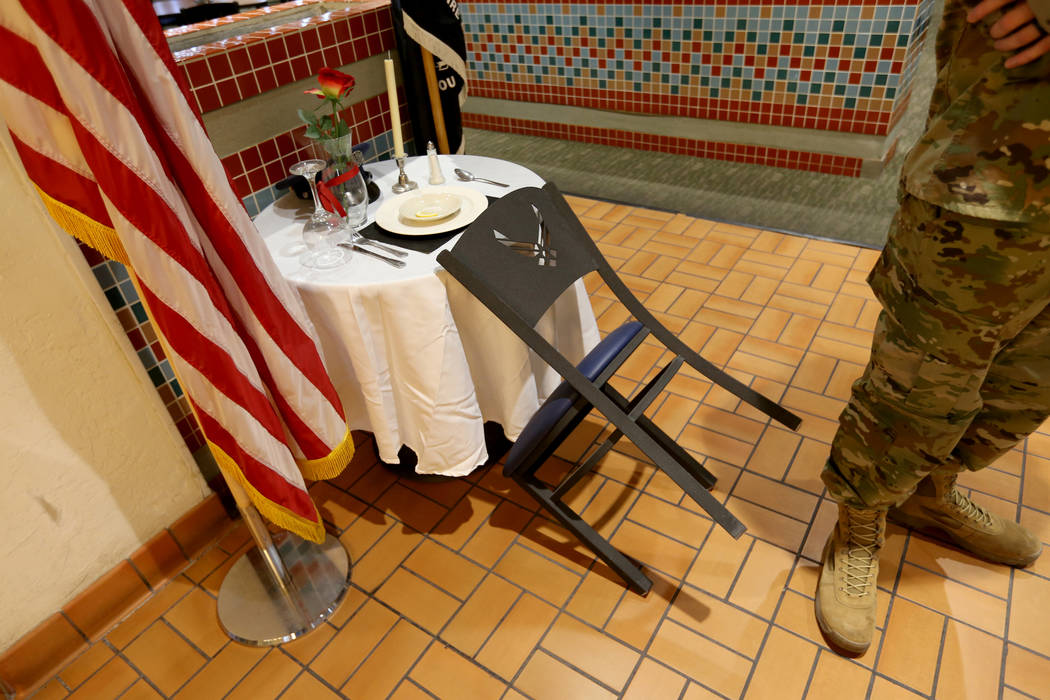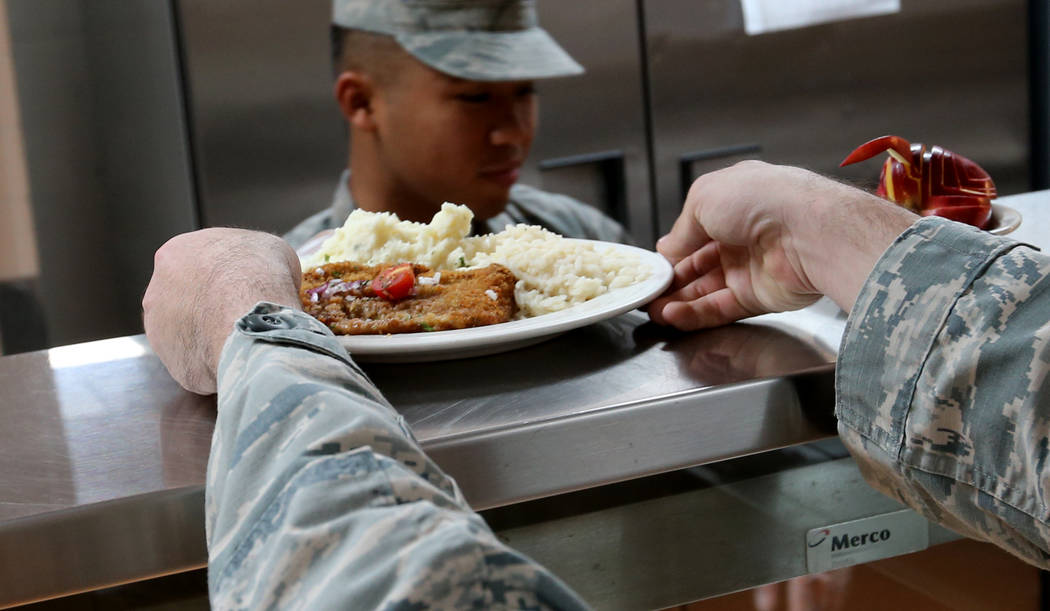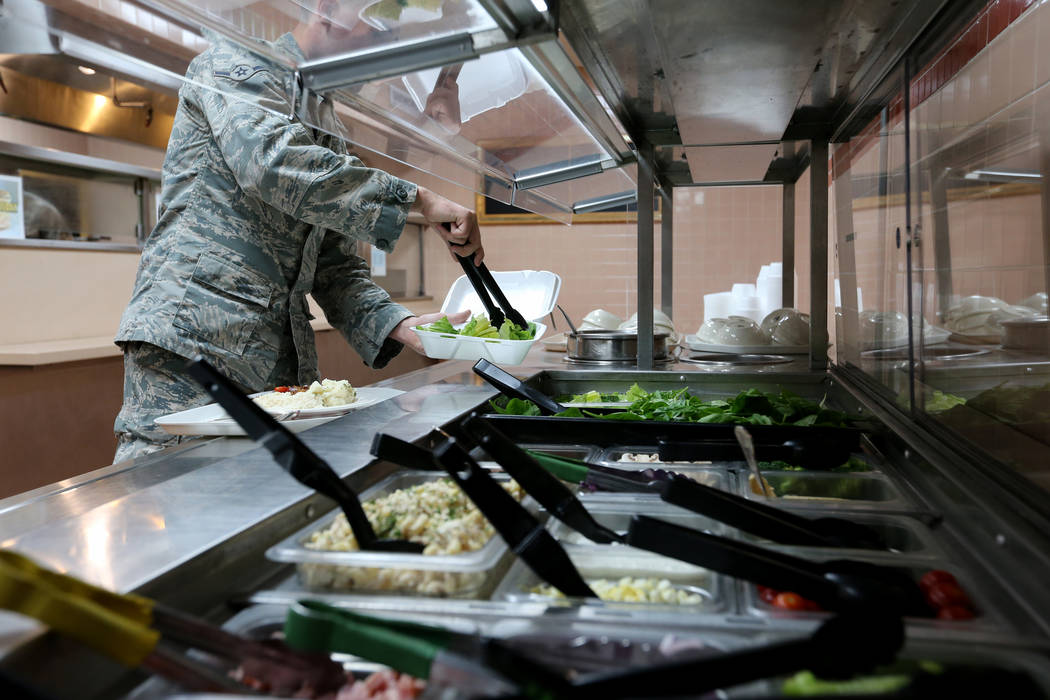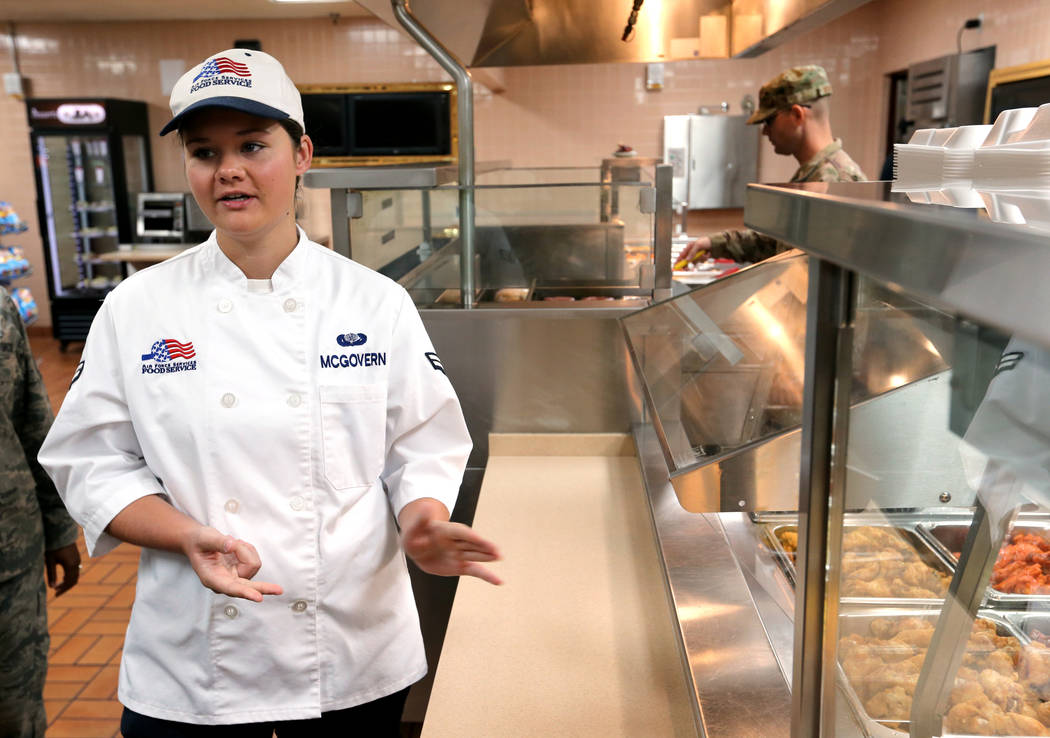 By Las Vegas standards, Crosswinds Inn isn't a particularly large restaurant, serving about 700 meals a day during breakfast, lunch, dinner and midnight service.
What makes Crosswinds noteworthy is the hungry diners forming a line shortly before the 11 a.m. lunch service on a Friday. Customers are mostly young, extremely focused and nearly all dressed in military camouflage. There's also the single, empty, formally set table that each of them walks past on their way to their meal. Unlike the VIP tables that in this valley are so often set aside to pamper celebrities and high rollers, its single chair isn't a reward for fame or fortune, but a tribute to every American POW/MIA.
"You'll see it at all dining facilities in the Air Force," said Senior Master Sgt. Shametra Cash, Nellis Air Force Base's sustainment superintendent, who oversees the dining hall. "We pay homage to those who are lost."
Crosswinds Inn is the primary dining facility for the 6,000 men and women stationed at Nellis. The menu leans heavily on pizza, burgers and salads, with popular daily specials such as hot wings, taco Tuesdays and a waffle bar. But there's also a salad bar and other healthy options that are part of the military's Go for Green nutrition education program. Later this month, Crosswinds will put on its "big show" — Thanksgiving dinner.
"Airmen don't get to go home like everybody else for the holidays," Cash said. "So we provide all the fixins: turkey, a roast, ham, all the sides."
Just a short drive down the street at The Club, you'll find some different Nellis dining options — although you'll have to brave some construction to get to them.
Past the workers laying tiles in the bar and other construction projects throughout the building sits the Aviation Theater, a boutique movie theater with 4K projection, surround sound and subwoofers that manager Tony Flowers promises "will actually knock you to your seat."
Aviation Theater is a movie-and-dinner venue where guests can enjoy a full meal in the screening room, accompanied by a selection from the attached Wine Bar & Bistro.
Service industry
Covering more than 14,000 acres, Nellis is sometimes referred to as "a city within a city." Its residents and workforce include the men and women stationed there, their families and civilian employees. Feeding them requires the close cooperation of military and civilian teams.
The Crosswinds Inn and the Touch N' Go Flight Kitchen for those on the flightline are operated by the Sustainment Services Flight, which is made up of almost 90 active duty personnel (or "blue suiters").
"The primary focus is to feed and bed-down the military members. That's what we call our core," Cash said.
It's a 24-hour operation usually split among three shifts. Airman First Class Kendall McGovern is a culinary apprentice currently assigned to the swing shift.
"When I come into work we get our recipe cards. We start prepping for lunch. We help set up the line. We actually serve the customers. And then once that's over we start our prep work for dinner (and) serve dinner."
Those eight- to nine-hour shifts are extended to 12-hour "Panamas" when the squadron is low on staff. In addition to serving on the base, Nellis personnel are regularly deployed to feed American troops around the globe. To prepare for deployment, they undergo weapons training on the base and more advanced training at other locations.
Recreational dining
The Club and its theater are part of the civilian operation, which also includes two Rickenbacker's Cafes and dining at the base's Sunrise Vista Golf Course.
"The dining facility's focus is more mission-oriented," Flowers said. "And I would say my side of the house is more recreational dining or event dining."
Along those lines, The Club hosts presentations and tastings from visiting vineyards. It's home to a wine club and a Scotch club. Frequent guests can even rent private humidors to store their favorite cigars.
Food 2.0
The division between civilian and military operations in Nellis' dining options will soon be less clear-cut, thanks to a new Air Force initiative known as Food 2.0. Once it's fully rolled out, airmen will be able to use their meal cards at every facility on base. And Crosswinds Inn will get a much-needed reboot. (Cash described its current decor as "Southwest, 1980s.")
Plans call for bench-style seating, USB outlets and Wi-Fi in the dining hall. The menu will focus on more international options to reflect the tastes of airmen who have traveled the world in service to their country.
"It will be much more of an open concept like colleges," Cash said. "(Because when) the airmen come in, they're 18 or 19. These are their college years."
They may have more responsibility and focus than many college students, but few would argue they don't deserve to eat at least as well.
Beyond the base
Keeping the men and women of Nellis Air Force Base fed requires a bit more than just basic culinary instructions for member of the Sustainment Services Flight.
"When you come in, you go to basic training, then you go to our tech school and learn how to be a chef," Senior Master Sgt. Shametra Cash said.
"From there, you graduate and go to your base, and then it's your base's job to train you in the ways of the Air Force and what the Air Force sees as food hospitality."
Every member of the SSF is trained as a line cook and a sous chef. Some receive additional "special duty" training, such as executive dining.
"You go down to Washington, D.C., and serve the generals, executives, politicians and all of that – white tablecloth."
Those skills will serve them well when they exit the military, especially if they stay in Las Vegas. "They'll be qualified to go work in any restaurant" in town, Cash said.
Celebrity chef Robert Irvine, who served 10 years in the British Navy and two more in the Reserves, agreed.
"The culinarians in all the forces — Army, Navy, Air Force, Marine Corps and Coast Guardsmen — are top of the line."
He employs several former members of the military in his organization, which includes Robert Irvine's Public House at the Tropicana and a charitable foundation. When asked why, his response is simple.
"Great leadership skills. You don't have to tell them what to do. You give them the mission and they figure it out."
Restaurants aren't the only post-service career options available to those in the SSF. They also oversees the base fitness center, hotels and even mortuary services. As a result, members exit the service with an associate degree in food and hotel hospitality from the Community College of the Air Force.
Airman First Class Kendall McGovern, 22, isn't sure how she might put that training to use after the military.
"I think I'm more toward the hospitality side. I think lodging and events would be more toward what I would like to do on the civilian side. But I haven't decided yet."
Contact Al Mancini at amancini@reviewjournal.com. Follow @AlManciniVegas on Twitter.