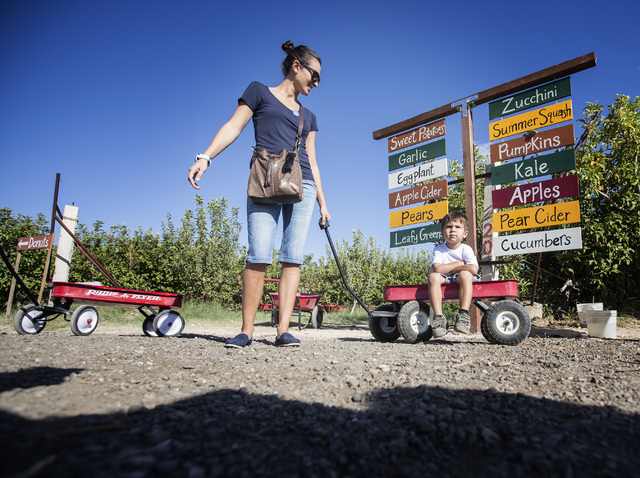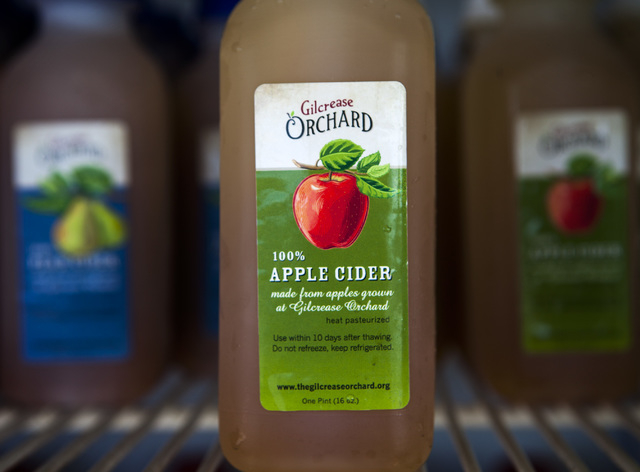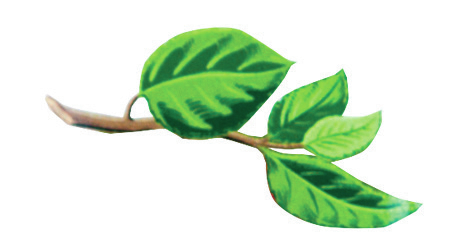 The Monte Carlo has started serving hard cider to slot and table-games players because of customer demand.
Wes Kendrick, chef/owner of Table 34 restaurant, makes a hard-cider sauce, or glaze, that's become so popular he bottles and sells it.
Andrea's at Encore is making its own cider for a seasonal cocktail.
And the apple cider made by Gilcrease Orchard in the northern valley has become so popular that the orchard sells out of it in December.
You might say this is the era of apple cider, both hard and regular.
"I think cider in general is just a really interesting category," said Philip Dow, beverage manager at the Monte Carlo.
Dow noted that cider has been around for centuries, with the American colonists importing it from Europe. That was what the rest of the world called cider, Dow said, but what we in America tend to call hard cider, to differentiate it from the nonfermented stuff. English and Irish dry styles of cider have been around for ages, he said.
Obviously, Americans learned to make cider (both kinds) a long time ago. But Dow said its popularity has increased greatly in the past few years.
"We're starting to see something very similar to the vodka craze," he said, "when they started coming out with all these flavored vodkas."
What's popular, he noted, is what he refers to as Americanized cider, which is sweeter and often mixed with other fruit juices or purees to create new flavors.
"It's growing so much in the market, it's something that people are really looking for," Dow said. "It's not just like a beer; it becomes more like a cocktail, because it's got more flavor components to it. More and more companies are coming out with it."
Exceptionally popular, he said, are pear ciders.
"In the U.S., to be considered a hard cider, it only has to be 50 percent fermented apples," he said. "Pear is one of the first ones that came out. Now we're starting to see sweet fruits coming in — mixed berries, strawberries, blackberries and combinations thereof. We're also seeing a lot of pineapple ciders."
And even pumpkin, he said.
Dow added that hard ciders are made using a very slow fermentation process of three weeks to about three months, as opposed to maybe two weeks for beer.
"They ferment them at a low temperature for a long time," he said. "What that allows ciders to do is pick up a lot of those delicate aromatics."
Roy Saunders, general manager of Andrea's, said the idea for house-made cider came up during a meeting where seasonal cocktails were being discussed. One question, he said, was whether they should get the cider ready-made or make it in-house.
"And of course we had to do it the Wynn way, so we're very excited about that," he said.
They tried four or five apple varieties and finally settled on Fuji. "We liked the flavor profile, thought it was a little more balanced with that tart sweetness."
They start with a batch of 30 apples, boiling the fruit and then straining it.
"To give it that Asian twist, we add star anise, Chinese five-spice powder, nutmeg and take a couple of whole oranges and slice them," he said. They simmer it all together, strain it again and let it cool. After experimenting with different types of alcohol they settled on Hennessy VSOP cognac to complement their house-made mixer.
"It's deep and rich and really makes that cider jump out of the glass," Saunders said.
Garnished with a cinnamon stick, fresh orange and star anise, it sells for $15 at Andrea's.
Kendrick said he's been making his sauce for about 20 years, predating the recent growing popularity of cider. It's a blend of cider and molasses that he said he originally developed for pork tenderloin.
"I've always been intrigued by ciders and hard ciders," he said. "I find them delicious. And what's better than pork chops and apples?"
The sauce, which he said is not overly sweet, not overly tangy, is available at Table 34, Branded Meats and both locations of The Butcher Block.
"I love the sauce because it's so really universal," Kendrick said. "You can use it on so many things. We use it on fried shrimp, it's always on the menu on the pork chops, we use it on our ribs and I use it on quail. We've also used it on fish a few times. It's great on salmon, great on mahi-mahi, great on halibut."
At Gilcrease Orchard, the cider is the natural, unfermented kind. Orchard director Mark Ruben said the tradition was started by longtime local farmer and orchard founder the late Ted Gilcrease, who found himself one year with a lot of apples he couldn't sell.
"He bought a lot of nice equipment, and built a building to do it in," Ruben said.
They use summer apples, mostly Gala, which start to ripen around the Fourth of July. That way, they can start making the cider to have it ready for the fall season. In 2013, they made 11,000 gallons.
Ruben said the secret to the cider's quality and corresponding popularity is its purity and simplicity.
"We don't add anything to it," he said. "That's the secret. When you start adding potassium sorbate or other preservatives, it really makes it taste nasty."
They flash-pasteurize it for about 15 seconds at 160 degrees, and then freeze it.
"Once you buy it and take it home, you have seven to 10 days to use it before it goes bad, because there's no preservatives," he said. The cider sells for $2 a pint, or $4 a half-gallon.
Even if you don't have the equipment Gilcrease does, you can still make your own apple cider. A video on Martha Stewart's website shows a streamlined process in which 7 pounds of well-washed apples (half sweet, half tart are recommended) are cored and cut into chunks and put into a food processor in batches, then processed until they form a chunky applesauce. That's poured into a colander (over a bowl) lined with three layers of cheesecloth, the cheesecloth twisted and weighted on top with a heavy Dutch oven, then refrigerated for four hours or overnight. You'll have about 1½ quarts of cider. If you want hard cider, you're on your own.
But we'll help with some recipes that use apple cider, homemade or not. They're from the U.S. Apple Association
CARAMELIZED ONION-APPLE SOUP WITH BLUE CHEESE CROUTONS
3 tablespoons butter
2 large white onions, peeled, halved lengthwise and cut into ¼-inch-thick slices (about 1½ pounds)
3 cloves garlic, minced (about 1½ teaspoons)
4 cups pasteurized apple cider
2 10½-ounce cans double-strength beef broth
1½ teaspoons Worcestershire sauce
1½ cups unpeeled, tart, green or red apples, cut into cubes
Blue cheese croutons (recipe follows)
Melt butter in large, heavy saucepan. Add onions and cook over medium heat for 20 to 25 minutes or until caramelized, stirring and scraping bottom of pan often. Add garlic and cook for 1 minute more.
Slowly and carefully pour apple cider into saucepan with onion mixture. Bring to boil. Reduce heat and gently boil over medium-high heat about 15 minutes or until reduced by about half.
Stir beef broth and Worcestershire sauce into apple mixture. Bring to a simmer. Add apples; gently simmer for 1 to 2 minutes or until apples are nearly tender. Remove from heat.
To serve, ladle soup into bowls; top with blue cheese croutons or serve them alongside the soup.
For blue cheese croutons: Lightly stir together 2 ounces finely crumbled blue cheese (about ¼ cup) and 1 tablespoon softened butter. Spread mixture evenly on 12 lightly toasted baguette slices. Broil under oven broiler or toast in toaster oven about 1 minute or until cheese is bubbly. Makes 12 toasts.
Serves 4.
CIDER-BAKED CHICKEN AND SAUSAGE
1 large onion, cut into eighths
1 large lemon, sliced into rounds
2 cups apple cider
¼ cup olive oil
¼ cup chopped fresh sage, plus more for garnish
2 tablespoons apple cider vinegar
2 teaspoons Dijon mustard
2 bay leaves
½ teaspoon salt
½ teaspoon freshly ground black pepper
4 chicken legs
4 chicken thighs
1 12-ounce package chicken-apple sausage
2 large apples, each sliced into eighths
1 pound small, red-skinned potatoes, halved
Place a gallon-size heavy-duty zip-top bag into a large bowl. Place the onion and next nine ingredients into the bag, combining well. Add the chicken and chicken-apple sausage to the marinade. Close the bag and place in the refrigerator to marinate for at least 4 hours or as long as 24 hours.
Preheat oven to 350 degrees. Arrange the chicken pieces in a large roasting pan skin-side up. Pour all of the marinade, including onions and lemons, over and around the pieces. Tuck the sausages, apples and potatoes around the chicken. Cook for 1 hour and 15 minutes, turning sausages about halfway through to cook evenly. Arrange chicken, sausages and potatoes on a platter and sprinkle with chopped fresh sage.
Serves 7.
SWEET POTATOES AND APPLE CIDER GRATIN
2 tablespoons butter
3 large sweet potatoes, thinly sliced for gratin
Salt
Freshly grated nutmeg, about ½ teaspoon
1½ cups apple cider, reduced to 1 cup
Butter glass or ceramic gratin dish. Layer sliced sweet potato, seasoning with salt and nutmeg. Pour reduced cider over potatoes. Bake at 350 degrees until potatoes are soft and the cider is absorbed, about 1¼ to 1½ hours.
Serves 6 to 8.
MAPLE CIDER PUNCH
1 cup orange juice
3 tablespoons maple syrup
4 cups apple cider, chilled
1 cup ginger ale, chilled
Ice cubes
Pour the orange juice in a small saucepan and stir in the maple syrup. Place over medium heat and bring almost to a boil. Remove from heat, stir once or twice, and let cool to room temperature. (Or, combine the orange juice and maple syrup in a microwave-safe bowl and microwave on high for 3 minutes.)
Pour the apple cider into a pitcher and add the cooled orange juice and the ginger ale. Mix well. Serve over ice.
Serves 6.
BAKED APPLE SOUFFLE WITH APRICOT SAUCE
6 very small apples, about 4 inches in diameter
2 tablespoons apple brandy
Ground cinnamon
4 egg whites
½ cup sugar
Pinch of ground cloves
3 tablespoons apple cider reduction (recipe follows)
Ground cardamom for garnish
Apricot sauce (recipe follows)
Preheat oven to 425 degrees. Cut off the top of the apples about 1/8 of the way down. Save the tops. With grapefruit knife or melon baller, scoop out insides of apples, leaving a thin but sturdy shell.
To make the applesauce, put the apple tops and insides of the apples in a heavy saucepan; add the apple brandy and a pinch of ground cinnamon. Cover and cook over the lowest setting until apples are soft, about 15 minutes. Stir occasionally. Work through a food mill and chill.
Beat egg whites to soft peaks, then add sugar and whip until stiff. Fold in the chilled applesauce, a pinch of cinnamon, cloves and apple cider reduction. Spoon into hollowed apple shells, mounding slightly. Place on a baking sheet and bake about 12 to 15 minutes.
To serve, spoon some apricot sauce on plate and top with apple. Sprinkle with a little cinnamon and cardamom to garnish.
To make apple cider reduction: Place 1 quart of cider in a nonaluminum saucepan over medium heat. Reduce to syrup, skimming the liquid occasionally. Cool.
To make apricot sauce: Combine 6 ounces dried apricots, 1 tablespoon sugar, ½ teaspoon ground cardamom and the juice of ½ lemon in a nonaluminum saucepan. Add enough water to just cover the apricots. Over medium-low heat, cook the apricots until they are tender and the water is absorbed. Add 2 or 3 tablespoons of water. Cool and puree. May be served warm.
Serves 6.
Contact reporter Heidi Knapp Rinella at hrinella@reviewjournal.com or 702-383-0474.