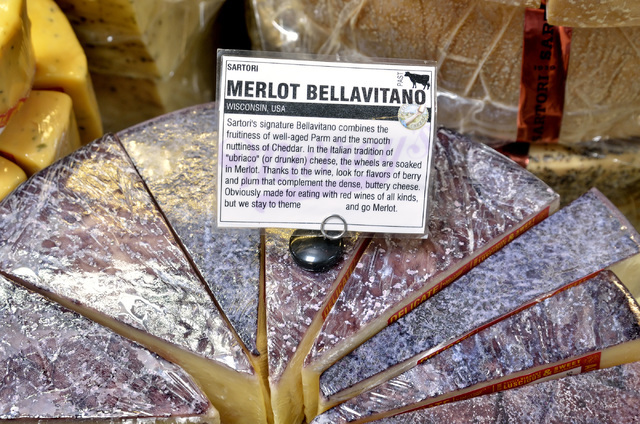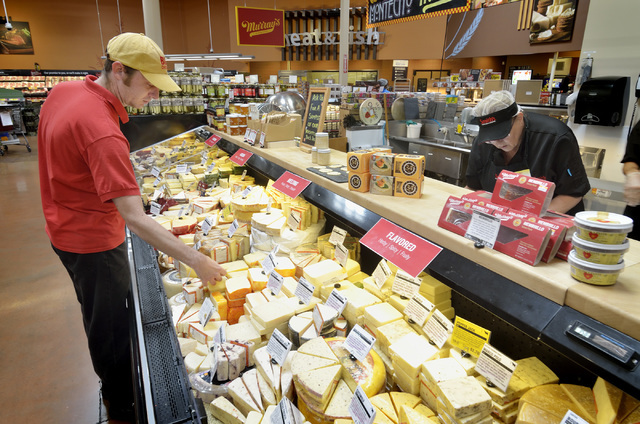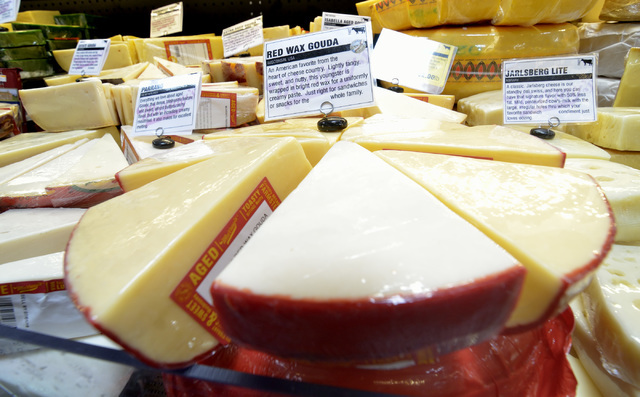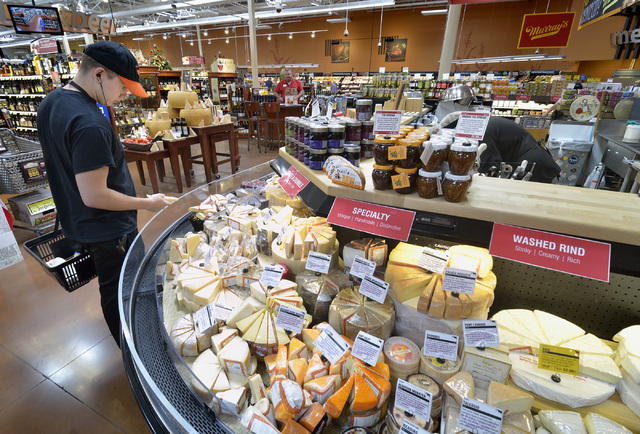 "Cheese, glorious cheese," the old commercial intoned, and now more than ever.
A report earlier this year found that as of the end of March we had 1.19 billion pounds of surplus cheese in this country, factors of the stronger dollar and the 2014 Russian ban on European agricultural products, according to The Wall Street Journal. Do the math and that works out to 3 additional pounds of cheese that every man, woman and child would need to eat this year in order to use up the glut.
"I hope they do," said Bob Howald, co-owner of Valley Cheese and Wine in Henderson, which carries about 125 varieties at a given time.
We're already eating an average of 36 pounds a year, a number that has grown by more than half in the past couple of decades as our collective palates have increased in sophistication. Truth be told, though, it isn't the Valley Cheese kind of cheeses that we have so much of.
"The cheese they're talking about is more ingredient cheese; it's not small artisanal producers," said Kristin Sande, Howald's wife and co-owner. "These tiny producers aren't struggling with too much inventory. It's your commodity block cheddar, mozzarella — stuff they would put into frozen food, like commissary-large production."
Those would be different from the varieties you'll find at Valley Cheese: the cloth-bound cheddars or 5- or even the occasional 10-year-old cheddars; Cowgirl Creamery's signature Mt. Tam, a triple-cream cow's milk cheese; or Hidden Springs cheese from a small sheep's-milk producer in Wisconsin.
"We have a lot of very unique American cheeses," Sande said. "It's really much more interesting nowadays. There are all different kinds of milk, there are all different kinds of styles."
After taking note of our increased hunger for cheese, Smith's Food and Drug recently installed outlets of Greenwich Village-based Murray's cheese shops in four of its Southern Nevada stores (7130 N. Durango Drive, 8180 Las Vegas Blvd. South, 10100 W. Tropicana Ave. and 10616 S. Eastern Ave. in Henderson), with three more to be added next year. They stock an average of 150 cheeses and 100 cheese-related specialty items.
The Smith's Murray's shops also pride themselves on offering the artisanal and offbeat. Two exclusive selections they'll be getting in soon, according to Smith's cheese expert Logan Class, are a sheep's milk cheese that's covered in hops, chervil and other herbs and a washed-rind cheese from The Vermont Cheesemaker, which is washed in Vermont cider by the people at Murray's in New York.
"It's a little stinky, a little unctuous," Class said.
So, it seems, is his own personal favorite, Harbison.
"You just cut off the top rind; it's an ooey-gooey molten cheese at room temperature," Class said, "with mushroom and asparagus notes and everything. It's not for the timid, not for a beginning cheese person. It's for the more discerning palate — people who definitely like to be adventurous."
OK, so we've established that, unless you're planning to binge on Stouffer's macaroni and cheese or Velveeta Shells & Cheese you're not going to help put much of a dent in the surplus, but we bet you wonder if the glut is going to affect pricing.
"I think you're already seeing that," said Rebekah Sweeney, commodity and policy manager for the Wisconsin Cheese Makers Association. "Milk prices are down, commodity prices are down, cheese prices will go down as well." Sweeney said that, as usual, prices will be affected by supply and demand, with high-demand cheeses not likely to be affected; the drops will come, she said, in "standard American" cheeses.
Now you're thinking about cheese, and so are we. So we asked Sande, Class and local chefs for suggestions on eating more of it.
"Everybody likes to melt cheese on their burgers," Class said. "And with all the fetas, they can be crumbling them for salads."
He suggests taking harder cheeses like Parmesan and Asiago, grating or shedding them and putting them on a silicone mat in a 375-degree oven for about 15 minutes; "then they've got little chips of cheese."
Or, he said, to enjoy the fresh fruits of summer, consider dipping them into not whipped cream or Cool Whip but mascarpone, which is lighter and more refreshing.
"At the Murray's shops we have one that's from Italy that tastes like it has vanilla in it, but there's no vanilla at all," he said. "It's fantastic."
With kids out of school and looking for snacks, he said, consider fruit paired with a piece of cheese.
And from local chefs:
Elisabeth McGee, executive chef at B&B Burger and Beer at The Venetian: "I would make the Ultimate Cheeseburger: a 6-ounce prime beef hamburger patty between two grilled cheese sandwiches, crispy cheese tuilles, a creamy cheese sauce and crunchy housemade Cheeto bits, served with fried cheese curds."
Chef Bryan Forgione, executive chef at Buddy V's at the Grand Canal Shoppes: "Take your favorite blue, cheddar and fontina cheeses and melt them into a bechamel, making three fondutas. Cancel any outdoor activities, get some smoked chicken wings and tortilla chips. Assume the position on the couch with remote and a binge-worthy series and go to town."
Damon Workman, chef at Cantina Laredo at Tivoli Village: "Create a world-record-shattering fondue event. All cheeses should be shipped to Vegas and poured into the newly opened T-Mobile Arena, where the floor would act as a giant bowl and the seats utilized by guests partaking. Once the arena is filled, we then turn off the AC and wait for the hot Vegas sun to do its job. In just a short time you'd have a delicious melty treat for all! Guests would be provided cutlery, but can bring whatever their heart desires to dip into the delicious fondue (chips, toast squares, etc.). Let the party begin!"
Mark LoRusso, executive chef of Costa di Mare at Wynn Las Vegas: "I would declare a National Grilled Cheese Day in schools so kids could appreciate the taste of a well-made grilled cheese versus the kind made from processed cheese. Call it changing the way the world looks at grilled cheese, one sandwich at a time."
Vincent Pouessel, chef of of DB Brasserie at The Venetian: "I would make a tartiflette, originally from French Alps. Super simple: Cook a couple pounds of small potatoes (mini creamers/fingerlings), then slice them with or without the skin. Slice and caramelize an onion, then add handful of bacon lardon and saute all together. Add one minced garlic clove and a couple of bay leaves and thyme sprig. Deglaze with a glass of white wine. Butter the inside of a roasting pan/dish, put down a layer of sliced potatoes, then a layer of onion/bacon, then a layer of all that good, surplus cheese. Mix it all together first – soft cheese along with the hard cheeses grated. Keep building the layers and finally, add more cheese over the top, and bake in the oven for 30 minutes so your tartiflette is nice and golden brown and ready to be serve."
And Marlon Simbulan, executive chef of Nove Italiano at the Palms: "A popular trend right now with cheese is to infuse it with fruit or nuts and serve it as a … thick, creamy spread that pairs exquisitely with toasted bread, dried fruit or nuts. At Nove we offer a pomegranate goat cheese, blueberry compote goat cheese and a very unique pistachio mascarpone which has been a hit since we launched it."
"When it comes to cooking with cheese," Sande said, "obviously the chefs get really into it, but I'm more of a purist. I like to do minimal cooking and let the cheese be the star of the show. I recently had some Parmigiano-Reggiano in the fridge and I cubed it up with some tomatoes from my neighbor. It was a really different way to have a tomato salad."
And one final suggestion from Class:
"One of my favorite things to do at a party is to take four or five different cheeses laying around in the refrigerator and blend them together in the processor. Throw in some hot sauce and maybe some cream cheese to smooth it out and you have a super-awesome dip. I like to add a little wine to mine; any good white would do. And then if you take that spread you can put it on bread and bake it and it puffs up and … yeah. It's just delicious."
Not to mention glorious.
Find more of Heidi Knapp Rinella's stories at www.reviewjournal.com, and follow @HKRinella on Twitter.