If you're attending Life is Beautiful this weekend, you'll have great dining options from top Las Vegas restaurants, both on and off the Strip.
From its inception in 2013, the festival has shone a spotlight on some of this city's finest food and best chefs. But as anyone who has been attending from the beginning has probably noticed, that spotlight isn't quite as bright today as it was then.
The chef list for the inaugural festival was announced with huge fanfare at a massive Fremont Street party.
"We had 50 chefs on our lineup, so the culinary portion was really strong," says Jolene Mannina, who headed the culinary lineup that year.
"The names of the chefs were on the marquee," recalls locally based celebrity chef Rick Moonen, whose restaurants have been represented at every Life is Beautiful. "Our names were next to The Killers and all the other big bands that were performing."
A look back at the official poster for the first event shows more than 40 chefs' names. Along with Moonen, it included celebrity chefs Scott Conant, Hubert Keller, Michael Mina, Tom Colicchio, Charlie Palmer, Mary Sue Milliken, Jet Tila, Susan Feniger, Kerry Simon and Todd Engligh, all of whom had local restaurants. But there were also plenty of big names who had never operated in Las Vegas, including Jonathan Waxman, Cat Cora and Michael Symon.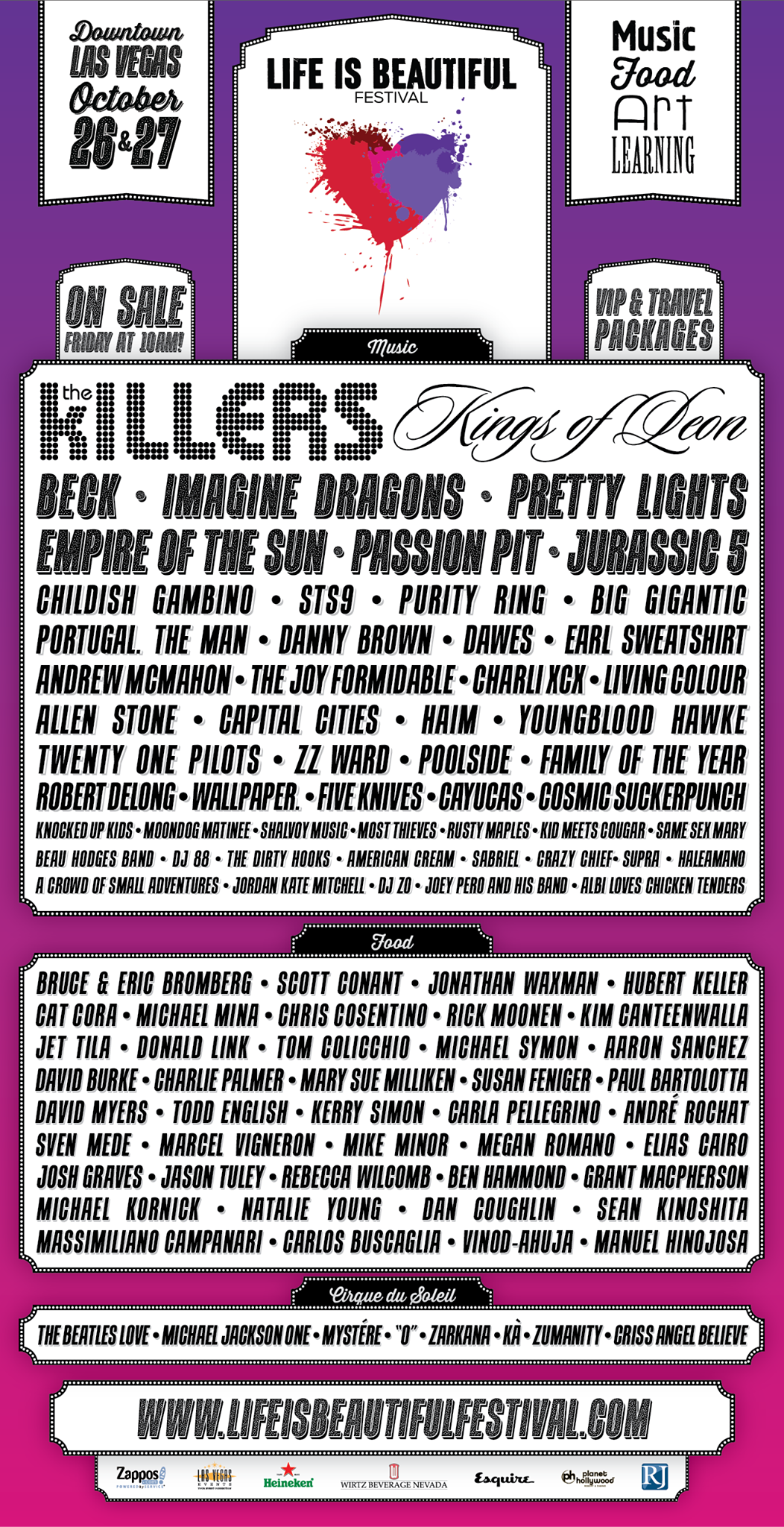 Life is Beautiful 2013 poster (Facebook)
Life is Beautiful founder Rehan Choudhry, who is no longer involved with the festival, says the entire event was inspired by the experience of planning a meal for friends.
"If you're going to throw a dinner party for 10 of your friends at your house," he says, "you would factor four things into it: the food and drink you're going to serve, the music you're going to play in the background, the art on the wall — or the décor — and the conversation."
Food at forefront
And at the first LIB, food was a big draw. The night before the main concert kickoff, chefs and musicians joined forces at a special event called Grills and Guitars. During the festival, chefs provided approximately 20 cooking demonstrations and seminars on the concert grounds. And there were several exclusive, ticketed VIP dining experiences, including an ultra-exclusive $5,000-a-head charity dinner.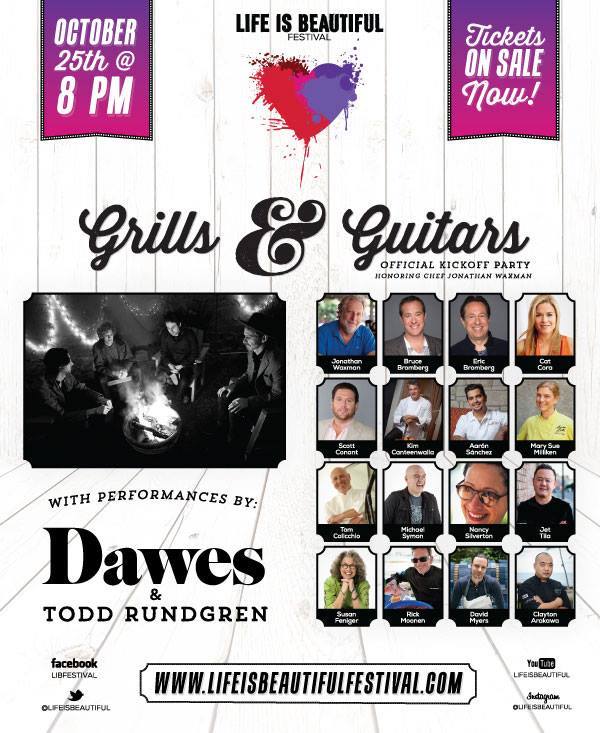 Life is Beautiful 2013 "Grills and Guitars" poster, (Facebook)
In 2014, while the culinary component of the festival was tweaked, food remained at the forefront. The single culinary village that allowed chefs to sell their food to the general admission crowd was expanded to several that year, scattered throughout the village for easier access.
Although the pricey ticketed culinary experiences were eliminated, new features were added. Chef Jose Andres, for example, spoke about Third World cooking conditions and used solar kitchens designed to remedy those conditions to cook for concertgoers.
In the years since, however, foodie-friendly offerings have dwindled, and those that remain are barely promoted. Grills and Guitars has been scrapped. The only food or beverage seminars planned this year are unpublicized 50-person cocktail demos. (If you want to score a ticket, try hanging out near The Writer's Block Book Shop on Fremont Street between 4 and 6 daily.) Simply finding a list of participating restaurants on the festival website requires first navigating to the lineup page, then utilizing a pull-down menu.
Celebrity chefs are a minimal part of this year's show. Moonen, Mario Batali, Hubert Keller and Brian Malarkey are the only notable names represented on the list of about 60 restaurants serving food. And your chances of spotting any of them on the grounds are slim.
"I'll probably visit a few times," says Moonen, whose restaurants have participated every year, but who personally skipped last year's festival. "But I'm not going to wake up early in the morning and take shuttles to make sure I'm there early enough to open up with the staff."
Too ambitious?
Mannina, who hasn't been involved since the first year, suggests festival organizers tried to do too much, too soon.
"We really went heavy the first year," she admits. "We went really hardcore. So it's something that maybe we should have grown into, because it's a heavy expense to add a culinary element to a large festival like that."
Yet she and others involved that first year point to other festivals that have built on what Life is Beautiful started.
"Now Coachella has a massive culinary lineup," Mannina says. "Kaaboo (in San Diego) just came out with a big culinary lineup. BottleRock (in Napa) just came out with a big culinary lineup. So all these events that are established are now adding that piece to it."
Speaking privately, many local chefs say they miss what Life is Beautiful once was. So could organizers bring back some of the larger culinary elements at future events? When asked, the festival's culinary manager, Samantha Seier, said she was unprepared to answer that question, and asked that it be submitted via email. When we followed up, asking specifically about cooking demonstrations, chefs speaking on social issues, culinary/musical collaborations and whether she would like to see them at future festivals, she provided the following response:
"As with our music, art and ideas pillars, the Life is Beautiful culinary program is always evolving. Every year, we look to create a unique culinary experience by curating an exciting lineup of new participants, offerings and returning fan favorites. Life is Beautiful is excited to continue growing this important festival aspect as well as provide attendees a variety of amazing food options year after year."
Contact Al Mancini at amancini@reviewjournal.com. Follow @AlManciniVegas on Twitter.