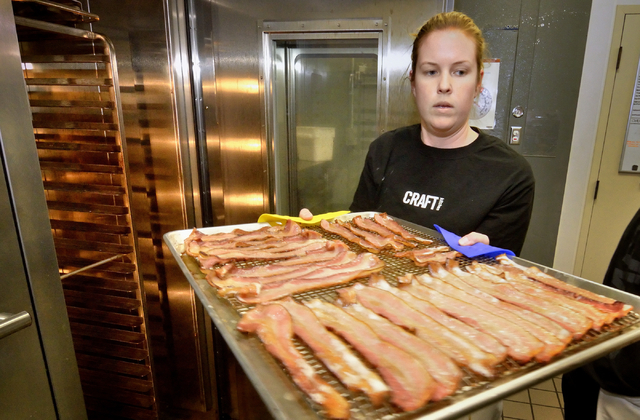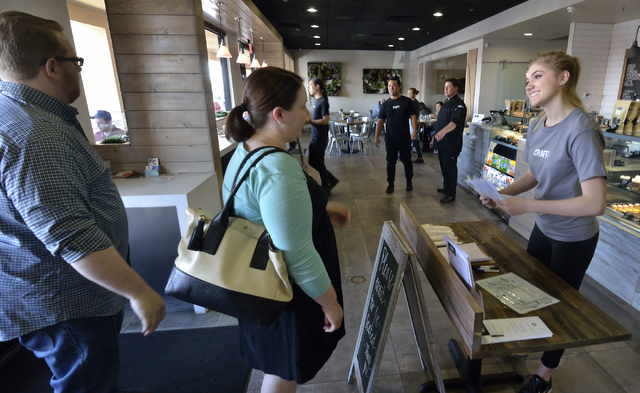 Even if I hadn't known that Jaret Blinn, chef-owner of Craft Kitchen in Henderson, had years of experience as a pastry chef, I would have suspected it.
No, it's not that the restaurant's display cases were overflowing with house-baked pastries and desserts, although there was a nice selection. What stood out to me was the extensive attention to detail shown in all aspects of the restaurant.
I noticed it before we'd even entered. Craft Kitchen has tables and chairs arranged for al-fresco dining, and to separate them from the parking lot someone has crafted attractive racks from upendedwooden pallets, the slats filled with herb plants. I don't know how the plants will hold up when the summer sun starts blasting them, but we won't want to be dining outside at that point anyway, so maybe it doesn't matter. Indoors, there were cozy rustic wooden booths sized for two, plus larger rustic tables with utilitarian metal chairs, the seating adorned with cushions and throw pillows and the tables topped with potted succulents for an atmosphere that was simple, casual and comfortable.
Our server walked up immediately and told us that both sides of the menu, "Early Hours" and "Mid Hours" — divided, as you might imagine, into dishes mostly oriented to breakfast and lunch, respectively — were available all day. She brought us an iced tea that was lightly flavored, without the fruity perfuminess that can ruin the the clean tannic nature of a good black tea, and a cup of rich coffee complete with crema.
And in short order our food arrived, complete with plenty of charming details. A pork carnitas omelet ($12.95) was fairly delicate (and reasonably sized, in these days of mega-omelet overload). It was folded around a hearty portion of carnitas, moist and tender after long braising. On top was a little pile of a tomatillo-avocado salsa laced with cilantro, and the whole thing was drizzled with crema in artfully applied parallel lines.
The Croissant Sammy ($10.75) was no less impressive. This one started with a largish house-made croissant, suitably buttery and flaky. It had been split and filled with crisp, thick slices of applewood-smoked bacon, a fried egg and melted cheddar, the filling proportioned to keep what could have been an overly rich and salty combination from being exactly that. Here the winning details came in the generous mound of mixed greens — primarily field greens, for a bonus of flavor and texture — lightly dressed with a vinaigrette that leaned toward the acidic side, a nice counterpoint to the sandwich. And there was an extra bit of crunch in the form of a shower of diminutive chips made in-house from sliced fingerling potatoes.
We couldn't leave without trying one of the colorful desserts displayed in one glass case, and the Key lime tart ($4.25) was an easy choice. It was just as we'd hoped, the piquant filling properly pale and tangy, resting on a base of graham-cracker crumbs and crowned with a topknot of meringue.
Service throughout was very good, our server always on point, though members of management stopped by now and again just to make sure. Unnecessary, really, but not surprising, because while the restaurant's website states that "the place never takes itself too seriously," the chef and staff of Craft Kitchen clearly are serious about their craft.
Las Vegas Review-Journal restaurant reviews are done anonymously at Review-Journal expense. Email Heidi Knapp Rinella at hrinella@reviewjournal.com. Find more of her stories at www.reviewjournal.com, and follow @HKRinella on Twitter.