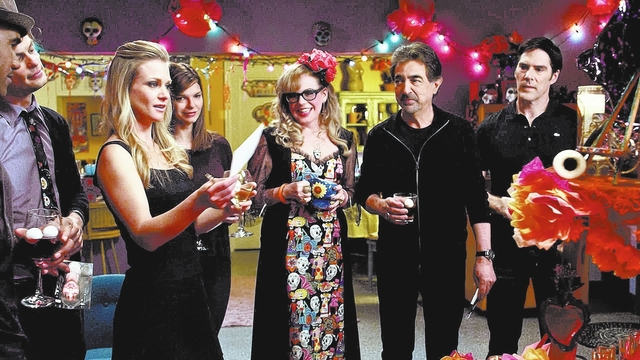 Yes, chef Mike Minor and Kent Harman, both formerly of Border Grill at Mandalay Bay, are going to open a restaurant together. Bandito was delayed because of all-too-familiar construction logistics. But Minor said the building — across Howard Hughes Parkway from Lawry's the Prime Rib, on the site of the long-gone Fog City Diner — has been constructed, and he's eager to offer something new.
"We couldn't be more excited," Minor said. "It's got 30-foot ceilings. The thing is completely surrounded by glass. It's super wide-open. You'll be able to see every element of the open kitchen, from the girls making tortillas to me using my awesome smoker."
Minor said the specialty will be "Mexiq" — barbecue with a Mexican twist; for instance, using Texas-style smoked brisket in traditional Mexican specialties.
"It's something nobody else is doing," he said. "Kent (managing partner) and I are two small guys from Las Vegas. This is going to be the place for Las Vegans to come in and enjoy themselves." Expect an opening in two to three months.
Former Comme Ca chef Brian Howard has signed a lease on the former Jenni Pho space on Spring Mountain Road. Howard spent time in the kitchens of Bouchon, Kerry Simon's brothel-themed Cathouse and Lutece before taking the reins of The Cosmopolitan's late French bistro. After leaving there, he eyed a pair of downtown projects that fell through. More information on the new project, Sparrow + Wolf, in the coming weeks.
On the Strip, Chicago-based Giordano's Famous Stuffed Deep Dish Pizza has opened at the Grand Bazaar Shops, while Stripside Cafe & Bar has opened at Caesars Palace in the former Serendipity 3.
Comings and goings: Chris Bulen, formerly of the now-closed Andre's Restaurant & Lounge at the Monte Carlo, is executive chef of sister restaurant Alize at the Palms. Herringbone's Geno Bernardo is now corporate chef de cuisine and is spending time at Herringbone Santa Monica before heading to Hawaii and Cabo San Lucas to open new outposts of the Brian Malarkey chain. Replacing him is Nick Aoki, who worked with Bernardo at Nove Italiano in the Palms and has spent time in the kitchens of N9NE Steakhouse and Fix. And Tom Moloney, who was executive chef at Aquaknox at The Venetian for 10 years, has been named executive chef of Marche Bachus on Regatta Drive in Desert Shores.
Sightings: Dallas Cowboys stars Dak Prescott, Ezekiel Elliott and Jason Witten at Cut at the Palazzo. NBA hall-of-famer Karl Malone at The Rockhouse in the Grand Canal Shoppes. "Criminal Minds" star Joe Mantegna at Lavo Italian Restaurant at the Palazzo.
Review-Journal staff writer Al Mancini contributed to this story. Have an item for Kitchen Confidante? Email hrinella@reviewjournal.com.