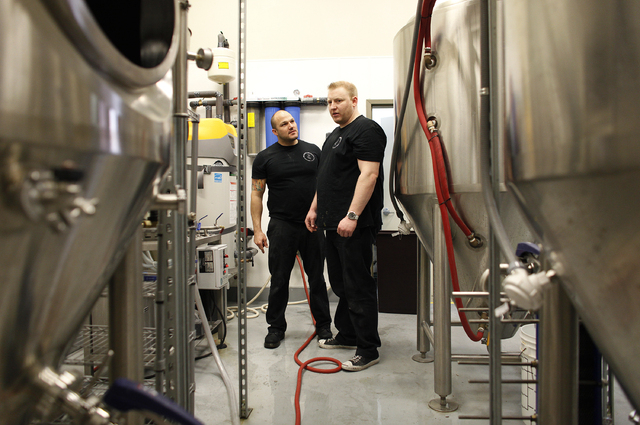 Las Vegas' craft beer movement has tapped downtown in a big way, with the recent openings of a new microbrewery and a beer garden on both ends of the Fremont Street Experience.
Craft beer fans waited patiently for Banger Brewing to make its debut — and were rewarded when five friends recently opened the microbrewery at 450 Fremont St. next to the Heart Attack Grill in the Neonopolis building.
On the other end of the Fremont Street Experience, the Bier Garten at 1 South Main St. at the Plaza officially opened.
Las Vegas Mayor Carolyn Goodman read a proclamation to officially inaugurate the Bier Garten on April 1.
Banger Brewing is in a 3,000-square-foot space, where 10 taps dispense seven Banger brews and three other locally produced beers.
The Banger fivesome are Marc Longwith, Nick Fischella, Eddy Quiogue, Roberto Mendoza and Michael "Banger" Beaman. They met while working for restaurants at the Bellagio.
They also have a deep-pocketed partner — Zappos Chief Executive Tony Hsieh, who spearheads the Downtown Project. Hsieh became a partner in summer 2013, Longwith said.
The Banger owners raised more than $480,000 over four years, with the five friends contributing $300,000 of their own money to launch the microbrewery, Longwith said. He said they financed the business with a private placement memorandum.
Banger Brewing is looking to produce 13,272 gallons of beer annually, Longwith said.
To grow the brewing business, Banger hopes to use its storefront to finance a distribution bottling center and blanket Las Vegas with its beers. Longwith said more than 100 venues signed letters of intent to carry Banger beer, including high-profile Strip venues that do not carry local beers.
At the Bier Garten, business partners Grant Garcia and Sam Cherry teamed with the Plaza to launch the craft beer bar, which features an outdoor, grassy 3,000-square-foot space with picnic tables and live music.
Cherry said it was an $800,000 project designed to tap into downtown's energy and growth. The Bier Garten features 24 craft beers, including locally produced favorites such as Big Dog, with Joseph James of Henderson on the way, Cherry said.
The grassy area offers a casual backyard oasis from downtown's pavement. There's even a "living wall" on the Plaza facade with 900 plants.
While the Bier Garten offers signature wursts, giant German pretzels and hand-cut fries, Banger Brewing sticks to its beers, ranging from a Downtown Brown Ale and Perfect Ten American Pale Ale to a Rebellion Red Irish Red Ale and Walk of Shame Rye Pale Ale.
The Banger beer that's turning into a signature product is the "El Heffe," an award-winning jalepeño Hefeweizen that is infused with freshly roasted jalepeños and serrano peppers.
"We have won three awards with it so far and it is our biggest seller," Longwith said.
The twin craft beer openings are a prelude to a monster downtown beer festival scheduled for April 26 in the area where the Life Is Beautiful festival was held.
Las Vegas-based Motley Brews is staging the 2014 Great Vegas Festival of Beer. It's billed as the largest craft beer festival in Las Vegas.
Contact reporter Alan Snel at asnel@reviewjournal.com or 702-387-5273. Follow @BicycleManSnel on Twitter.