Beloved SoCal coffee shop chain expanding to Las Vegas
Updated September 24, 2023 - 4:16 pm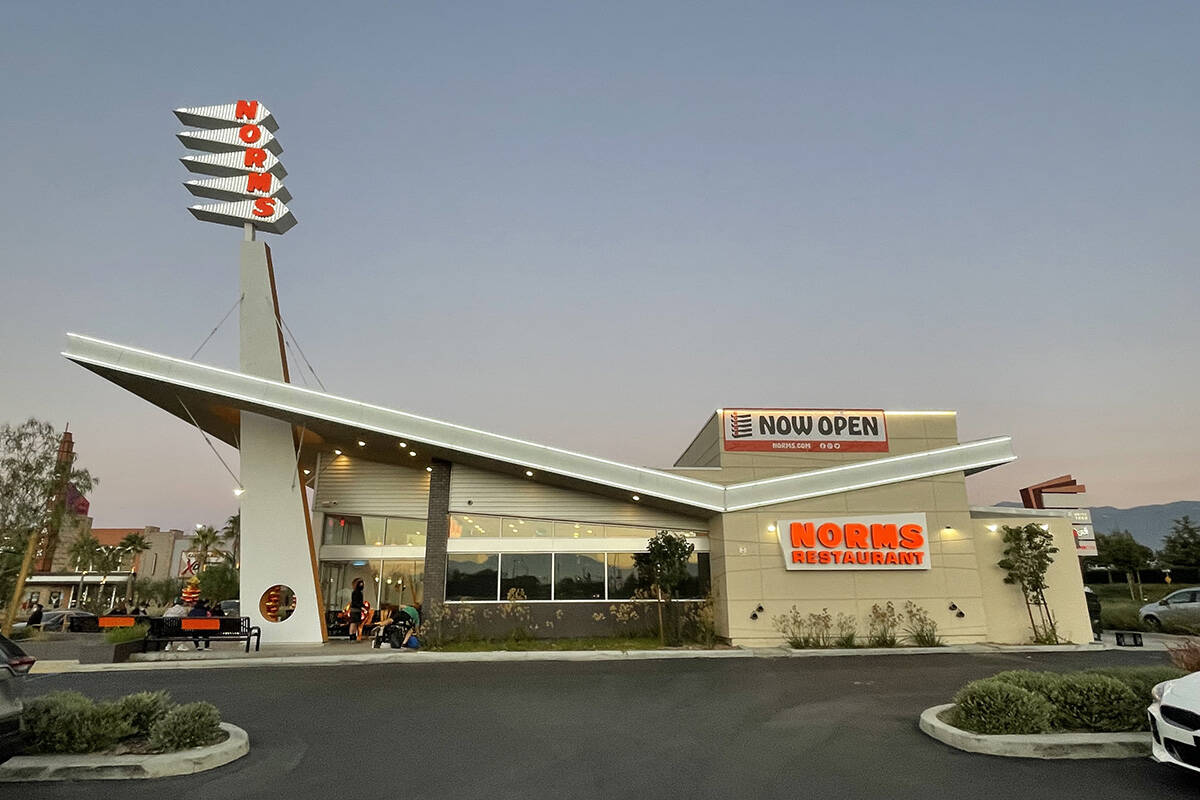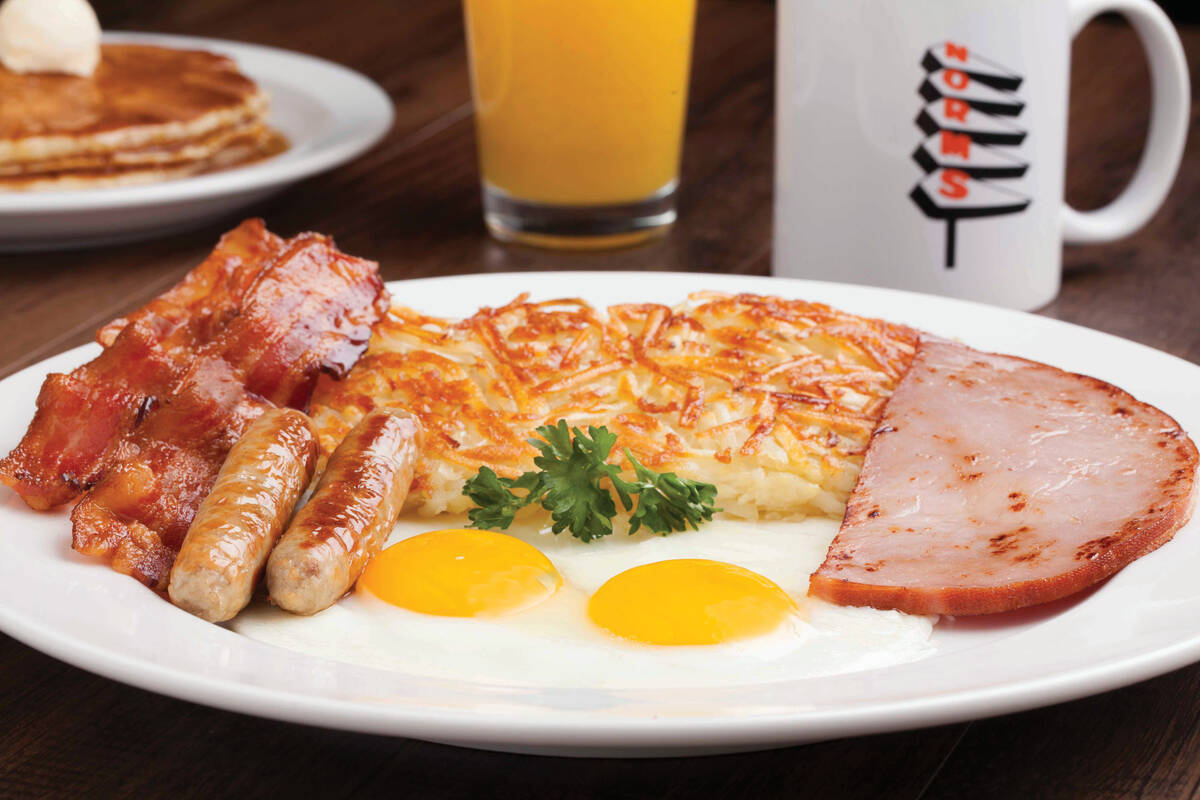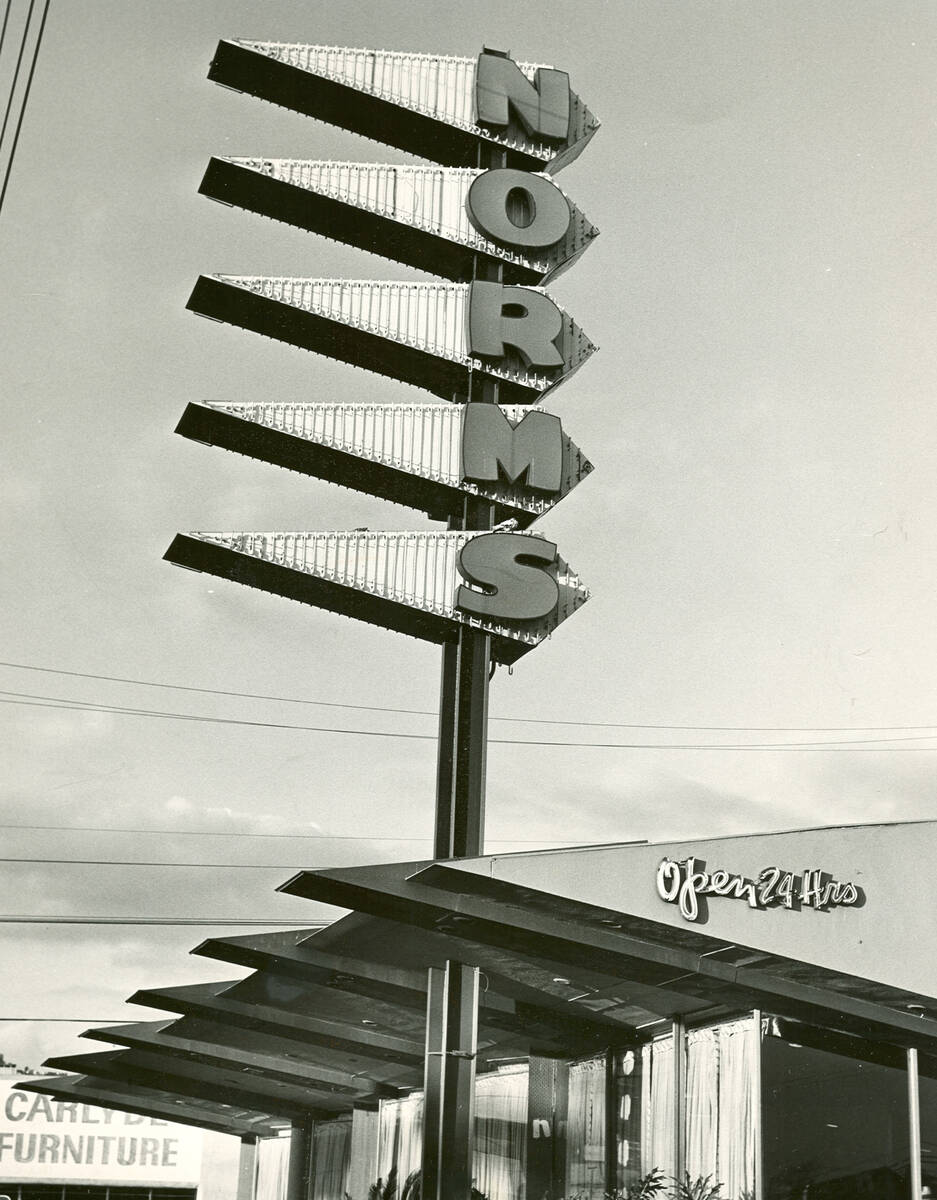 If you Google the term "Googie," Norms restaurants lead the search results.
The beloved diner chain, founded in Los Angeles in 1949, offers some of the most famous examples of Googie architecture, the futuristic style popular in the mid-20th century, especially among roadside businesses in Southern California.
Googie featured angled roofs, stretches of glass, and the use of geometric shapes to suggest energy or speed. The movement drew inspiration from American optimism following World War II, the dawn of the Space Age and the flourishing of car culture. The signature Norms sign, each letter set within a vertical stack of sawtooth pennants, has become a Googie icon, the letters seemingly caught for an instant as they streak past.
In its nearly 75 years and 22 locations, Norms has never expanded beyond SoCal — until now. The restaurant is bringing its style and rich history — "The Jetsons" meets buttermilk hotcakes — to a shop on West Charleston Boulevard, planned to open before early summer 2024.
Why Las Vegas? Why now?
"First of all, why not Vegas?" Eric Wyatt, Norms' new president and CEO, asked by way of reply. "It's the melting pot of consumers that come from all over. We love the demographics, and we want to demonstrate the portability of our brand. We want to get into the market."
Going big
For its new shop, at 4605 W. Charleston Blvd., Norms will be remaking an existing building (in part to open sooner). The conversion, Wyatt said, would "pay homage to the legacy of Norms and the Googie architecture, from the signage to the patio. Our pennant sign is historical and a legacy."
If restaurants can go big anywhere, they can go big in Vegas. "If I could, I would put in the biggest high-rise sign," Wyatt said, laughing. "We want to give a nod to where we're operating — not just a Norms but a Norms in Las Vegas. We'll see what happens from a permitting standpoint."
Serving the classics (and some Vegas exclusives)
Norms is known for its all-day menu of standards.
The hotcakes recipe dates to the founding of the chain. A Classic Big Better Breakfast convenes two eggs, ham, bacon, sausage, hash browns and a choice of toast or hotcakes. (Could anything be more classically roadside American?) A club sandwich on toasted white is served in the traditional manner, in a row of sliced wedges.
The menu, in typically expansive diner fashion, proceeds from there, through a heap of onion rings, omelets, steak and eggs, a Cobb salad, fettuccine alfredo, fried chicken, grilled salmon, a patty melt, shrimp with New York steak and a root beer float in a mug.
There are also limited-time offerings that function as something of a test kitchen, like a thick-built Monte Cristo sandwich or sourdough avocado toast with feta and red onions. Korean barbecue beef and wagyu burgers are currently being developed for the LTO.
The Vegas shop is opening with beer, wine and spirits, and with the agua frescas that are served in California. "We will have chef-inspired menu items that will be exclusive to the Vegas market," Wyatt added. "That's the kind of thing we like to adjust to what the market demands."
Expansion plans
The new Norms itself will also function as something of a test site.
"We want to see how well this is going to do, to help guide us in our future locations," Wyatt said, "We believe there's more room for Norms in Las Vegas." That could mean Henderson or Summerlin or even the Strip, inside a casino or free-standing, he said.
Imagine: a 500-foot Norms pennant sign in flashing neon on Las Vegas Boulevard. Call the FAA. And send hotcakes.
Contact Johnathan L. Wright at jwright@reviewjournal.com. Follow @JLWTaste on Instagram and @ItsJLW on X.