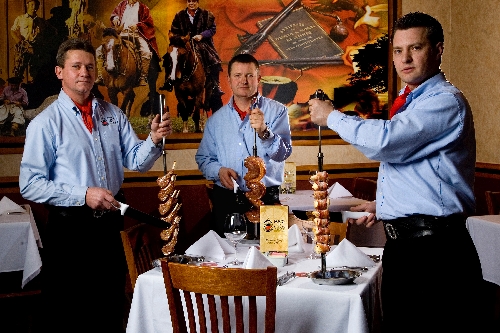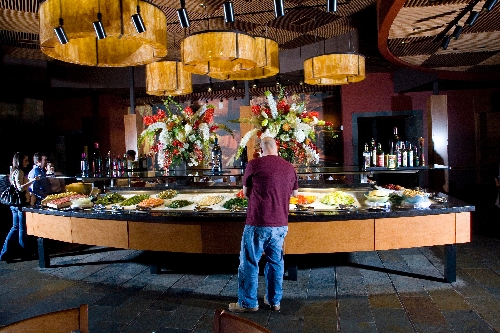 Need a place to meat?
Yes, we do mean "meat."
Eating doesn't get meatier than it does at Fogo de Chao – Brazilian Portuguese for "pitfire" — which opened in November at 360 E. Flamingo Road in the Hughes Center, where Cozymel once stood.
"It's more than a meal; it's an event," says general manager/head gaucho chef Marcio Bonfada, who came to Las Vegas from Brazil six months ago to open the latest eatery in the 24-restaurant chain, which includes seven in Brazil.
"The main course is 15 cuts of meat. That's what makes it a unique experience because we have pork, lamb chops, chicken, filet mignon, sausage. You can try all sorts of meats or just focus on your favorites."
Inside the 14,000-square-foot food arena, with its opulent chandeliers and nine private dining rooms anchored by an extensive salad bar, cooking is based on the concept of churrasco, a form of Brazilian barbecue in which meats are prepared over an open-flame grill.
Turn a card on your table to the green side, signaling you're prepared to feast so tableside service can commence.
Gauchos (loosely translated to "cowboy") clad in harem-style pants and colorful native clothing, both cook the meats and serve them on skewers to provide an authentic experience.
"They're trained to cook all different kinds of meats," Bonfada says. "We don't pre-cook anything; it's all fresh."
Ready with translations and descriptions, gauchos will place in front of you meats with such exotic names as alcatra, beef ancho, costela, fraldinha, cordeiro, linguica and lombo. When you're filled to the gills with grilled goodies, flip your card to the red side — until you're ready for even more.
Generous side dishes and desserts complement the meals.
"We try to preserve the culture," Bonfada says.
Fogo de Chao is open weekdays for lunch from 11:30 a.m. to 2 p.m. and dinner from 5 to 10 p.m. Weekend hours are from 4:30 to 10:30 p.m. Saturdays and 4 to 9 p.m. Sundays.
Lunch is $26.50 per person, $19.50 for salad bar only. Dinner is $44.50 per person, $22.50 for salad bar only. Children ages 6 to 10 eat for half-prices, children 5 and younger eat for free.
Specialties: picanha (thin-sliced sirloin seasoned with sea salt); cordeiro (New Zealand lamb chops flavored with white wine, fresh mint and lemon pepper marinade); frango (chicken breast wrapped in bacon and lightly seasoned).
Salad bar: More than 30 items, including cold smoked salmon, hearts of palm and imported cheeses such as fresh mozzarella and aged manchego.
Side dishes: Caramelized bananas, crispy polenta, seasoned mashed potatoes and pao de queijo (cheese bread).
Desserts: Papaya cream, creme brulee, Brazilian flan.
Cocktail: caipirinha (made with cachaca, derived from sugar cane, with fresh limes and sugar).
Information: 431-4500.
By STEVE BORNFELD