Butchers stay competitive by meeting consumer wants
January 28, 2009 - 10:00 pm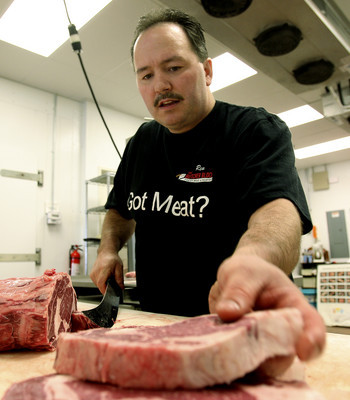 You want 1 pound of ground beef — exactly 1 pound? Or a 2-inch-thick steak, instead of the 3/4 inch that's the supermarket standard?
Local butchers hope your next stop will be their shops.
Some supermarkets and warehouse clubs still cut most of their own meat and can accommodate personal requests and special orders. But others bring in everything prepackaged and can't give you the six-bone standing-rib roast you need if they only have four-bone roasts in the case, or that gorgeous crown roast you were hoping to serve for a holiday dinner.
"We cut everything to order," said Tim Jensen, owner of Village Meat & Wine, 5025 S. Eastern Ave. He keeps a set of blocks on his bench to make it easier for customers to visualize thicknesses. "They tell me what size they want. They actually watch me cut it." And "all of the hamburger I have here is actually ground here."
"A lot of stores get in meat that was processed somewhere else," noted Larry Hughes, owner of Larry's Great Western Meats, 420 S. Valley View Blvd. "You lose some of the freshness and flavor when you do that."
Which is not to say there haven't been changes in the way the butcher shops do business, too.
"It went from hanging beef to boxed beef, to now it's all coming precut," said Ron Lutz, owner of The Butcher Block, 7625 S. Rainbow Blvd.
Most butchers and their suppliers have abandoned hanging beef, basically a side of beef. That's because, Jensen said, there's too much waste. (Although Chuck Frommer, owner of John Mull's Meats at 3730 Thom Blvd., said he takes special "locker orders," for people who want all of the various cuts, to be stored in their freezers.) Boxed beef refers to a packaged primal cut, such as short loins, strip loins and tenderloins. From the short loin come porterhouses, T-bones and bone-in New York strips; from the strip loins come boneless New Yorks; and from the tenderloin come tenderloin roasts or filet mignon.
The boxed meats offer butchers more of the cuts they can sell, Jensen said.
There's the food-safety issue, too. Hughes said Larry's got in beef quarters until two years ago.
"All of the slaughterhouses are further processing the meat down and irradiating it to eliminate e. coli," he said. "If you can find anybody now who can even cut carcass beef, it's very rare."
Larry's is unusual because besides being a retail operation, it also is a federally inspected meat plant, with a USDA inspector on the premises daily. Larry's supplies about 80 restaurants in the valley, Hughes noted.
All of the shops seem to have their own niches. The Butcher Block is the new kid on the … well, on the block. Despite the economic downturn, Lutz said business in 2008 increased over 2007's figures.
"I sell more Prime beef and the upper Choice meat than anything," he said. "They like good steaks. Nobody's ever asked for leaner or less expensive. But I run specials all the time."
A recent price comparison showed 90 percent or better lean ground beef at The Butcher Block at $4.99 a pound, the same as at Albertsons. Prime rib-eye steaks were $16.98 a pound at Village Meat & Wine, compared to $27.99 at Whole Foods Market.
Lutz's shop carries Japanese Kobe beef, Australian Wagyu beef, dry-aged Prime beef, Black Angus 1855 beef (a premium brand), pork including Kurobota "and every piece of wild game you can imagine." He also has homemade sausages including wild-game sausage.
At John Mull's, Frommer said he has a diverse clientele. The specialty cuts he does include "red beef" for Ethiopian customers, which is "basically inside round that's skinned down to absolutely no fat," he said. He sells Prime and Choice beef and sausage, including hot links; smokes turkeys, hams and jerky; sells marinades and rubs; and does catering.
Larry's sells various types of meat and some fish, will cut veal shanks to order for osso buco and will special-order Prime beef. Larry's also makes five kinds of sausage and sells Hoffy's natural-casing hot dogs.
Hughes said he has noticed that the retail side of his business has picked up roughly 25 percent, and speculated that more people are eating at home because of the economy.
"You can buy two steaks for $20, versus going out to dinner for $50," he said. "There's nothing wrong with staying home and watching a movie."
Jensen said he has seen some movement toward less-expensive cuts. Business picked up last summer, he noted, because people weren't going out of town as much. And Jensen has noticed people making cuts in other ways.
"They'll still buy a Prime steak, but they'll spend less on wine," he said.
Village Meat & Wine also sells free-range chickens and Shelton's turkeys and makes 28 types of sausages, and will make other sausages on request for an order of 6 pounds or more. Jensen also sells elk, venison, alligator, duck, pheasant, squab and kangaroo. Yes, kangaroo.
But supermarkets are unwilling to give all the meat business to butcher shops.
Lilia Rodriguez, public-affairs manager for Albertsons' Southern California region, said while 50 percent of the chicken sold in Albertsons stores comes in prepackaged, 95 percent of the beef is cut by store employees. She said they accept special orders and will cut meat to order.
Marsha Gilford, spokeswoman for Smith's, said employees cut 90 percent to 95 percent of the stores' meat.
"It's not coming in in huge half-carcasses as it used to; it's coming in in 60- to 80-pound cases," she said. "Within those cases of meat we do some additional trimming and cutting and packaging into consumer-size orders."
Gilford said Smith's meat directors haven't noticed a shift toward less-expensive cuts, although it appears customers are stocking up when upper-tier cuts are on sale.
"I think it's about having your favorite meat at a good price rather than giving up," she said.
Special orders are welcome at Smith's, she noted, and full-service meat departments are in all Las Vegas Smith's stores.
But Gilford said ground meat comes in prepackaged. So you may be on your own for the 1-pound package.
Contact reporter Heidi Knapp Rinella at hrinella@reviewjournal.com or 702-383-0474.