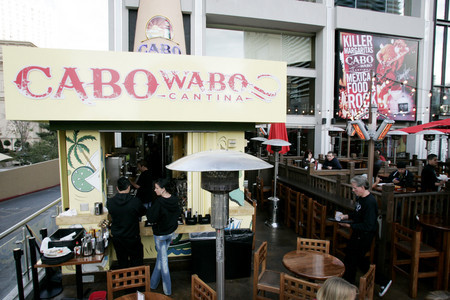 Move over, Margaritaville. There's a new Strip eatery to waste away in that's named after a tequila-related song and owned by the singer who popularized it.
Sammy Hagar, ex of Van Halen, has partnered with a local investment group to open Cabo Wabo Cantina in the Miracle Mile Shops' storefront formerly occupied by Trader Vic's at 3663 Las Vegas Blvd. South.
"I think it's one of the last of the great spaces on the Strip," said managing partner Corey Jenkins. "It has a great patio and a great vibe."
No significant remodeling was done to the island-themed Vic's — which opened in 2007 and closed last year — other than some thatched roofs on the bars, flat screens, Hagar memorabilia and, of course, a stage (where Hagar performed on opening night in December and where cover bands rock out every Friday and Saturday night).
"We kind of made it a little more of a jeans, T-shirts and flip-flops feel," Jenkins said.
Chef Dustin Paris — late of Pappasito's Cantina in San Antonio, Texas — cooks up Mexican dishes heavy on shrimp and fish, a take Jenkins describes as "Tex-Mex with a coastal flair."
In 1990, Hagar — along with the other members of Van Halen at the time, whom he later bought out — bowed the first Cabo Wabo in Cabo San Lucas, Mexico. He named it — as well as his tequila brand — after a 1988 Van Halen song about an inebriated man he once watched wobble around the Baja California resort town. (Hagar originally christened the drunk's walk the "Cabo Wobble.")
This is the Red Rocker's third attempt at launching his eatery brand north of the border. The first was intended for Las Vegas in 2004, but landed at Harvey's Casino and Resort in Lake Tahoe, when plans fell through. (A second opened in Fresno, Calif., in 2008 but had its franchise license pulled by Hagar last year.)
"He's had a couple of other smaller concepts that he never really put his soul into," Jenkins said. "But this is the one where he said: 'This is it. This is the one I'm gonna use to make my presence in the U.S.' "
Cabo Wabo, which seats 280 indoors and 120 on a Strip-side patio, is open 11 a.m.-midnight Sundays-Thursdays, 11 a.m.-1 a.m. Fridays-Saturdays. Reservations are not required.
Signature dish: Cabo Shrimp Fajitas, $19
Starters: Cadillac Fajita Nachos, $13; chicken quesadilla, $13; shrimp ceviche, $11
Soups and salads: Tortilla soup, $9; Cabo Wabo Tequila Lima Salad, $16; taco salad, $16
Entrees: Baja fish tacos, 2 for $12; carne asada tacos, $20; beef enchiladas, 2 for $13
Desserts: Churros, $6; tres leches, $8; chocolate brownie, $8
Information: 385-2226.
By COREY LEVITAN