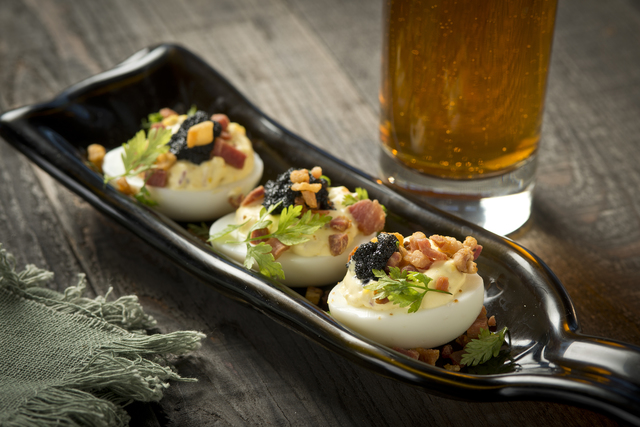 Lotus of Siam is preparing to open a second location while it's still repairing its temporarily closed original space. The East Sahara Avenue restaurant was forced to close after portions of its ceiling caved in following a September rainstorm. While those repairs are expected to take a couple of months, a new space at 620 E. Flamingo Road will welcome customers as early as the first week of November. That location, in the building that once housed Roy's Restaurant, will remain open later than the original, possibly as late as 2 a.m.
Next round of Brawl
Round two of the re-launched Back of the House Brawl cooking competition will take place this Saturday night/Sunday morning. The three-way battle will see Sean Farney of Five50 Pizza, Naked City Pizza's Chris Palmeri and Urban Seed Inc.'s Emily Brubaker cooking on food trucks on the grounds of Urban Seed, 4770 Wynn Road. The party starts at 10 p.m., with the contest getting underway at 1 a.m.
Carson Kitchen grows
Downtown hotspot Carson Kitchen has finally unveiled its expansion. By adding a new entrance and a dedicated bar area, owners are hoping to reduce wait times with two dozen more seats. The addition follows the restaurant's recent three-year anniversary celebration.
Ferraro's on game days
With hockey season now in full swing, Ferraro's Italian Restaurant & Wine Bar, 4480 Paradise Road, is offering Golden Knights fans a pre-game dinner before select games at the T-Mobile Arena. On evenings when the team is playing at home, Ferraro's will prepare a special four-course meal at 5:30 p.m., with transportation to and from the arena, for $55 plus tax and tip. Customers will get a choice of starter, pasta and main course, plus a dessert sampler, and be out in time to catch the lift to the ice. Call (702) 364-5300 or email events@ferraroslasvegas.com.
Up for a challenge?
It's football season, when bro's seem to be perpetually challenging each other on all manner of things related to food and drink. Can you eat 75 hot wings in 60 minutes? If you decide to go for the challenge at The Still at The Mirage, you'd better be sure, because failure will cost you $99. Success will net, besides the free wings, your picture on the restaurant's Bud Bud's Wall of Fame and a prize package of undisclosed contents that we're hoping will include an antacid.
Opening, closing
McCormick & Schmick's in the Hughes Center has closed.
Have an item for Kitchen Confidante? Email hrinella@reviewjournal.com or amancini@reviewjournal.com.