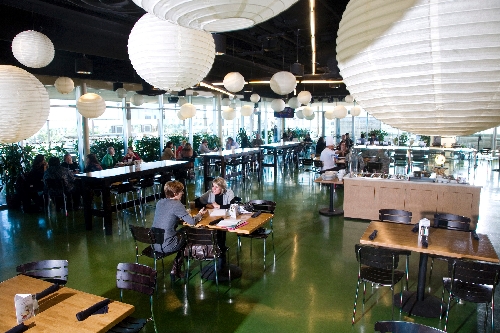 Consider the Springs Cafe an undiscovered gem in the prettiest setting you can imagine: the lush greenery of the Springs Preserve, just off of U.S. Highway 95 and Valley View Boulevard.
The Springs Cafe, formerly operated by Wolfgang Puck's restaurant group, reopened in October under the management of the Culinary Academy of Las Vegas. Its dining room, which seats about 150, has a bright, earthy ambience and is surrounded by a wrap-around outdoor patio that offers an expansive view of the Strip and downtown.
Right now, service is of the fast-casual variety, "where you order at the register and your food is brought to you," said Lance Graulich, the cafe's general manager. However, among the changes planned at the cafe during the next few months is a conversion to full-service dining to give the cafe the level of service "it rightfully deserves."
And, Graulich said, "as the weather changes, we will definitely be opening for full breakfast."
A lunchtime buffet, for $9.99, recently was unveiled to augment the cafe's menu offerings. "It's not going to compete with any large casino buffet, but it's quality, healthy (offerings), mainly a vegetarian buffet," Graulich said.
Also planned over the next several months is inauguration of a happy hour — the cafe offers a selection of domestic and imported beers and wines by the glass — "and Sunday brunch is a natural here," Graulich said. "So we're looking to do some specialty brunches for Mother's Day, Father's Day and other occasions."
The Springs Cafe's clientele includes both visitors to the Springs Preserve and neighboring Nevada State Museum and diners who make the cafe a destination dining spot. Graulich notes that admission to the preserve is not required to dine at the Springs Cafe.
"I think we've won most people over with the value we provide, and we provide absolutely fantastic service. … I think customers are surprised at the level of service they're getting in a fast-casual environment," Graulich said.
The Springs Cafe at the Las Vegas Springs Preserve, 333 S. Valley View Blvd., opens at 11 a.m. daily and closes at 3 p.m. Mondays through Fridays and at 4 p.m. Saturdays and Sundays. Reservations aren't required but are accepted for parties of eight or more.
Soups and salads: homemade tomato pistou, $5; Cobb salad (with grilled chicken), $8.50; Thai chicken salad, $9
Entrees: chef's special bento box, varies daily but about $9; wood-fired salmon fillet wrap, $9; vegetable and goat cheese panini, $8.25
Pizzas: five-cheese, $8; Margherita, $7; vegetarian, $7.50
Kids' meals: peanut butter and homemade jam sandwich, $4; cheese pizza, $5; miniburger, $7.50
Desserts: dessert pizza, $5.50; cheesecake with berry ragout, $5.50
Information: 822-8713
By JOHN PRZYBYS