Changing dining trends make poke popular in Las Vegas — VIDEO
September 12, 2017 - 5:16 pm
Updated September 12, 2017 - 9:45 pm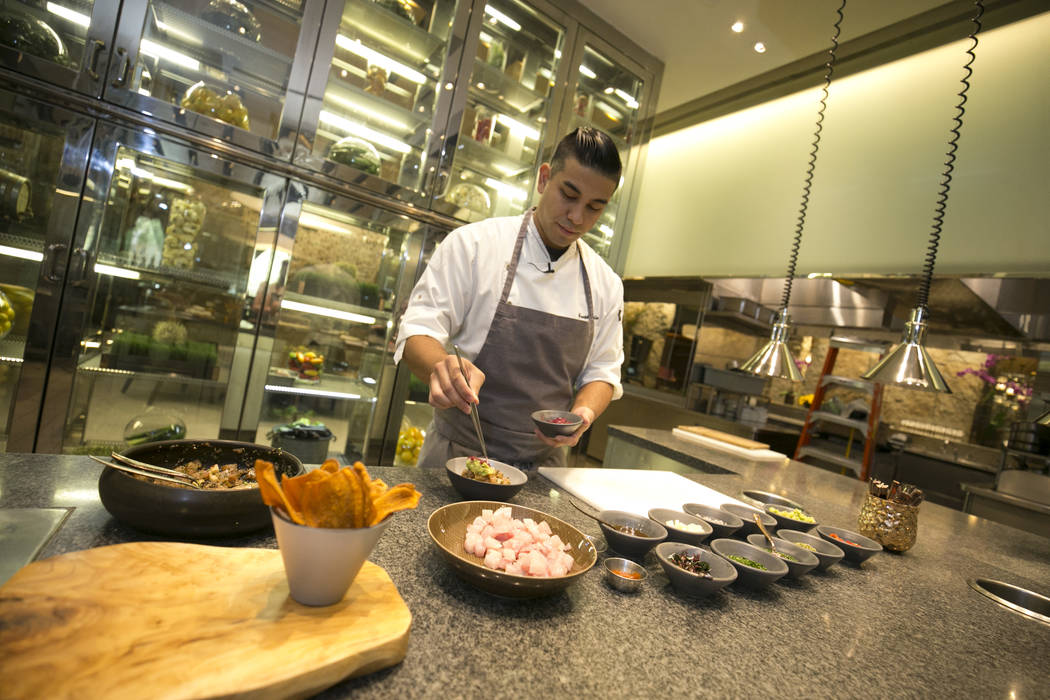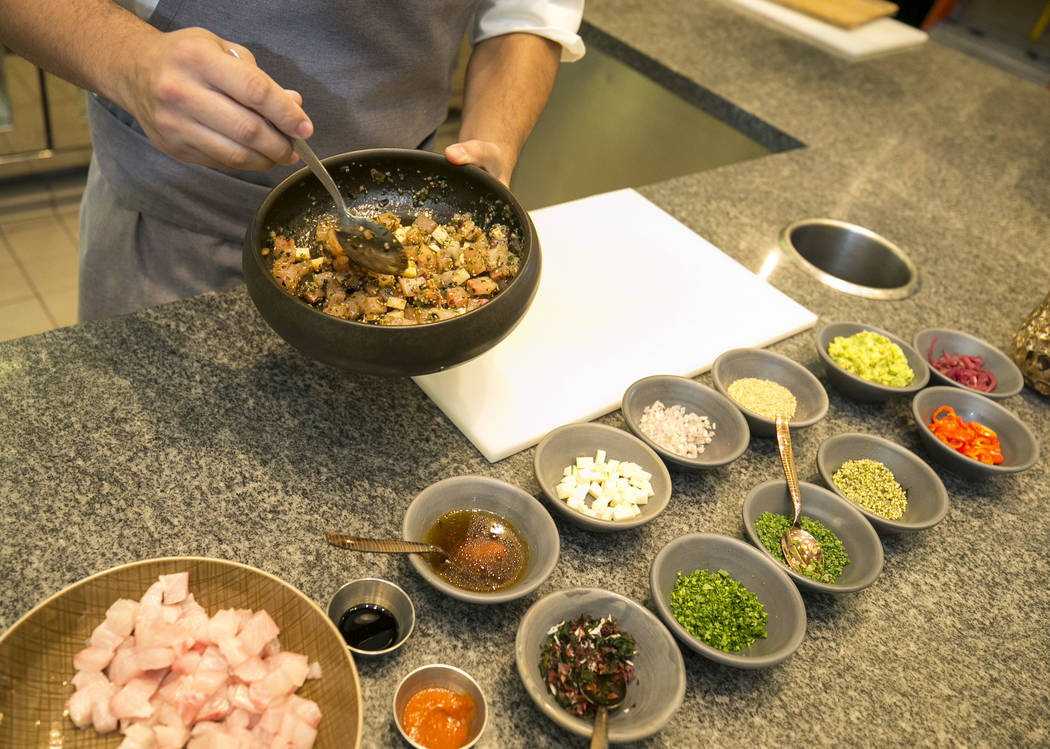 Poke — pronounced poh-keh, which is the marinated raw fish so loved by Hawaiians — seems to be following the same path as sushi.
Sushi in its purest form is as basic as it gets, just rice (that's actually the "sushi" part) and raw fish. Its mutation in this country into elaborately conceived and named rolls that no sushi master in Japan would recognize has been paralleled only by its skyrocketing popularity.
And so it is with poke.
"I was talking to one of my fish guys from Hawaii," said Roy Ellamar, a native of the Big Island who is executive chef of Harvest at Bellagio. "Ten years ago in Miami, they wanted to do a poke bar and they said, 'No way; people won't eat that stuff.' And now it's everywhere."
There seem to be a couple of reasons for that.
"I put it down to the fact that everybody is seeking out lighter, healthier options," Ellamar said. "I think dining that way is very on-trend. And it tastes good."
Kip Goo, a partner in Paina Cafe, which has one location in Las Vegas and two in Hawaii, also sees the growth of poke as a result of changing tastes.
"People have gotten a lot more acclimated to the raw-fish theme because of the sushi craze," Goo said. "It really is a form of sashimi, but Hawaiians call it poke."
Hawaiian native Dennis Cornelio has owned Hawaiian Style Poke on Wynn Road near Spring Mountain Road since 2008, and he's seen the change within poke itself.
"It's becoming popular now because poke shops are two totally different things," Cornelio said. "The ones that are opening now serve poke bowls. They serve them with avocados, cucumber and seaweed salad, and you have your poke at the bottom and your rice goes down deeper."
Definitely not old-school poke — which is fish, seaweed and inamona, a condiment made of roasted kui nuts — but Goo makes no apologies. A native of Oahu, he says his partners created the whole poke-bowl phenomenon.
"Poke has been around forever," he said, adding that it got its start in the days before refrigeration as a way to preserve raw fish. "But nobody put it into a bowl to make it a meal. It used to be just an appetizer. We created the poke bowl."
He said his customers tend to be younger, but really extend across the demographic range.
"I feel like people have adapted to it — not just Hawaiian or Asian people, who are used to eating raw fish, but everybody," he said. "It's so diverse now. But the younger crowd is definitely prevalent."
Paina Cafe serves ahi, tako (or octopus) and salmon, as well as tofu as an alternative. They normally marinate it for an hour.
"That's the Hawaiian style, whether you're marinating in a sauce or seasoning," he said. "It sets us apart from the people who cube the fish and then throw a sauce on it to serve."
Ellamar, too, said that's an important step.
"A lot of places are just squirting sauce right over the fish after they put it in the bowl," he said. "Poke should be marinated for 30 to 40 minutes so the flavor works its way into the fish and mellows it out."
Ahi is definitely the most popular fish at Paina Cafe, Goo said, and they serve it in five variations, including a spicy one that's their biggest seller "by far."
Cornelio said he also serves ahi, which he marinates in a number of styles, but the way he serves it hews closer to the classic.
"I just stick to my authentic way," he said. "That's what people come in for, poke and rice. That's what I do. I have a lot of customers that don't care too much for all those other things on it."
But Cornelio said most of his poke sales are by the container, whether it be a quarter-pound, full pound or trays up to 6 pounds.
Ellamar said the key is to use fresh fish.
"In Hawaii, we use all sorts of fish," he said. "If the flesh is too soft, you scrape it. A nice, firm fish is good — especially in a restaurant, because you want to see the nice cubes."
And he's a bit of a traditionalist.
"For me, poke should have a seaweed component," he said. "Fresh seaweed, and we also use inamona, a dry condiment made of roasted kukui nuts. Nowadays, we get a little fancy and we add the soy sauce and the chiles. You can even put in dried seaweed like furikake, green onions, things like that. In the restaurant we elevate it a little bit. We make our own furikake, we use barrel-aged tamari."
Ellamar said he's currently using kampachi from Kona on the big island, where he's from.
Cornelio said he's noticed a real change since 2008.
"I've seen a whole lot of people come in and they ask, 'What is poke?' " he said. "I explained it to them. Now, I don't need to. They just come in. The word's already passed on."
"I think it's great that so many restaurants — not just poke bowl shops but real legit restaurants — have a version of poke, people calling it poke and not tuna tartare," Ellamar said. "To see Hawaiian food entering the mainstream is a good thing."
Contact Heidi Knapp Rinella at Hrinella@reviewjournal.com or 702-383-0474. Follow @HKRinella on Twitter.