Chef Jet Tila opens new restaurant near Summerlin
Updated April 18, 2023 - 7:42 pm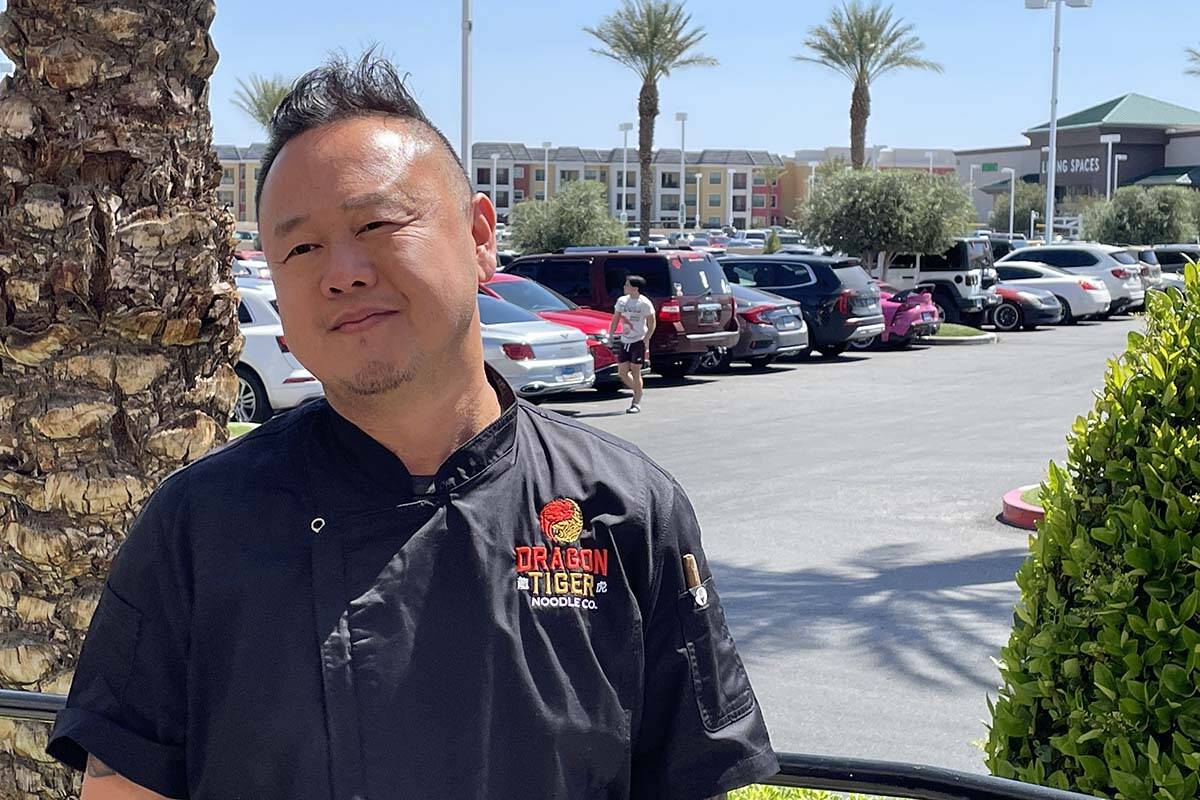 Chef Jet Tila has set up shop near Summerlin.
Tila and partner Eric Persson celebrated the grand opening of Dragon Tiger Noodle Co.'s newest location in Boca Park on Friday.
"This is such an iconic site in town," Tila said. "We really wanted to be here. This is really our crown jewel at this point. We're going to be trying new dishes. We have a new design. It's nice to plant a Dragon Tiger Noodle Company near Summerlin."
Located at 750 S Rampart Blvd., Suite 11, this may be his fourth spot in the Las Vegas Valley, but Boca Park was always where chef Jet Tila wanted to take the Dragon Tiger Noodle Co.
"We wanted something larger so we could put in new features," Tila said. "Like any big city, there are neighborhoods that everyone knows and all the "it" people are hanging out in. This is it. We've been planning this location since store one."
Dragon Tiger Noodle Co. features build-your-own noodle and rice bowl options and pre-fixed choices, created by chef Tila.
"Our tagline is your noodles, your way," Tila said. "This is a place that everyone in the family can eat multiple times a week."
The idea to create a "Chipotle for noodles" was something Persson said he wanted to create. He just needed the right chef to help him realize that vision.
"About four or five years ago, I reached out to Jet and said I have this idea for a concept," Persson said. "It doesn't really compete with anybody, but I need your help. I need someone who knows how to make great tasting food and can take my idea and make it real."
Tila was the only person Persson had in mind.
"We grew up watching Jet on the Food Network. 'Cutthroat Kitchen' was one of our favorite shows and that was where we first saw Jet. I knew the combination of his personality and expertise would make him the perfect chef for this concept."
The result was Dragon Tiger Noodle Co.
Las Vegas local Trish Salcedo, 32, was trying out Dragon Noodle Co. for the first time and was leaving with rave reviews.
"I like the experience from right when you walk in the door and the ambiance of the whole facility to the tables, with how they light up and the broth tap, that's something you don't see anywhere else. In general, the food has been delicious."
The restaurant is part of a local food scene that Tila said is thriving and helping to set the tone for food all over the world.
"I don't think people understand how rich the food community here is," Tila said. "I think we're the tip of the spear. Between the Strip and the food service workers that I've been a part of, some of the best sommeliers, servers and chefs all live off Strip. Do we need to get bigger and better? No. We need to tell the world how great we really are. We're going to have all the trends before anyone else on Strip and off Strip."
Dragon Tiger Noodle Co.'s latest spot is open seven days a week from 10:30 a.m. to midnight. Tila invites people to connect with him on social media and share their thoughts about the new restaurant and become part of a true community, something that he believes helps set this restaurant apart.
"I want everyone to come out and be a part of the community," Tila said. "I think we have a family brand that is warm and welcoming like the people in Vegas are. Let's keep the conversation going."