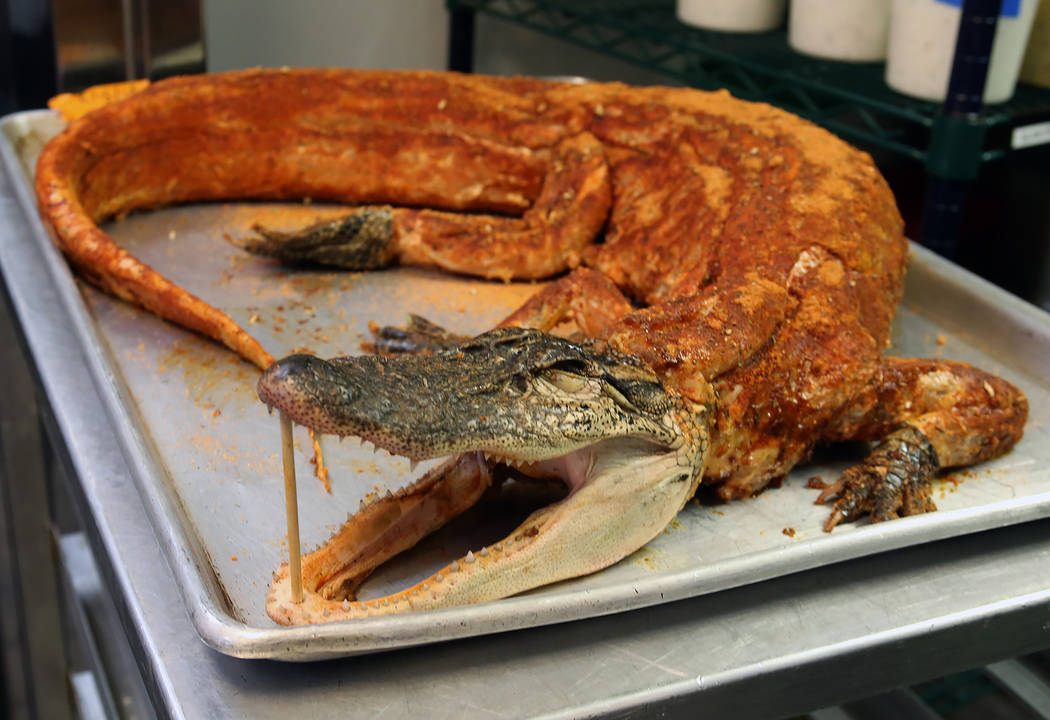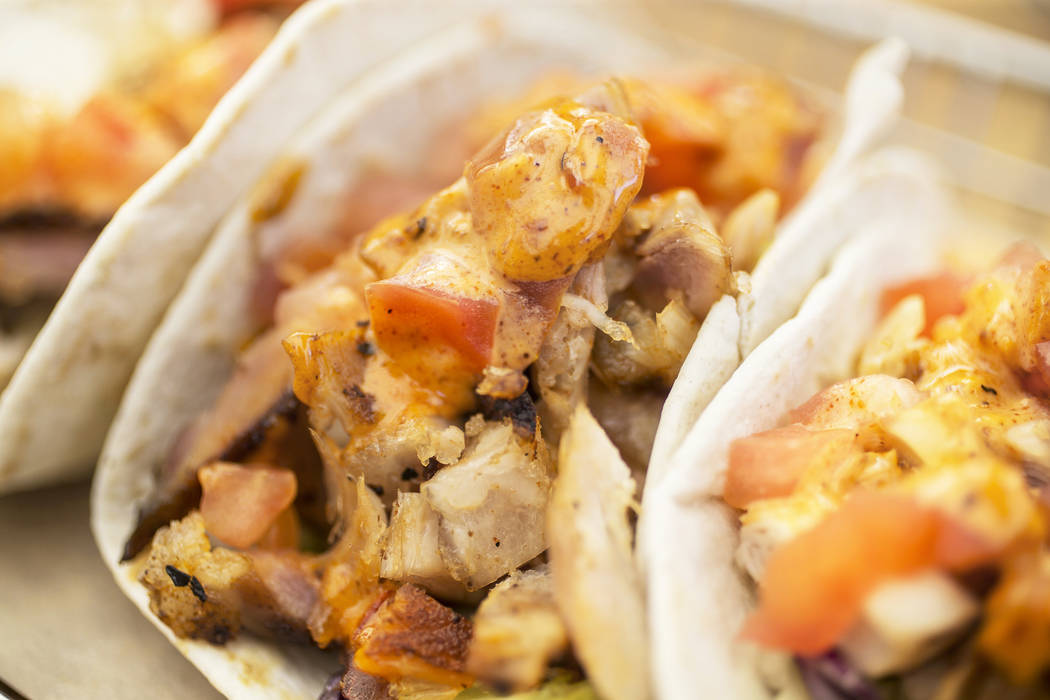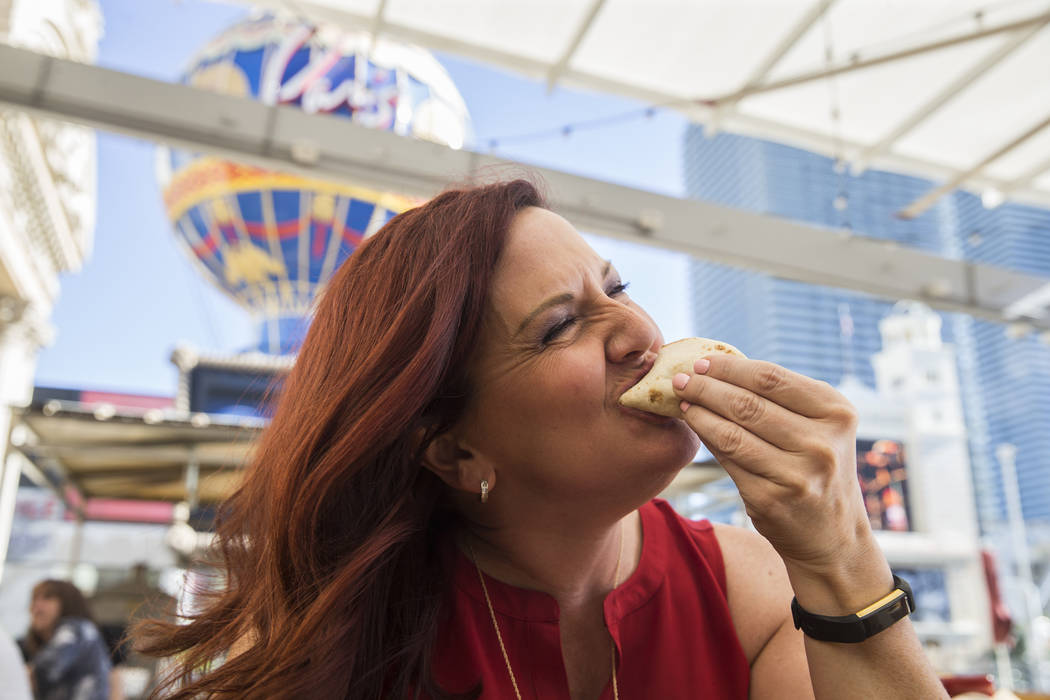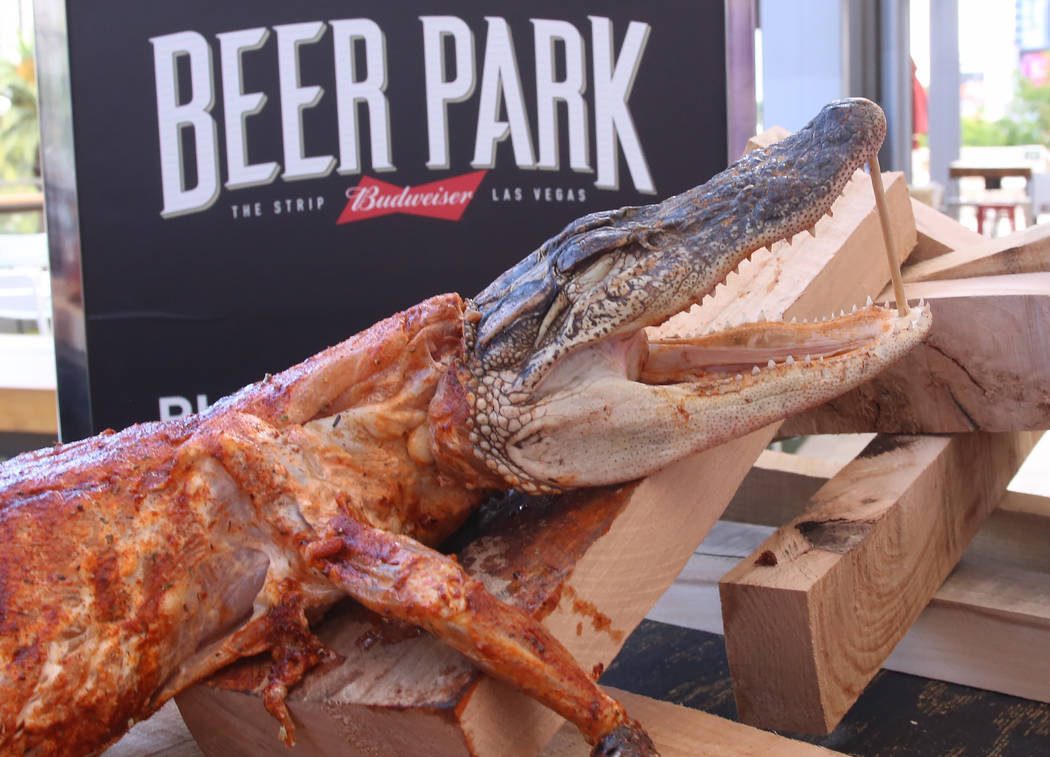 It may have been the most unique off-the-menu special ever in a Las Vegas restaurant. While Beer Park guests enjoyed a beautiful Friday afternoon of barbecue and bar games, Chef Edward Manukyan brought out a large smoked alligator, set it on a picnic table and began removing the meat.
As he worked, a crowd gathered to take pictures of the once-fearsome beast, head and feet still attached, with the chef occasionally handing them pieces of its smoky flesh to sample. Stuffed with andouille sausage and bacon, brined for three days in Budweiser, herbs, spices and lemons and finished with mayo and Cajun rub before being placed in a beechwood smoker, it packed plenty of flavor and kick.
As this was going on, the masterminds behind Beer Park and its sister restaurant Hexx — Matt Silverman and Matt Piekarski — were surprising weekend revelers just a block to the north with another rooftop party at Chayo in The Linq. The pair were recently brought in to re-work the menu with Chef Rafael Medina, and added a daily 2-6 p.m. happy hour, kicking things off on Friday.
The projects, and the way they surprised guests at both venues, are typical of Piekarski and Silverman. The team that created Las Vegas' only bean-to-bar gourmet chocolate for Hexx — traveling to six countries to hand-select cacao farms to supply each variety — seems to revel in creating things that are cool, fun, delicious and unexpected.
Gator grapple
Some of Piekarski and Silverman's best ideas, such as barbecuing an alligator, grow out of disagreements.
"We've been talking about doing an alligator for a long time, and he (kept) saying no," Piekarski explains. But his partner's objection didn't stop Piekarski from promising one during a recent TV appearance.
"They said 'It's National Barbecue Month, are you going to do anything cool?' And I said 'Yeah, we're gonna do a whole alligator — maybe.' "
He was half joking. And the idea might have died there. But someone in their organization brought it up a few days later at a meeting and, probably just to annoy Silverman, the chef decided to move forward. They ordered three from a farm in Louisiana. At $7 a pound, and 10 to 12 pounds apiece, it wasn't a ridiculously expensive experiment. On Friday, gator meat was the star of tacos and po' boys distributed for free to adventurous customers.
They were a hit.
"I loved the smokiness and the spiciness and the succulence of the meat," Daniel Lindzon of Toronto said after polishing off a taco.
"It was really good, not too tough, the texture was really good," offered local Michelle Mayer, before adding the almost obligatory comparison that it was "almost like chicken."
Over at Chayo, Silverman said the surprise launch of the roof party, complete with music, food specials and $1 Coronitas (seven-ounce Coronas), was even more successful.
"The entire weekend was awesome," he said proudly. "It was full, and at most points it was hard to find a seat."
But that's just the first step for the spot. Silverman and Piekarski also plan to expand the mall patio to almost double its capacity and add a taco cart to offer grab-and-go to customers who want a fast bite en route to the High Roller.
The team is also re-writing the entire menu, which has proven to be a little too ambitious for tourists at The Linq. Chef Medina will remain in charge of the kitchen, but Silverman says he will "take it a little bit more toward the mainstream."
Beer pork for Beer Park
Expect more surprises from this chef team, especially at Beer Park and Hexx. They recently brought in chef and co-founder of Summerlin's popular Due Forni Pizza to run the Hexx kitchen. And Silverman is working with his partners at Anheuser Busch to raise a line of heritage pigs that will debut at the restaurants.
"I'm working with executive chef for Anheuser Busch, and we've created a program where we're growing Berkshire hogs in the St. Louis area, feeding them all the ingredients that are used to make Budweiser."
Describing them as "the wagyu beef of pig," he said the free-range animals are being fed hops, barley and non-alcoholic beer. The first full harvest is expected in time for Oktoberfest, when the two chefs plan to have 40 200-pound slaughtered hogs for their restaurants. Expect a whole pig roast at Beer Park to launch the product, and higher-end dishes like chops downstairs in Hexx.
In the meantime, given the good response and his desire to continue thinking "out of the box," Piekarski predicts alligator dishes will return from time to time as advertised specials.
"Everyone is doing a whole pig or something like that," he said. "I think this brings some uniqueness to what we're doing."
Contact Al Mancini at amancini @reviewjournal.com. Follow @AlManciniVegas on Twitter.