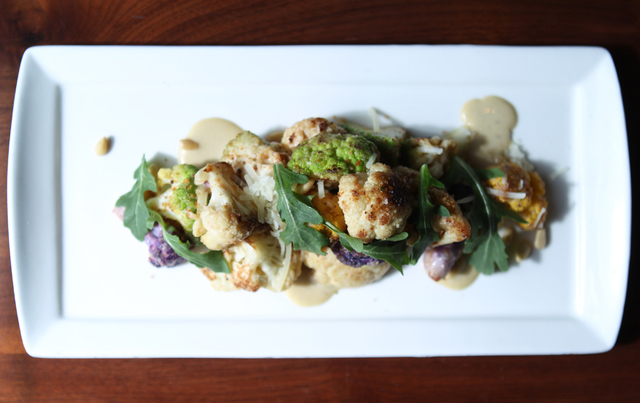 Chilly winter days have us crying out for comfort food: pot roast, short ribs, maybe meatloaf.
But what if you're a vegetarian — or at least trying to incorporate more vegetable-based dishes into your diet? Does vegetarianism dictate a sentence of salads and steamed vegetables? Do vegetarian comfort foods exist?
That would be no, and yes. But first, let's consider the meaning of "comfort food."
"I would define it as anything you would cook at home and find it reminds you of your childhood," said Anthony Meidenbauer, corporate executive chef and director of culinary operations for Block 16 Hospitality, whose restaurants include Public House at the Grand Canal Shoppes and Holstein's at The Cosmopolitan of Las Vegas. "You could do stews and stuff."
Which sound like they would, by definition, incorporate meat, but Meidenbauer said that's not always the case.
"Do pot roasts with vegetables instead of using meat," he said. "Use hearty sauces, slowly braised and stewed, to give you that rich, unctuous type of stew texture without using the meat."
Use hearty winter squashes, he said, and root vegetables.
"Build them exactly as you would a stew," he said, starting with the mirepoix mixture of chopped onion, carrot and celery, plus tomato paste and red wine.
"I like to take the hearty root vegetables, dicing those up and roasting them first in the oven, and getting some nice caramelization on it," he said. "It doesn't take as long to cook because you're not using those rough cut types of meat. Cook it a half-hour and serve over mashed potatoes or boiled noodles, just like you would do a regular beef stew."
Meidenbauer said his favorite vegetarian comfort food is roasted cauliflower with anchovy pesto and pine nuts. (His use of anchovies in the sauce obviously isn't a strict interpretation of vegetarianism.)
"Topped with some dressed arugula and shaved Parmesan cheese, it makes for an amazing meal that is perfect for those chilly winter nights," he said.
Cauliflower also is a popular vegetarian comfort food at La Cave at Wynn Las Vegas and Crush at the MGM Grand, said Billy DeMarco, corporate executive chef for the Morton Group.
"Our roasted cauliflower, a lot of people don't do that," DeMarco said. "We jazz it up with chili, mint, garlic — something a little more creative.
"I love the beets that we do" at La Cave, roasted whole on a bed of salt. We cook them with a little sherry vinegar, a little butter, a little whipped goat cheese and pistachios."
Mushroom grits, he said, is another staple of the restaurant.
"People shy away from grits," DeMarco said. "We add chives, mushrooms, make it very unique and heavy."
Another kitchen secret, he said, is cashew cream.
"It's a great vegan/vegetarian item that is awesome in soup," DeMarco said, "and it helps thicken sauces. When you soak the cashews overnight, it gets all the impurities out of the nut. It's just like a thickening agent. It's a very cool, unique item."
And you don't have to completely shy away from salads, just make them warm. DeMarco uses a warm mushroom vinaigrette on salads. Lyle Kaku, chef of Cleo at the SLS Las Vegas, takes that a step further by starting the salad in a wood-burning oven.
"Right now we're taking carrots and cauliflower and romanesco and some fennel and we roast it in the wood oven," he said. "With quinoa, frisee, cumin, cilantro, Moroccan-spiced almonds and a little red wine vinaigrette, it's a nice warm and hearty salad."
Some of Cleo's other vegetarian comfort foods include vegetable beignets, made with seasonal vegetables and served with Cleo Ranch, and ricotta dumplings, which are coated in semolina.
Barry Dakake may be executive chef of a steakhouse — N9NE Steakhouse, at the Palms — but he said he prepares plenty of vegetarian dishes.
"It happens almost every day," Dakake said. "When you're dealing with a lot of covers in a restaurant, you're always going to get different challenges that come up. We always want to oblige the customer."
And Dakake has a slightly different definition of "comfort food."
"When you say 'vegetarian,' it's up to me to go up to the table: 'What can I do for you? Tell me what you can and can't eat; that way, I can pick your brain.'
"We don't just throw slop on a dish. We make them feel comfortable that they're going to be able to get a great vegetarian meal. When you say, 'comfort food' — we all eat because we're hungry. When we eat, we're comfortable. I think the biggest thing is I go out and meet the guests. Any food that I give them, they're going to be comfortable."
"Not everybody wants to go with salads and a vegetable platter," DeMarco said. "You want to try to be a little creative, and have a little more fun."
ROASTED CAULIFLOWER WITH ANCHOVY PESTO
1 head cauliflower
1 cup extra-virgin olive oil, plus more for tossing cauliflower and arugula
Salt, to taste
Pepper, to taste
1 tablespoon anchovies
1 teaspoon fresh garlic
1 tablespoon Dijon mustard
¼ cup grated Parmesan cheese
1 egg yolk
Tabasco
½ teaspoon Worcestershire sauce
2 teaspoons lemon juice, plus more for tossing arugula
2 teaspoons toasted pine nuts
Shaved Parmesan cheese
2 cups baby arugula, tossed in oil and lemon
Preheat oven to 400 degrees. Clean and break up cauliflower into small (approximately 1-inch) flowerets, lightly toss in oil and season with salt and pepper. Place on sheet tray and bake 30 minutes, or until tender and lightly caramelized.
In a blender place anchovies, garlic, mustard, Parmesan and egg yolk. Blend briefly until smooth and change to lowest setting. While running, slowly add 1 cup olive oil in a small steam to emulsify.
Remove mixture from blender and place in a bowl. Season with Tabasco, Worcestershire sauce, lemon juice, salt and pepper.
Toss cooked cauliflower in dressing and pine nuts. Place on a platter and top with shaved Parmesan and arugula.
— Recipe from Chef Anthony Meidenbauer
HOT AND SOUR SOUP
5 dried shiitake mushrooms (about 1/4 ounce)
5 dried wood ear mushrooms (about 1/4 ounce)
1 (32-ounce) carton fat-free, less-sodium vegetable broth (such as Swanson Certified Organic)
2 1/4 cups water, divided
1 tablespoon minced peeled fresh ginger
1 teaspoon minced garlic
1/4 cup rice vinegar
1 tablespoon low-sodium soy sauce
1/2 to 1 teaspoon freshly ground black pepper
1/2 pound reduced-fat firm or extra-firm tofu, drained and cut into 1/4-inch cubes
2 1/2 tablespoons cornstarch
4 large egg whites, lightly beaten
1/2 cup chopped green onions
1/4 cup minced fresh cilantro
1 teaspoon dark sesame oil
Chili oil (optional)
Place mushrooms in a medium bowl; cover with boiling water. Cover and let stand 10 minutes or until tender; drain. Thinly slice mushrooms; set aside.
Combine broth, 2 cups water, ginger and garlic in a large saucepan over medium-high heat; bring to a boil. Add mushrooms. Reduce heat and simmer 5 minutes. Add vinegar, soy sauce, pepper and tofu; bring to a boil. Reduce heat and simmer 5 minutes.
Combine remaining 1/4 cup water and cornstarch, stirring with a whisk. Stir cornstarch mixture into broth mixture; bring to a boil. Reduce heat; simmer 3 minutes or until soup thickens slightly, stirring frequently. Slowly pour egg whites into broth mixture in a steady stream, stirring constantly but gently with a wooden spoon. Remove from heat; stir in onions, cilantro and sesame oil. Drizzle with chili oil, if desired.
Serves 4.
— Recipe from Cooking Light
GRILLED CORN AND POTATO CHOWDER
1 pound small red potatoes, quartered
1 tablespoon salt, divided
3 tablespoons softened butter, divided
4 ears shucked corn
Cooking spray
3/4 cup finely chopped onion
1/8 teaspoon ground red pepper
3 cups 2 percent reduced-fat milk
1/2 cup half-and-half
2 thyme sprigs
3 tablespoons finely chopped chives
1 1/2 teaspoons chopped fresh thyme
1/2 teaspoon freshly ground black pepper
Preheat grill to medium-high heat. Place a grill basket on grill.
Place potatoes and 2 teaspoons salt in a saucepan; cover with water. Bring to a boil; cook 2 minutes. Remove from heat. Let potatoes stand in hot water 5 minutes. Drain; cut into 1/4-inch cubes.
Melt 1 tablespoon butter; brush evenly over corn. Place corn on grill rack coated with cooking spray. Place potatoes in grill basket coated with cooking spray. Grill corn and potatoes 15 minutes or until slightly charred, turning occasionally.
Cool corn slightly; cut kernels from cobs. Place 1 cup corn kernels in a food processor; process until smooth.
Melt remaining 2 tablespoons butter in a medium saucepan over medium-high heat. Add onion; saute 3 minutes, stirring occasionally. Add remaining 1 teaspoon salt and red pepper; cook for 30 seconds, stirring frequently. Stir in potatoes, remaining corn kernels, pureed corn, milk, half-and-half and thyme sprigs; bring to a simmer. Reduce heat; simmer 20 minutes, stirring occasionally. Discard thyme sprigs. Stir in chives and remaining ingredients.
Serves 6.
— Recipe from Cooking Light
VEGETARIAN SHEPHERD'S PIES
1 pound Yukon Gold or white potatoes, peeled and cut into 1-inch chunks
1/2 cup buttermilk
1 tablespoon butter
3/4 teaspoon salt, divided
1/2 teaspoon freshly ground pepper, divided
1 tablespoon extra-virgin olive oil
1 large onion, finely diced
1/2 cup finely diced carrot
1 tablespoon water
3/4 cup frozen corn kernels, thawed
1 teaspoon chopped fresh thyme or 1/2 teaspoon dried
3 tablespoons all-purpose flour
1 14-ounce can vegetable broth
1 1/2 cups cooked or canned (rinsed) lentils (see tip)
Place potatoes in a large saucepan and cover with 2 inches of water. Bring to a simmer over medium-high heat. Reduce heat to medium, partially cover and cook until tender, 10 to 15 minutes. Drain and return the potatoes to the pot. Add buttermilk, butter and 1/4 teaspoon each salt and pepper. Mash with a potato masher until mostly smooth.
While the potatoes are cooking, position rack in upper third of oven; preheat broiler. Coat four 10- to 12-ounce broiler-safe ramekins (or an 8-inch-square broiler-safe baking dish) with cooking spray. Place ramekins on a broiler-safe baking sheet.
Heat oil in a large skillet over medium-high heat. Add onion, carrot and water. Cover and cook, stirring occasionally, until softened, 3 to 5 minutes. Stir in corn, thyme and the remaining 1/2 teaspoon salt and 1/4 teaspoon pepper; cook, stirring occasionally, for 2 minutes. Sprinkle with flour and stir to coat. Stir in broth. Bring to a simmer; cook, stirring, for 1 minute. Stir in lentils and cook, stirring constantly, for 2 minutes.
Divide the hot lentil mixture among the prepared ramekins (or spread in the baking dish). Top with the mashed potatoes. Broil, rotating halfway through, until the potato is lightly browned in spots, 6 to 10 minutes.
Serves 4.
— Recipe from Eating Well
SPRING VEGETABLE MACARONI 'N' CHEESE
1 bunch (about 12 ounces) asparagus
2 leeks
4 1/2 tablespoons butter
1 1/2 teaspoons salt
12 ounces dried orecchiette pasta
3/4 cup frozen petite peas
2 slices sourdough bread
3 tablespoons flour
2 teaspoons fresh thyme leaves
3 cups milk
2 teaspoons grated lemon peel
1 tablespoon Dijon mustard
1/2 teaspoon fresh-ground pepper
6 ounces fresh chevre (goat cheese)
1 1/2 cups shredded Romano cheese
Preheat oven to 400 degrees. Snap tough ends off asparagus; cut spears into 1/2-inch pieces. Cut root ends and tough green tops from leeks; cut leeks in half lengthwise and rinse well under running water, then thinly slice crosswise.
In a medium pan over medium-high heat, stir the asparagus with the leeks, 1 tablespoon butter and 1/2 teaspoon salt. Cook until the asparagus is just tender, about 7 minutes, then remove from pan and set aside.
In a large pan over high heat, bring about 3 quarts water to a boil. Add pasta and cook according to package instructions; stir in peas at the end. Drain and return to pan.
Meanwhile, tear bread into chunks and put in a food processor with 1/2 tablespoon butter. Whirl until crumbs form.
In the medium pan over medium-high heat, melt remaining 3 tablespoons butter. Add the flour and thyme; stir until smooth and bubbling, about 30 seconds. Slowly whisk in milk and stir until boiling and thickened, 5 to 8 minutes. Add lemon peel, mustard, pepper and remaining teaspoon salt. Remove from heat and add goat cheese and 1 cup Romano; stir until smooth.
Pour sauce over drained pasta and peas. Add asparagus mixture and stir well. Scrape mixture into a 2 1/2-quart baking dish and spread level. Sprinkle evenly with remaining 1/2 cup Romano and the bread crumbs. Bake until sauce is bubbling and bread crumbs are browned, 15 to 20 minutes.
Serves 4 to 6.
— Recipe from Sunset
Contact reporter Heidi Knapp Rinella at hrinella@reviewjournal.com or 702-383-0474.